Beth Ditto kinda looks like Karen O
By Carles on 22 Apr 2010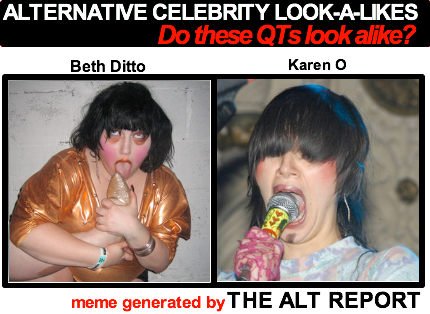 Does alternative diva sex icon Beth Ditto look a lot like alternative diva sex icon Karen O?
Who would u rather go on a date with?
Who would u rather go on a date 2 a buffet with?
Are all women just 'sex objects'?
Are alternative divas the future of mainstream divas?
Which band makes better music: The Gossip or Yeah Yeah Yeahs?
Alternative Celebrity Look Alikes compares the personal brands of alternative celebrities with other famous and microfamous humans. This ALT REPORT gimmick was inspired by the mainstream version of this meme at totallylookslike.com. Please submit your alternative celebrity look alikes at the ALT REPORT TIP LINE.