Bjork and the Dirty Projectors lose their minds, write concept album from the voice of a whale pod
By Carles on 01 Jul 2010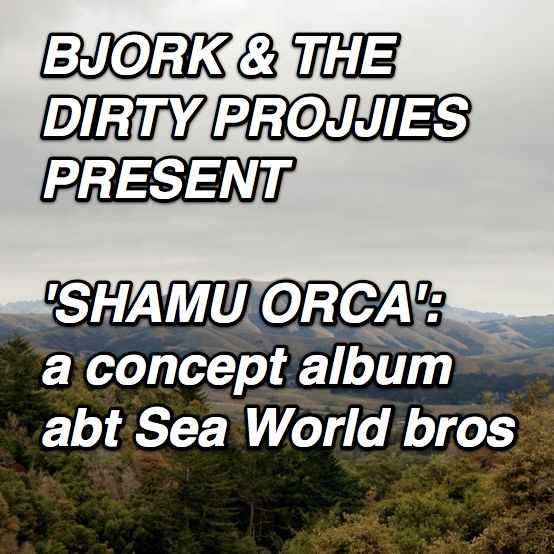 [MP3]
Dirty Projectors + Björk- All We Are by DominoRecordCo
Worried abt the Dirty Projectors. I think the buzzosphere was 'all about them' in 2k9, since they added like 5 cute indie girls to sing 'oohs' and 'aaaaahs'. They had 1 song that Jay-Z, Beyonce and her sister vibed out to called 'Stillness is the Move.' N e ways, they seem to be 'collab-ing' with Bjork to write some crazy person album about a family of whales:
....Amber from Dirty Projectors was walking along a ridge on Mount Wittenberg, north of San Francisco. She was looking out at the ocean and saw a little family of whales, as you sometimes do in April on the Northern California coast. I wrote some songs about it and sent them to Björk, who agreed to sing the part of the mom whale. The songs became Mount Wittenberg Orca. Amber and Angel and Haley sang the part of the kid whales, and I sang the part of Amber. We sang all week long and learned the music just in time to perform it at the bookstore on May 8th.
Have yall ever seen a collective of animals and decided 2 write a hit album about the experience?
Is Bjork a chill person to collab with, or is she 'too out there'?
Is Bjork still a relevant meme in 2k10?
Apparently they aren't doing this concept album '4 profits', they are just trying to help the environment/whales or something.
I feel like Dirty Projectors should 'man up' like Kevin Costner, and invest all of their buzzband profits in creating a technology that cleans up the oil spills. Feel like orcas are doing fine, because if they get hungry, they can just go to a 'Killer Whale Homeless Shelter' at a local Sea World Theme Park:
We've decided to give away all the money that Wittenberg generates to the project of creating international marine protected areas. Only 1% of the oceans are protected in any way and this is a huge problem. We're working with the National Geographic Society to create areas of sustainability, so the oceans don't end up like a giant poisonous corpse hugging the continents.
Wonder if Bjork and the DPs (Doub Penetrations) are musical soulmates. Wonder if they will 'save the environment.'
In addition, they think their music is 'too good' for Macbook speakers:
We're so psyched about how this recording came out and hope you are too. Don't listen on those tinny computer speakers — put in on the stereo and blast dat shiiiiiiiiii!!
Should they team up with Sarah McLachlan to save domestic animals from cruelty
Do these commercials ruin ur vibe? Did Sarah McLachlan ruin her brand?
Do the dirty projectors not care about domesticated animals & think we should focus on saving animals in their natural environment?
Do yall think this collab is 'sweet' and 'unique'?
Do yall wanna ride chillwaves or whale waves?
Should the Dirty Projectors 'find a new gimmick' and move beyond the orca thing?
Do yall like music that is written to save animals/the environment?
Might just vibe out to Savage Garden's hit song "The Animal Song"
'I want to live like animals...
Careless and free...
like animals
I want to run thru the jungle
with the wind in my hair
and the sun at my feet...'
-AnCo
Alternative Celebrity, Buzzband
Bjork is a crazy Icelandic lady who is an 'artist.'
Read more>>>>