Tween vloggers show support 4 Vampy Weeks against Kirsten Kennis
By Carles on 19 Oct 2010
Sorta wish I could be in Vampire Weekend because u get to go from city to city and bang tons of prime entry-level ass cuz they think u will write them a recommendation letter 2 get into an Ivy League school / relevant design school. Recently, a group of tween youtube vloggers made a video to show support 4 Vampire Weekend against some crazie lady who is suing them. U can really feel their <3, like they are an authentic tribe who has ur back no matter what.
Not sure why they made this vlog. I think maybe it is some sort of 'dating video', like they hope the Vampy Weeks bros will see it, and message them on twitter, and invite them backstage, and then 'intimate things' will happen.


Or maybe they are inviting Vampy weeks to use this as 'courtroom evidence.' Like they will show this video 2 the judge/jury during a dramatic closing statement, and the judge will say "Kirsten Kennis--UR GUILTY. SEE U ON DEATH ROW. U WILL BURN IN HELL 4 UR SINS. TAKE THE HANDCUFFS OFF EZRABRO, and set him free 4evr. Godspeed 2 u, Vampire Weeks. We apologize 2 u on behalf of the legal system. May u forever be fre to create buzzworthy mp3s."
Sorta just wish I had a gaggle of keut AZN fans to support me.


Feeling jeal of Vampy Weeks. Wish a group of vloggers had my back.
Wish I had a tribe of followers who would do anything 4 me.
Are yall on #Team_Kirsten or #TeamVampyWeeks?
Do u hope Kirsten Kennis goes 2 jail?
Which 1 of these vloggers is the cutest?
Which 1 of these vloggers is the scariest?
Does Kirsten Kennis need 2 'drop it' and just be happy to get a few blog headlines, and be happy being 'blog famous'?
Previously
KIRSTEN KENNIS DOES SLUTWAVE PHOTOSHOOT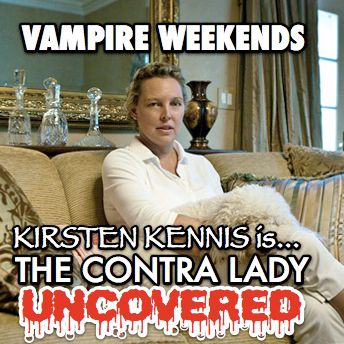 Buzzband
Vampire Weekend is a popular indie buzzband that is kinda mainstream and ppl always say 'they're s00 preppy.'
Read more>>>>