Blogs Best DJs
By Carles on 02 Nov 2008
Yall. I read at the Daily Swarm that some magazine called "DJ Magazine" came out with their top 100 DJs of 2k8. While I am not a big electroHouseDisco Music buff, I feel like I should know more people on this list.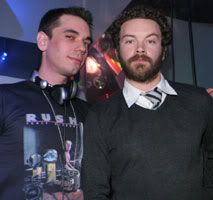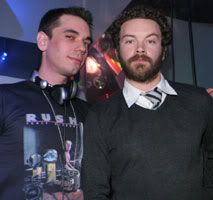 SNUBBED//WRONGED//FUCKT OVR//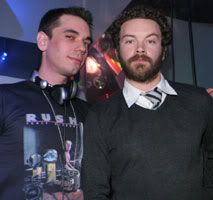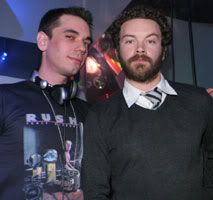 I just don't understand why my BlogCentric view of electro music didn't make a bigger splash on this list. Does most of the world listen to guido+eurotrashCore 'techno' music? Am I an unEducated electroFan? Does the music that I listen to 'not matter' in the context of 'authentic electronic' music?
I have made the bloghouse/mainstreamLectro bands that appeal to me GREEN.
Everything is that is guidoCore/electronica/technoh0use/authentic techno is RED.
DJ Mag Top 100 DJs 2008
01. Armin van Buuren
02. Tiësto
03. Paul van Dyk
04. Above & Beyond
05. David Guetta
06. Ferry Corsten
07. Sasha
08. Markus Schulz
09. John Digweed
10. Infected Mushroom
11. Deadmau5
12. Carl Cox
13. Sander van Doorn
14. Paul Oakenfold
15. Richie Hawtin
16. Hernan Cattaneo
17. James Zabiela
18. Andy Moor
19. Eddie Halliwell
20. Axwell
21. Eric Prydz
22. Kyau & Albert
23. Gareth Emery
24. Sven Väth
25. ATB
26. Anderson Noise
27. Joachim Garraud
28. Bobina
29. Fedde le Grand
30. Dubfire
31. Aly & Fila
32. Judge Jules
33. Umek
34. Matt Darey
35. Ricky Stone
36. Ricardo Villalobos
37. Lange
38. Daft Punk
39. Benny Benassi
40. Bob Sinclair
41. Deep Dish
42. Mark Knight
43. Astrix
44. Marco V
45. The Thrillseekers
46. Laidback Luke
47. Danny Tenaglia
48. Menno de Jong
49. Marco Lenzi
50. Andy C
51. Offer Nissim
52. Martin Solveig
53. Adam Sheridan
54. Sean Tyas
55. DJ Feel
56. Yahel
57. Roger Sanchez
58. DJ Shah
59. Sander Kleinenberg
60. John O'Callaghan
61. Blank & Jones
62. Cosmic Gate
63. Steve Angello
64. Simon Patterson
65. Gabriel & Dresden
66. Richard Durand
67. Laurent Wolf
68. Matt Hardwick
69. Chris Liebing
70. Erick Morillo
71. DJ Hype
72. Signum
73. Justice
74. Dirty South
75. Wally Lopez
76. Magda
77. Lisa Lashes
78. Pete Tong
79. DJ Vibe
80. Bad Boy Bill
81. Tiddey
82. Greg Downey
83. Marcel Woods
84. Nick Warren
85. Solar System
86. Skazi
87. Mike Koglin
88. Mauro Picotto
89. Sébastien Léger
90. The Chemical Brothers
91. Steve Lawler
92. Fatboy Slim
93. Solarstone
94. Astral Projection
95. Leon Bolier
96. Nic Fanciulli
97. Ronski Speed
98. Tocadisco
99. Booka Shade
100. Alex M.O.R.P.H. & Woody van Eyden
Doesn't the amount of red scare yall? I'm just tired of the guidoTechno house DJs getting all of the attention. They play music like this:
I feel like it's my responsibility as one of the world's leading sources for Trivial Electro and Blog House music to make a list that does a better job of representing the world's most Bloggable Electro DJs who appeal to People Who Read 2 Many Blogs and have an Alternative Perspective on the World.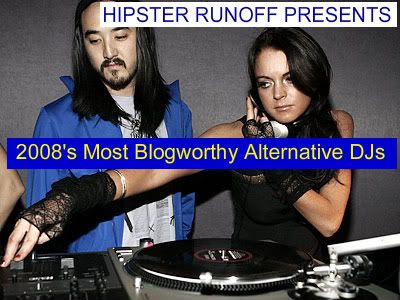 HRO's Top DJs of 2k8.
These are the World's Best DJs
Acid Girls
James Murphy
Xavier De Rosnay Solo
Fred Falke
Guns N Bombs
2ManyDJs
Paparazzi
Harvard Bass
HRO DJ set
Royal Rumble
Red Foxxworth
Local Hero
DJ AM (post-escaping death)
DJ AM (pre-escaping death)
Alice Glass Solo DJ Set
Passions
Drop the Lime
Simian Mobile Disco DJ set
Johnny Jewel (Glass Candy)
Them Jeans
Mark Hunter DJ Set
brodinski
yuksek
Crookers
Bloody Beetroots
Holy Ghost!
Surkin
Para
Digitalism
Jokers of the Scene
Treasure Fingers
The Daft Punk
The Juan Maclean
Pharrell (Fluo Kids)
SoMe
Cut Copy DJ set
Sebastian
The Twelves
DJ Skeet Skeet
Perez Hilton DJ set
Matt Lauer
Katie Couric
Al Roker
Anne Curry DJ Set
Samantha Ronson DJ Set
DJ Mom Jeans
The Teenagers DJ Set
HeartsRevolution DJ Set
McDonalds employee DJ set
Animal Collective conceptual DJ set
Miss Toats
Chromeo Interracial DJ Set
Radio Disc Jockeys with morning shows
GorillaVsBear DJs
Stereogum DJs
PitchforkTV DJs
Franki Chan
dudes who take 'being a DJ' seriously because the 'emocore' bubble burst and their band no longer tours.
female DJs who think they are awesome but kinda suck
DJs who talk about music too much
DJs who play too many obvious hits from 2k7
FEADZ
Uffie DJ Set
Ed Banger Belligerent PuPuPlatter DJ Set
Danny Mastersons brothers' DJ set
DJ Set by a Chili's bartender
Ben Gibbard solo DJ set in his Toyota Prius
James Tambarello
Postal Service UPS commercial DJ Set
Ratatat DJ set
Prince
impromptu DJ set at a house party by an altBro with an iPod touch filled with bloghouse songs
J.D. Salinger DJ Set
Kurt Vonnegut's corpse DJ set
TRV$ DJ AM
local altBag DJ set
Miami Horror
miscellaneous guidoDJ who plays cheesy techno songs from your youth
DJ who plays Killers/Coldplay mashups
Wilmer Valderramma 'Yo Mama' DJ Set
The Cast of The Office DJ Set
Fan Death
Ryan Adams (DJ set)
A-TRAK
Erol Akan
John Mayer
Jerry Seinfeld authentic disco DJ set
Madonna
Alex Rodriguez/JoseCanseco (2Many Steroids)
Michael Phelps DJ Set after extending his brand too far outside of his core competencies
Smarter Child (DJ set)
Joe the Plummer (DJ Set)
Please feel free to let me know how you feel about this list. I just want yalls input.
Who are blogville's most relevant DJs? Which DJs probably cost the most?
Are u tired of all of the guidoHouseTechno DJs getting all of the attention? (Are they more authentic than bloggy electro DJs who have capitalized on the entrylevel alt population growth spurt?)
But SRSLY, doesn't it piss u off when ur local DJ seems like he'd rather be any where else than playing at your local ElectroParty?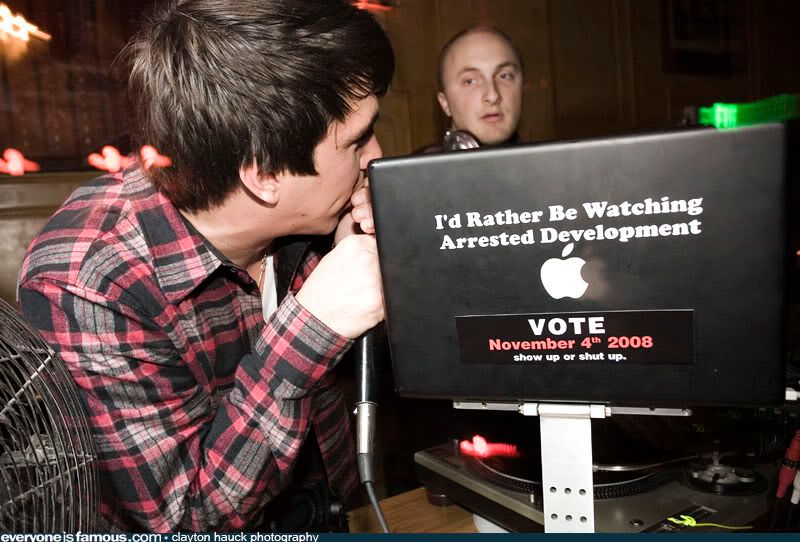 [Photo by Every1isfames]
If u could have a DJ set by n e 1 in the w0rld, who would it be?