bronoodling
By Carles on 23 Sep 2011

Jared's VIP Diary - Entry Log Date 00:004:032 044/32/20 AFTER THE DEATH OF CHRIST (AKC - AFTER KURT COBAIN)

I met Skrillex today. Yes, he was intimidated by me, not just because I was wearing some sort of samurai ninja dress, but because I am Jared Leto, King of Alt. I am familiar with his status as the Prince of Dubstep. He rules one of the regions of my alt kingdoms, a thriving dubstepian region that lays beyond the RapeGaze Swamplands, but above the pampa that the White Man's Indie Suburbs have overtaken.
It is beautiful to see all of my Alt Lands. Floating down the steampunk river, beyond the indie rap Badlands, making our way into the LoFi Mountains. This is our beautiful land, and I am honored to have Skrillex leading the developing country of Dubstepia as the Prince of Dubstep. There are many important internal policy issues that this developing nation shall have to make. Healthcare, glowstick assistance for the poor, crowd control issues--they are facing a unique set of problems. The diversity of Dubstep Nation makes them a peaceful people.
Difficult times call for difficult decisions that will shape the future of the Electro Continent. God bless you, Prince Skrillex of the Dubstepian tribe. May your region thrive, see an economic festival rave boom, and may your electro tariffs and taxes fund the next great Renaissance in all of Alt. It is time for us to give up on the dying White Man's Indie.
I am Jared Leto. King of Alt.
You live in my Altopia?
You're welcome,
Jared
Actor, Buzzband
Jared Leto is an alternative actor, and the lead singer of the band 30 Seconds to Mars.
Read more>>>>
Alternative Celebrity, DJ
Skrillex is a popular dubstep DJ who is arguably the #1 alt DJ in the world.
Read more>>>>
By Carles on 17 Jul 2012
Link: https://twitter.com/#!/ryanpitchfork


Pitchfork Music Festival takes place every year in Chicago, IL. To consumers, it appears to be a standard music festival, but it is in fact an important industry event where many of the buzz contracts are negotiated between websites, artists, managers, and publicists. It is no surprise that this picture of Ryan Schreiber, the creator of Pitchfork, was spotted in some sort of heavy conversation with Claire Boucher, better known as Grimes. On the surface, they might look as though they are 'canoodling' or even 'bronoodling', leading to rumors of a romance that would explain the rise of Grimes career in the past year.
The truth is, we'll never know what was shared in this conversation. If only more people were willing to ask hard hitting questions instead of being force fed buzz by the same members of the Corrupt Indie Machine that have led us into this buzz drought. We are upside down on our buzz mortgages. Our buzz college loans will never be paid back. So many Corrupt Indie Machine forces trying to cockblock Buzz_health_care that would ensure every buzz citizen has the right to treatment.
Sigh....
Is Pitchfork Festival a buzz pyramid scheme?
Did u go 2 #p4kfest?
What do u think they talked abt?
Why is Grimes wearing a headset?
Did she get deported to an Indian call center?
Is her next album about business campuses in India?
Should she invest in Bluetooth technology?
XX BONUS SCHREIBSY INSTAGRAMMING XX


Thank U
4 attending
#p4kfest
but I prefer 2 call it
#ME_fest
A celebration of me and my accomplishments
All of u ppl
are nothing without me
I invented this culture
Give thanks 2 ur Buzz God
I Am The Buzz God
Creator of the Ultimate Buzz Pyramid Scheme
Where I will always be on top
Alternative Entrepreneur, Alternative Celebrity, DJ
Ryan Schreiber is the creator of Pitchfork Media. He is one of TIME MAGAZINE's most important people in the world ever.
Read more>>>>
Alternative Celebrity, Buzzband
Grimes is Claire Boucher, a Canadian bleep bloop singer music project.
Read more>>>>
By Carles on 17 Jul 2012

Oh Sexi Lexi BB...
Plz stay the same
I hope u don't degenerate
into a #zoner
That's what I <3 abt u Lexi
U don't have to wear a headset
to connect with the Creatures and Gods who live in Altered Zones
U just do U
U don't try 2 hard 2 do a fake U
U've never resorted 2 a Skrillex haircut with bangs
U won't end up dead
after a DJ set in Mexico
U didn't have to get a part time job
at a telemarketing call center in order to pay ur buzz bills
after obtaining a buzz loan at unfair rates
Grimesy who? #TeamLexKrauss4evr
Does Alexis Krauss look WAY keuter than Grimes?
Which 1 is the most premium alt diva?
Who is Grimes talking 2 in her headset?
Do u think she works at a Dell computer customer service centre?
R u on #TeamSexiLexi?
Alternative Celebrity
Alexis Krauss is the lead singer of Sleigh Bells. She has a Virgin Mary Tattoo.
Read more>>>>
Alternative Celebrity, Buzzband
Grimes is Claire Boucher, a Canadian bleep bloop singer music project.
Read more>>>>
By Carles on 16 Mar 2012
Photo via Weird Magic dot Biz


Friends and Grimes are 2 'buzzbands of the future' that are getting buzz for being branded as 'buzzworthy', mainly because they have female lead singers with BANGIN BODS who are representative of the new 'it girl' aesthetic. B4 u know it, both of them will be featured on the covers of random ass magazines that u've never heard of bc they look hot/alt/keut. It seems like Claire Boucher (Grimes) and Samantha Urbani (Friends) were recently spotted bronoodling/canoodling/partying like effing rock stars at a VIP event at Festival NRML in Mexico.
Sorta wish I coulda been there... Seems like a super intimate 3rd World VIP vibe... Would have had the opportunity to 'talk shop' with some of the most relevant alt celebs of 2mrrw. Get 'hella drunk', then make a pass at them with the intro line, "I loved ur debut EP."
WHAT A BOD

Oh Grimey... I think I'm #falling_4_u even though I only rlly like abt 1.7 of ur mp3s that have already been out for ~2 years...


U turn the buzzworld on with ur pure smile...
Who do u think is keuter?
What do u think they talked abt?
Do u <3 Samantha Urbani's bangin bod?
Do u vibe harder 2 Sammi Urbani bc she is 'less crusty' than Grimes?


Do u wish u could party like an effing rock star [via buzzbands]?
Are these bands buzzworthy or just 'over hyped buzzbands of tomorrow' who are exploiting the Corrupt Indie Machine with their keutness?
Does GRIMES have a BANGIN bod even though she is a crustie? [link]
Are Claire Boucher and Samantha Urbani 'the next generation' of premium indie divas?
Do they look good, bb?
Alternative Celebrity
Samantha Urbani is the lead singer QT of the buzzband Friends.
Read more>>>>
Alternative Celebrity, Buzzband
Grimes is Claire Boucher, a Canadian bleep bloop singer music project.
Read more>>>>
Buzzband
Friends is a buzzband from Brooklyn.
Read more>>>>
By Carles on 14 Mar 2012

Jospeh Kony is a brand new internet viral sensation who has all of the blogs buzzing. No1 knew who he was, so some white dude who has a perfect life so he uses his excess energy to worry abt Third World issues was all like "I am going to make him go viral bc I own a nonprofit internet buzz company." It worked, and #KONY was #trending harder than any #hashtag that I have seen in hours. Now it seems like Joseph Kony is 'on the run', or he is actually just trying to raise his dictator-vibe/warlord brand, become Osama Bin Laden/Saddam Hussein level 'famous.' It is always hard to convert internet fame to IRL accomplishments, even in the field of genocide, oppression and cruel acts against humanity.
Kony must be trying to break into the buzzosphere because he was recently seen vibing with Crystal Castles. Sorta jealous that Alice Glass might be getting VIP tips on how to construct child armies. More indie buzzbands are attempting to corner the tween/pre-teen market, so u have 2 give CC props for reaching out 2 Kony, killing 3 birds with one stone:
Chillin with big thangs poppin
LEarning how to build child armies
Making Kony Famous #KONY2012 #STOPKONY
Do u think Kony was #canoodling with Alice Glass?
Do u think Ethan Kath will let Kony be an 'other dude' in his band?
Will Kony hurt or help their album sales?
Is Kony replacing 'Bob Smith' in Crystal Castles?
Will Joseph Kony become more alt famous?
Has JoJo Kony's buzz already 'died'?
Is Invisible Children just going to buy iPads 4 Uganda?
Should Invisible Children be shut down by the government?
Were Crystal Castles the original Invisible Children?
What would U do 2 make Kony famous?
Buzzband
Crystal Castles are an 8 bit bleep bloop band from Canada.
Read more>>>>
Alternative Celebrity
Alice Glass is the lead singer of Crystal Castles. She is known for her KrAzY onStAgE aNtiCs.
Read more>>>>
Alternative Celebrity
Ethan Kath is the 'genius' behind Crystal Castles.
Read more>>>>
By Carles on 09 Feb 2012

Tyler the Creator is some buzz rapper that ppl think is 'kewl', but I figured he would have imploded in the same James Blake bubble era that he was hyped in. I guess rap is a more viable mainstream option than drone bass music. I really know know anything about rap, nor do I understand why I should appreciate it, so I don't really think he is cool or anything, but I guess if I were some 'swag tween', I would listen 2 him and go to Odd Future popup shops in the greater Los Angeles area.
Anyways, this is a picture of him bronoodling with Kanye West. It seems like they want u to know that BIG THANGS are poppin. I think that's what rappers just try to do all the time. Say what you will about Drake, but these days, it truly feels like Tyler the Creator is the softest rapper in the game.
Can Tyler the Creator ever reach 'Kanye Level' or is he more of an M.I.A. type of character who will just provide overhyped shocking pop culture moments?
Are big thangs poppin?
Do they look swag?
Do they look cray?
Do they look trill?
Should Tyler the Creator stop using the n-word, or is he allowed 2 bc he is a black rapper?
Alternative Celebrity
Tyler is a teenage producer, rapper, and the leader of an experimental lofi shock-rap crew called Odd Future Wolf Gang Kill Them All.
Read more>>>>
Buzzband, Alternative Celebrity
Kanye West is the famous mainstream rapper who controversially got a 10.0 from Pitchfork.
Read more>>>>
By Carles on 08 Feb 2012

Skrillex has it all. Mad record sales, mainstream fame, alt fame, adoring fans who will go see him DJ for any price, and approaching one million Twitter followers. But now it seems like he truly has it all now that he has been bronoodling with Mr. Belding [via Saved By the Bell fallen human meme].
Is Mr. Belding 'addicted 2 VIP' and 'partying hard'?

Has Mr. Belding always partied and hung out with kids who looked alt?

Is he addicted to 'bitches', 'partying' and 'the VIP lifestyle'?

#Pray4Skrillex
May you find a way to escape from the dark bender that Mr. Belding might try 2 take u on.
In your own name we pray.
Amen
Do u wish u could bronoodle with the Prince of Dubstep?
Do u wish u could bronoodle with the Principal of Bayside High School?
Is this an EPIC BRONOODLING sesh?
Does Mr. Belding seem hella chill or hella dark?
Who was more 'alt': Zach Morris, AC Slater, or Screech's porn career?
Alternative Celebrity, DJ
Skrillex is a popular dubstep DJ who is arguably the #1 alt DJ in the world.
Read more>>>>
By Carles on 08 Nov 2011

Kickball Katy is known as one the QTest BBs in the entire indiesphere. Jared Swilley is known as 'one of the bad boys of indie.' What happens when they get together and pose 4 a Gorilla Vs. Bear polaroid? The are TOTES canoodling, but most importantly, they both LOOK REAL GOOD, BBs.
This is great news, especially after the death of Zooey Deschanel and Benjamin Gibbard. We need more of the world's alt celebs producing 'canoodling moments', even if they are just 4 us 2 blog. I hope that JarBear gives Katy a chance, even tho he seems to be canoodling/bronoodling with RyGos, who is totesally a hauttie.


Who would u rather canoodle with: Kickball Katy or Ryan Gosling?
Is Jared Swiley 'hotter' than Win Butler/Bradford Cox?
Can Kickball Katy 'go solo' and release an album that sounds halfway between Best Coast and Lana Del Rey?
Who is the #1 couple in indie right now?
Is Ryan Gosling 'the poor man's Leonardo DiCaprio'?
Is Ryan Gosling just 'the new James Franco' [mean that as an insult]?
What indie celeb do u want 2 canoodle with?
Alternative Celebrity
Kickball Katy is a member of the Vivian Girls. She is a ginger.
Read more>>>>
Alternative Celebrity
Jared Swiley is the frontman bad boy of the Black Lips. One time he beat up WAVVES.
Read more>>>>
By Carles on 23 Sep 2011

Ezra Bro?
Where've u been, bro?
I know ur not on tour....
Why are you ignoring me?
Are you mad at me or something?
Did I say something wrong?
I saw you were VIPing with Cobrabro
What's up with that?
I thought we were all VIP?
Why didn't you list me?
I texted you a few times last week.
Did u get a new number, bro?
Why'd you unfollow me on twitter?
I can't direct message you any more
Where've you been?
Do you still get on gChat, or are u just ghosting all the time?
I searched for you on facebook
But I'm not sure which one the real you is
Do you operate your own fan page?
Bro? Ezra Broenig?
Can we talk soon?
Why are you ignoring me?
I thought we were bros
Then I asked Rostam what was up with you
and he was like "Yeah he's not going out much any more"
But then I hear you are out all the time.
Let's just try to clear the air.
Please talk to me.
Please.
I miss bronoodling with u. :-(
Am I not AltJew enough 4 u?
Alternative Celebrity
Ezzie is the lead singer of the popular buzzband Vampire Weekend
Read more>>>>
Alternative Celebrity
Mark Hunter is the Cobrasnake, some bro who travels around the world taking pictures of alt shit so now he has a lifestyle brand.
Read more>>>>
By Carles on 31 Aug 2011

Ariel Pink is known as 'the god of modern lofi', but there was actually a crazier, lofi-ier SOB who came along before him named R. Stevie Moore. Tons of pure fans of crappy-yet-brilliant lofi pop fans claim that Moore is way more authentic than Ariel, and Ariel totally sold out bc his last album reached the 'mainstream indie masses', but at the end of the day, Ariel Pink will die sitting on a pile of buzz dollars, while R. Stevie Moore will probably still have to partake in seasonal employment, working as Santa Claus around the Christmas holidays.
Enough discussion abt the mainstreamification of lofi, check out Ariel's new hairdo!
BB! I love love LOVE the bangs! Ur a true fashion innovator, and QT Pie. Say what u will about who is the true King of Lofi--one thing we know 4 sure is that ur the King of Keut male bangs. Ariel has surely outdone the Win Butler haircut, the Bradford Cox haircut, the Alan Palombro, and the Jack Donny-hueys shaved head.
Piper Kaplan of the buzzband Puro Instinct looks good, too, bb! How are u and ur sister? Hope they make a sexi new music video sometime soon.
Who is the King of Lofi?
Does Ariel look good with his new bangs?
Do u ever wish u got to chill with lofi indie royalty, or are u more into the dubstep VIP scene?
Is R. Stevie Moore 'better than' Ariel Pink?
Who is 'crazier'?
Who has a higher 'net worth'?
Who has a higher 'net buzz worth' [adjusted 4 buzz inflation/deflation]?
R u gonna get man bangs?
PREVIOUSLY: MAN BANG BRO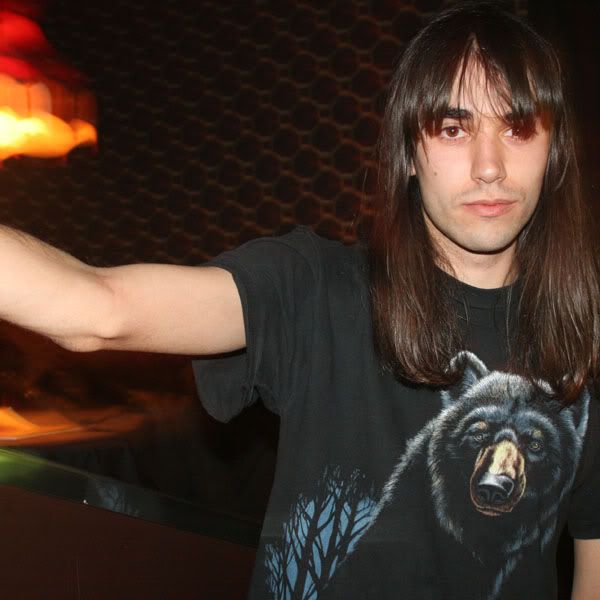 Alternative Celebrity, Buzzband
Ariel Pink is a 'lofi genius/wizard/mastermind' who has transitioned his brand to 'relevant indie buzzband status' in 2k10.
Read more>>>>
Alternative Celebrity
Piper Kaplan is the QT lead singer of Puro Instinct.
Read more>>>>
By Carles on 26 Aug 2011

Who is that indie celeb brushing shoulders with alt comedienne Sarah Silverman? Well it's Grizzly bear's lead Hotty McHotHot, Edward Droste. Ed has been WORKING HARD on a new GrizzBear album, so I'm glad he took some time 2 bronoodling with some relevant Hollywood celebs at a VIP event... U deserve it, bb! Ur so Hollywood! I'm sure she made some really 'inappropriate jokes', then farted, then talked in stupid voices. Every1 laughed, she got a sitcom deal, then it was cancelled after 1 season when it only got niche-level ratings.
Here he is playing grab ass with some broad who looks moderately famous. I still feel like the picture of him next to Sarah Silverman 'carries more weight' in terms of celebrity cred.


Does Ed 'look good'?
Has he 'gone Hollywood'?
Are indie celebs maturing, and reaching the point where they 'leave NYC' and start a new, rich & leisurely life in Hollywood?
Will Grizzly Bear ever set aside their internal differences and determine who is the 'famousest' member of their group?
Do u think that their 2k9 album 'Vecky' was better than 'MPP'?
Buzzband
Grizzly Bear is a bloggable buzzband.
Read more>>>>
Alternative Celebrity
Edward Droste is the 'frontman' of the popular buzzband Grizzly Bear.
Read more>>>>
By Carles on 01 Aug 2011

Taylor Swift is a mainstream broad who singer-songwrites, and sings abt how boys should like her 4 her even though she is 'just a 6 with a sense of creativity.' St. Vincent is an indie guitarist broad, and I have no idea what she sings about because her songs are all abstract and conceptual, and I would probably only bother to sort thru her lyrics if I were a lonely girl who was desperate to project meaning on to anything. An mp3. A man. A romantic comedy. That's why it is easier to be a creative female than a creative male. The bar is just set so low.
Anyways, St. Vincent has a new album coming out, so she is doing her best 2 try to 'crossover', because if this one doesn't 'go mainstream', she will definitely lose the interest of both the indiesphere and the mainstreamosphere. Best case scenario, she starts an indie Lilith Fair with other femmy indie artists who won't go mainstream like Joanna Newsom.
I wonder what they talked abt. I wonder if Taylor Swift knew who the hell Annie Clark was. Maybe St Vincy was giving her guitar lessons, and lending her a 'sweet pedal board.' I really have no idea, but they are bronoodling, and St. Vincent's album launch will be an ABSOLUTE DISASTER if she doesn't chart in the top 10 or get above an 8.8 from Pitchfork.
What do u think they talked abt?
Do they look good?
Who is keuter?
Who is that other mainstreamer?
Who writes better songs?
Should they 'collab' on some mp3 that is aimed at both tweens and lonely 40something women?
Alternative Celebrity, Buzzband
St. Vincent is Annie Clark. She plays the guitar and writes deep songs that go on for a really long time.
Read more>>>>
by the UlTiMaTe LaMeStReAmER!!!

Sarah BB!! Shak-BB!'
I LOVE women in music, but i also LOVE LOVE LOVE women in comedy. YES women can be intelligent AND funny too, which is why Bridesmaids is DEFANATELY my vote for #1 movie AND #1 chick flick of the year.
Shakira has A BANGIN BOD and at the same time is talented... the same goes for Sarah Silverman who is truly a comedic genius. I loved her on MadTV or whatever comedy show she was on.
I NEED 2 hang out with them ASAP... maybe they could teach me how to be more talented at things besides stapling papers, data entry, and forwarding phone calls 2 different ppl at my job. #ReceptionistLife
they both look good, BBs!
Tina Fey who? #TeamSarSilv!
Selena who? #TeamShakira