Collaboration
By Carles on 14 Apr 2009
Just saw a picture of three bros chillin', bein' creative. Wonder which bro would be the best bro the chill with?
Photo via Kanye Blog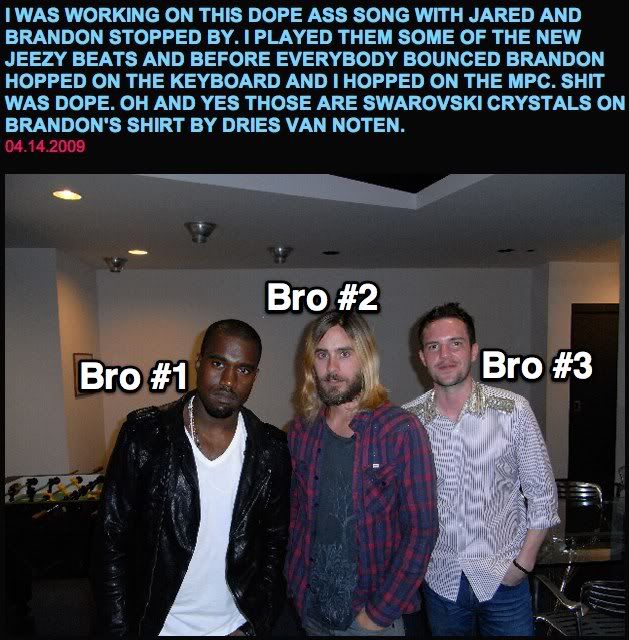 Who do yall think would be the best bro 2 chill with?

Bro #1) He seems like a bro who is into cool shit, like culture and rap and stuff. Might be awkward to become BFFs with a black person if ur parents aren't as progressive as they pretend to be.
Bro #2) Seems like a pretty cool post-Cobain type of bro. Might always be down to throw down an authentic rock n roll post-rock chill. Not sure if ur parents would want u hanging out with a bro who 'looks like a drug addict.'
Bro #3) Seems like he is a cool bro who is always down to play some kewl riffs on a no-wave tribute song. Not sure why he is wear a shirt for a 'flashy' 46 year old mom.

WHICH BRO DO U WANT 2 CHILL WITH/BRING HOME 2 UR PARENTS AND TELL THEM IS UR BFF?

...BUT SRSLY....
Does n e 1 know why artists always have to 'collaborate'? Feel like 95% of the time, it is pointless 'co branding' 2 make people feel like ur really 'making new, beautiful art' cuz u 'don't care about what genre u fall into.' Maybe in the future we need 2 leave 'mashing up' to experts like The Girl Talks, and othe nite life DJs. Tired of these artists trying to piggyback off 1 another 2 'reach new audiences'/assuming that 'authenticity' or 'pop appeal' is a transferrable force.
Miss the days when collabs were 'authentic' and 'exciting.'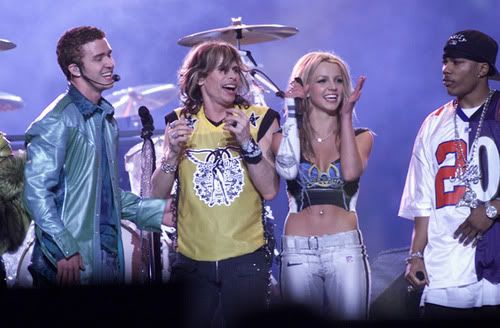 WHATS UR FAVE COLLAB OF ALL TIME THAT CHANGED MUSIC 4EVER?
By Carles on 09 Jul 2012
Recently, Best Coast covered a Fleetwood Mac song. The results were terrible, and every1 h8ed it, except for people who like wearing clothes from Urban Outfitters. Best Coast's career has clearly taken a turn for TANKville USA, mismanaging her brand, going from lofi indie starlett to 'wannabe fringe MTV F-list celeb who appeals to lamestreamers who like faceless bands on Fuse TV.'
Anyways, she collabed with some guy/band called "Iggy Pop." Have no idea who this dude is, but it appears as though the song by Bethany Cosentino was so bad that it began to melt off his skin. Worried abt his torso. It is as though the effects of years of sun damage have caught up with him in only a matter of [duration of this song].

I feel bad 4 the guy. He probably had some publicist being all like, "U should collab with a young, fresh artist." Except the publicist was some 26-32 year old single broad who lives in New York and walks around music festivals like her shit doesn't stink. Unfortunately, Iggy Pop, who may have been authentic in the 19_0s ended up collab-ing with the least fresh, least authentic, biggest joke in the entire genre formerly known as indie.
And on top of that, she melted his skin.


Plz don't listen or else this could happen 2 u.
Is this song 'effing terrible'?
Does Best Coast need 2 'hang it up'?
Does n e 1 even listen 2 this shit and enjoy it?
Do u h8 the corporate-era indiesphere for enabling artists like Best Coasts 2 make money and think that their shit doesn't stink?
Was the covered a Fleetwood Mac song. The results were terribleFleetwood Mac cover 'even worse' than this?
Buzzband
Best Coast is a fuzzy buzzy band that sings abt dank, California, boys, and kitty cats
Read more>>>>
By Carles on 18 May 2011

Yesterday, Bethany Cosentino made the decision to support Planned Parenthood, even though it will probably make her less popular in red states. Anyways, seems like 'collab-ing with New Found Glory' is probably a bad career move. Feel like their time is 'over', but Bethany probs has a hard-on 4 them from her childhood being a California tween.
Maybe Bethany just needs to go lamestream emo pop and sell more records 2 mainstreamers. Here is the lame story of their collaboration as told by some1 in NFG:
Today our friend Bethany from the band Best Coast came into the studio and sang vocals on one of our new songs! We are totally pumped to have her guest on our record. We have been big fans of her band for a while now. We met Best Coast through the power of Twitter. The story goes, I wanted to get in to see their sold out show at the Troubador and didn't have a ticket. I tweeted them half kidding about putting me on the guest list! Come to find out they were NFG fans and totally hooked me up. Since then we've been buds! It's refreshing when you meet a band you love that inspires you and they are actually cool people too! If you haven't heard their newer album "Crazy for You" yet you are truly missing out. It rules!
I wish RADIOSURGERY was coming out tomorrow! Y'all gonna flip when you hear dis shizz!
What is the deal with NFG?
Whatever happened 2 them?

Are they the poor man's Blink 182?
Does Best Coast need to focus on her own career and stop collab-ing?
Is NFG trying to 'break thru' into the modern indie scene?
Is this a horrible career move for Best Coast?
What kind of people listen to New Found Glory?
My Friend is over yall, BITCHES!!!!!!
Buzzband
Best Coast is a fuzzy buzzy band that sings abt dank, California, boys, and kitty cats
Read more>>>>
By Carles on 11 Aug 2010

Just saw this picture of Edward Droste (Grizzly Bear), Thomas Mars (Phoenix) and Nick Valensi (The Strokes) hitting up a mad relevant Lollapalooza afterparty. Probably picking up premium ass, dragging them back to their hotel rooms, and 'showing them whose their indie daddy.' Just getting 'effing smashed', living the sick life of a top tier indie celeb, knowing ur albums are 'guaranteed' to get a Pitchfork 8._ AND that your band will 'sell mad units.'
Whenever I see a pic of multiple top tier indie celebs, I usually assume that they are sharing positive, collaborative vibes that will eventually manifest themselves in MP3 format. Not sure if Converse will 'throw tons of money at them' to make an MP3 together, but u can never really rule it out. Maybe Mountain Dew will try to re-brand and hire some 'real musicians' to make them a GreenWave mp3. Really just 'assuming' that they will probably go into the studio next week and hash something out 4 the indiesphere.
If I had to guess, the name of this band will be "Stroking Grizzly Bears in Phoenix, Yall."
Should these bros 'collab' to save 2k10, or should all bands stay solo because all collabs ruin brands?
Should they 'join forces' and write anthem-wave Arcade Fire rock, just to 'outsell' the Arcade Fire?
Should Vampy Weeks and Arcade Fire 'collab' just to go head 2 head with this new super group?
Do yall feel like the indie wars are 'heating up'?
From what I have seen on twitter, these bands were the 'winners' of Lollapalooza. Many 'auth alts' opted to see The Strokes over Lady Gaga, Phoenix over Green Day, and in the biggest indie head2head battle, many alts were spotted 'leaving the XX stage early' to 'get a Grizzly Bear spot.' Not sure if people vibe hard to eyeball fucking any more, or if The XX is sorta creeping out opportunities 4 a tween fan base.
Which of these bands will have the biggest 2k11?
Will these bros no longer be bros in 2k11, when their albums are 'going head 2 head'?
If u were an alternative celebrity, what 'perk' would u abuse the most?
Should all bands collab just to synergize brands and capitalize on market forces.