food
By Carles on 24 Jan 2011

I spend a lot of time and energy h8ing suburbia, wanting to break free from my past, shaking my fist at the mold that created me. However... as I enter the twilight of my twenty-something prime, and look ahead, I can't help but wonder if suburbia is actually some sort of 'utopia' where everything is pretty easy. U can drive a huge car, park in a huge parking lot, and unload the groceries via the garage in2 ur big ass house with a big ass TV. Even though right now, that process sounds lamestream and authentic, maybe it's a good way of life.
What if u were hungry, and u could drive less than 2 miles to a series of relevant franchise chain restaurants, all at varying price points, offering you the opportunity 2 dine on cuisine from 'around the world'? Is that really a bad thing?
As u know, most chain restaurants work in 'combos' 2 maximize operational efficiencies. I'm sure yall have vibed out at Pizza Hut / Taco Bell / KFC.

And maybe eaten at Chili's / On the Border of Mexico / Maggiano's Lil Italie.

But what if I told u that the new 'it' combo restaurant was the combination Red Lobster + Olive Garden. Seems rlly convenient, like this is the type of innovation that we need to 'save' suburbia. More restaurant mashups, more convenience, offer more opportunities 4 consumers 2 have more power than evr.


Sorta wonder if complimentary cheddar biscuits are going 2 become the new 'SXSWestern eggrolls.'
Or if 'free salad and breadsticks' will become the official relevant appetizer of the 2k20s.

I am rlly excited. Have had so many great memories at Red Lobster/Olive Garden.
Feels like we were transported 2 'Little Italy', eating rustic concept food.

Celebrating 'girls night out' with a bottle of wine @ the olive garden

Celebrating my 21st birthday with some lobster, some free cake, and some of my best friends.

Red Lobster: A great place 2 get some fried_wave shrimp/seafood + creamy sauce
Olive Garden: A great place 2 get some noodles & ketchup / creamy alfredo
Combo: A great place 2 bring ur family 2 share good times.
Really feels like Red Lobster + Olive Garden 'hybrid' restaurants might be what makes suburbia 'relevant.' Really hope that the 2k10s become known as the years when franchise restaurants were really down 2 'collab' and 'remix' one another. It feels like with this type of 'collab', we should no longer 'fear the suburbs', but instead 'buy property and build a factory home' in the suburbs. Maybe Win Butler was wrong all along...
I'll see you guys at Olive Garden / Red Lobster.
Which restaurant collabs do u want 2 see?
McDonalds + Chipotle?
Whataburger + In&Out?
Taco Bell + Panda Express?
Panda Express + Pei Wei?
Subway + Wendy's?
Chili's + Applebees + TGIFriday's?
IHOP + Denny's?
Panera Bread + Quizno's?
Golden Corral + Golden Corral?
Outback + Ruby Tuesday?
Is combination Olive Garden+Red Lobster 'the new Chili's?
How would u rate the dining experience at Olive Garden/Red Lobster?
Should I get a waitressing internship at Red Lobster/Olive Garden since I am only taking 6 hours at my suburban community college this year?
Do franchise chain restaurants make u feel 'trapped in suburbia/society'?
If u had a family of four that you had 2 feed for a low price, where would u take ur family 2 eat?
By Carles on 09 Aug 2009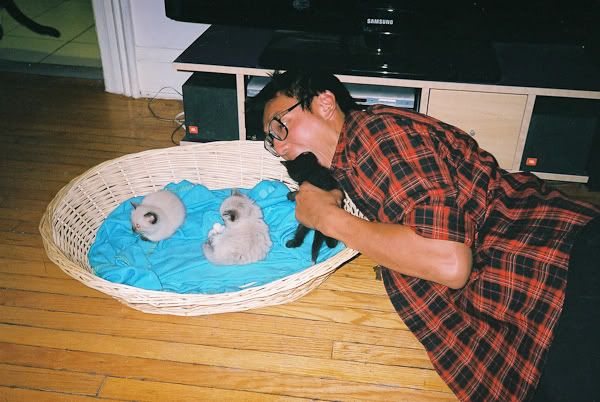 Sometimes I feel bored with all of the eating options available in America. We've tried everything--pizza, hamburgers, chicken tenders, miscellaneous sandwiches, miscellaneous items wrapped in tortillas, and even things as exotic as 'sushi.' I feel like I need some sort of subsistence that is 'different.' Feel like I might start eating things that are nonconventional. Possibly kittens.
It's kinda weird how the internet has 'branded' cute things like kittens. I have read in Time Magazine that there is a site about cats that laugh out loud. (I think it is a blogspot). It seems like people like to rally around things that 'make them smile'/'warm up their hearts', then send them to coworkers, or post sillie things on their facespaces. I feel like it might be 'alternative' to 'rage against kittens' and use them to stay alive, sorta like how in the hit film The Matrix, the computers utilized human heat to generate the energy to keep their systems running. Sorta just want 2 stay alive 4ever.
I have read on Wikipedia that AZNs actually eat tons of 'weird shit' including dogs, cats, river monsters, and 'Nessie.'
It seems weird to think that nonAmerican countries eat dogs and cats.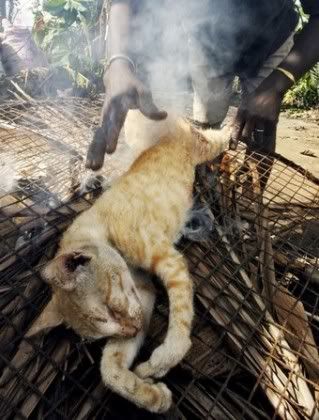 This picture sorta makes me feel 'disturbed.' These things that mean so much to American families can mean so little to AZNs. Wonder if they look at us, and think we are 'retarded' 4 pretending that these animals deserve to be treated like 'spoiled humans.'
I feel like maybe I should think that 'all animals are the same', including cows, pigs, fish, chickens, and turkeys (stuff that ppl eat every day). Animal Farming seems 'fucked up' and unfair. Wonder if I should stop eating meat. Wonder if I should only eat domesticated animals to 'make a point' about the mistreatment of animals that are raised just to be eaten. Would feel sad/meaningless if some1 raised me just to eat me, like I wouldn't be able to enjoy the simple pleasures of life like 'a sunny day' or pop 'indie music'.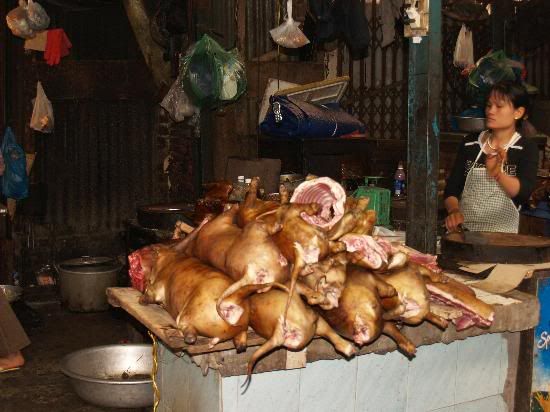 Can't believe dogs + cats have been domesticated to the point where I 'don't even know where they come from.' For example, u know that zebras come from Africa, polar bears come from cold places, and sharks comes from places with water... but i have n00 idea where dogs + cats come from. I feel like this might be an argument for 'creationism.'
What do u like 2 eat?
Do animals have rights?
What happens when we run out of resources 2 feed huge animals like cows?
Do humans need 2 eat meat?
Is there a 'humane' way 2 kill animals?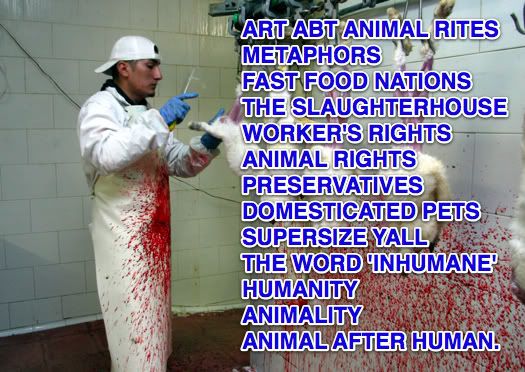 (do u shop at the Whole Foods?)
By Carles on 05 Oct 2008
[Note: This Picture was taken in a Government Lab where they are beta testing 'human fuel' a.k.a. 'food' for electro war foot soldiers.]
A lot of mainstream magazines have branded Alts to consume beverages like Sparks, PBR, and even 'drinking a lot of wine ever since I studied abroad.' However, no1 really knows what alternative people eat. Do yall eat junk food but 'somehow maintain ur amazing figure'?
Or do u only eat healthy, gluten-free food that u purchased a post-gentrified farmer's market? Or do u just shop at Whole Foods? Or are you a 'Chili's Vegan'? Or do u eat McDonnie's breakfast? Do u only eat CLIF BARS/ Pepperidge Farm products / Doritos / Sun Chips / post-ironic foreign foods / SNCKRS bars?
Or do u and ur BF just do a lot of meth?
Is Meth ruining yalls local suburban community? Should I use HRO 2.0 advertising money 2 start a meth lab? What's the difference between meth and coke? What do 'drugs' feel like?
SRSLY THOUGH....what's yalls diet like?