HARDFEST
By Carles on 25 Jan 2012
Jared Leto can do it all. He is a singer, rock band leader, actor, alternative icon, fashion icon, deity in the majority of Asia, and director. He is widely regarded as The Most Alternative Man Alive. It seems like he is 'spreading his wings', looking 2 take on new challenges. He directed the 'trailer' for HARD SUMMER 2012. Hard is a popular electro festival rave brand that puts on some of the most important American electro raves in the world. They are the people who recently brought u HOLY SHIP: A Very DubLectro Cruise Ship.
Anyways, as u can see, Jared Leto really captured the zeitgeist of the American Electro Movement. Do u believe that modern rave culture is the last festival movement that embodies the spirit of Woodstock? This blipster does.

Do u want to go to a HARD event and 'lose urself'?


If u were to die at any American music festival/rave, which 1 would it be?
Being trampled to death at Lollapalooza, or ODing at a random ass rave in a barn in the middle of nowhere?
Say what u will about Jared Leto as an actor/musician/artist, but maybe his true calling is directing commercial clips 4 clients....
Leto usually directs under the name "Bartholomew Cubbins." Do u feel like Jared Leto ripped off the work that Bartholomew Cubbins did for the epic 30 Seconds to Mars video for "Closer to the Edge."
Do u appreciate the way that Jared Leto uses the power of the 'random ass teen fan interview' in order to convey the spirit of youth and hope in his videos?
Does it make u wanna go to HARD SUMMER 2 see a #JaredLetoDJset?
Is Jared Leto the voice of every generation?


Do u <3 EPIC RAVE TRAILERS?
I wish I could just go 2 Tommorowland...
Get lost...
It looks like Electro Utopia...
What is the greatest modern rave in the world?
Did Jared Leto 'nail it' or does he need to ride more fantasy-waves?
Actor, Buzzband
Jared Leto is an alternative actor, and the lead singer of the band 30 Seconds to Mars.
Read more>>>>
By Carles on 13 Aug 2009

As yall know, planning a 'concert/show' is difficult. S0000 many factors+resources+time+energy go into the planning of an event, and that's even before the day of the show. Planning an event/concert/show/live-experience takes the time and dedication of one, or a group of alternative entrepreneurs. It seems like something can 'go wrong' very quickly. Tons of different people/elements can be 'at fault' for a failed event:
unruly fans
alcohol + drugs
bands who 'have an attitude'
the venue
governmental restrictions and limitations
structural collapses of temporary stages
unqualified staff and security
Mother Nature
lack of necessary amenities, such as bathrooms, potable water, and Sparks
It seems like the factor that is most likely to get out of hand is the combination of substance abuse with 'a shit load of people.' It's kinda weird how much 'trust' u must have in humanity in order for an event to go smoothly, both intrinsically and financially. I'm sure yall have been at a concert where 1 unruly bro has been kicked out, and u were sort of relieved. That 1 bro could have ruined the entire experience 4 every1. It seems like if one thing 'sucked', then the 'mob mentality' of tons of fans could cause some sort of 'riot' that ends with a death/buzzkill.
Just read abt 2 failed events due 2 completely different reasons.
Failed Event #1: The Big Valley Jamboree, 2009
It seems like there was some sort of windstorm at a country music festival called 'The Big Valley Jamboree' held somewhere in Canada that likes country music. Apparently the winds picked up, and a stage collapsed, and some1 died. It seems like this video of the wind destroying a music festival is like 'hell on Earth.'
This video seems 'solemn' and 'serious'--like you possibly should not 'make fun' of the event since some1 died, making it an official 'tragedy.' I think if some1 is injured, then it is just an 'accident', but 'death' makes it a tragedy because people united for some fun, but then got something that they weren't expecting. Feel like I'd be bummed/pissed if I went to a music festival, and then Mother Nature 'fucked it up' totally ruining my 'buzz.' I feel like Christians think that 'God makes things happen for a reason', so maybe this was God's way of saying that music festivals are 'terrible ideas.' Wonder if this would have been a 'bigger story' if it happened at Coachella/Lollapally/ACL.
I think every one probably 'deserves a refund', and the event was possibly insured for some sort of disaster like this.
Failed Event #2: HARDfest Summer AltPartie, Los Angeles, 2009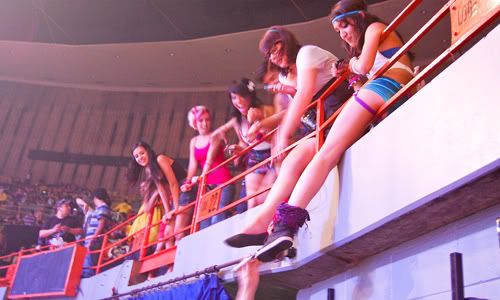 I also read about some event in Los Angeles called HARD. It was apparently shut down by the riot squad because it became a 'huge fire hazard' after unruly teens overran the event. It was held in the basketball arena where Magic Johnson used to play b4 he caught HIV. Tons of relevant electro artists from the year 2k7 were playing to an arena full of California alts + mexitween alts who think that 'everything is a rave' so it seemed like it was destined to end poorly.
It seriously seems like 'hell on Earth.' Like when you are in a position with 'tons of people' who 'feel like they are entitled to something' that is no longer going to manifest itself. Sort of reminds u of when ur a kid and ur somewhere with ur parents, and some sort of 'consumer injustice happens' and an entire room of 30-50 year olds 'stand up for something' and complain to the manager.
It seems overwhelming to have 'grown up' and now be in positions where 'young people'/'alt people' experience 'consumer injustices'
'Consumer injustices.' They seem pretty subjective, I guess. It seems like the 'customer is always right', so it seems like a consumer injustice is likely to happen a lot. It seems like 'dumb people' are the most liberated when they get to 'complain' about being 'fucked over' at a restaurant/store/concert/etc. Like this is 'their time' to fight for justice, or something. I feel like that's why I h8 'dealing with failed consumer experiences' the worst--u have given this sort of 'power' as a 'crusader' to people who only have a high school education.
N e ways, from what I have read, HARD is a Los Angeles 'party' brand that attempted to increase the scale of their production. Instead of being held in some 'vacant lot' where relative tweenlectro chaos could be isolated, they attempted to move into a basketball arena where Magic Johnson used to play. From what I understand, the Great Western Forum is probably just waiting to be torn down since the Staples Center was built and the Lakers moved there. It seems like they probably just hold 'Second Class events' and try to turn a decent profit. It seems like this is the risk of holding a non-mainstream event--u will attract the wrong type of people into your facility, and the even will go horribly wrong.
Seems weird to see alt ppl 'sitting in seats' at an electro event as opposed to 'standing'/'dancing.' They seem to have 'restless leg syndrome.'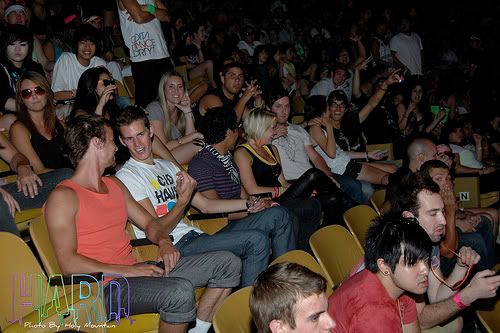 Looking into the distance, wondering how much more meaningful their lives' would be if they were 'sitting in the front.'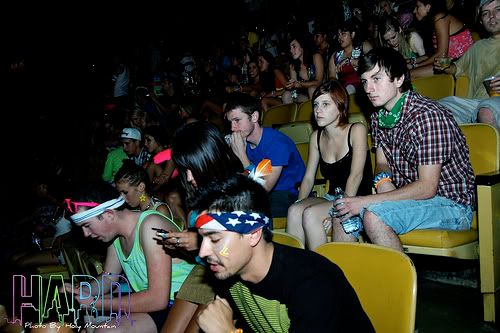 The desire to not be a 'second class citizen' relegated to the bleachers caused tons of alternative ppl to 'jump down' from the second level, in a quest to put themselves in a position to have a meaningful electro nite.


Because of bros like this, the event was a 'huge disaster' because there was no sense or order/control. I feel like people who didn't 'get' why you had to go to high school usually have a difficult time understanding 'how to act' in public. Like their parents never 'scolded them' when they were young for 'running around a restaurant', reinforcing the need to conform for the sake of social order.
After watching this video, u can see how the alternative culture in Southern California 'totally ruined' the event because they had no sense of order. I feel like this would never happen at a predominantly white, college educated Grizzly Bear concert. I think part of the California electro music scene has been 'branded' as 'crazie and out of kontrol', but u can see in this video that they are not meant to attend an event held in a 'real facility.' It seems like you should put them in some sort of 'field' and just have a huge pool of water for drinking + swimming + using the restroom.
I have heard 'internet rumors' that HARD oversold. Seems like maybe people all got the feeling that they would be 'on the floor' but then had to 'sit in the bleachers' or something. Seems like a 'huge nightmare.' Wish there were just illegal underground parties where people did tons of drugs and listened to 'electronica' or something. It would be an absurd celebration where people dressed in sillie, bright costumes.
It seems like all of the 'evacuated' concert attendees 'milled around' the parking lot, looking to create their own meaningful experience as they rallied around the 'disappointment' and 'hate' of the 'unfair police' who shut that shit down.
Maybe these micro-parties were more 'memorable' than a night where you sit in bleachers watching an electro DJ play from several hundred feet away. What is an 'authentic experience'?
I feel like the people evacuating at the JAMBOREE Natural Disaster seem 'legitimately panicked' or something, as if their lives' are in danger.
Seems 'drastically different' than the videos of the pissed off electro bros.
It's just so weird, yall. It's like there is this demand for an event that authentically unites people, rallying around the power of music, and ascending to a higher level of consciousness...but u have to pay $15-$35 for it, and then there are all these other fuckheads there. Just wish things happened naturally, like if Deathcabs played in a public space 4 free, and it got viral twitter buzz on the day of the concert.
Have yall ever gone to a concert/festival where 'shit went wrong'?
Whose fault was it?
Did u get a refund?
Can festival brands recover after 1 bad event?
Have concert organizers totally forgotten about 'the consumer'?
Would u be pissed if u died at a music festival?
Does God make things happen 4 a reason?
Do u know how to get an 'internship' with the riot police in Los Angeles?
Should all concerts require riot cops, or is Los Angeles 'more likely to have a riot' since there is so much minority unrest?
Is it a bad idea to go to an event that involves too many 'immature teens+tweens'?
Does every1 deserve a refund when 'something doesn't go ur way'?
By Carles on 09 Aug 2011

April O'Neil is an alt pornstar who was recently seen showing off her cha-chas at Electric Daisy Carnival with fellow alt pornstar Andy San Dimas [link]. Now it seems like April has 'taken her talents' to HARDFEST, and my 'taking her talents', I mean taking her BANGIN porn star bod, then Showing off her perfect alternative breasts to all of the local Los Angeles electro teens who were in attendance. Sweet sassy molassy, April, where'd u get those bongos!
I sorta wish I could go to a music festival with a Grade A piece of ass... but until then I'll just go in a pack of bros and we'll argue abt which acts to see and where is 'the perfect spot' 2 stand. Just wish I could vibe with April, put her on my shoulders, and show off her breasts 2 the rest of the bros.


Lookin good, April BB!
Do u <3 April O'Neil?
Have u watched any of her scenes?
Does she "really know how 2 fuck"?
Is there such thing as an 'alt' porn star?
Is she 'alt' bc she likes electro music, or is that type of music mnstrm in LA?
PREVIOUSLY
Some alt porn stars go 2 music festival, show off their alt breasts

By carleser on 09 Aug 2010

We are the
Electro teens
We are the
Electro tweens
We love the music
We love electro
We love the rave
RAVE OR DIE MOTHER EFFERS
Sad we have no money
Still trying to get jobs at Jamba Juice/Pink Berry
Then maybe I'll go to community college, major in computer graphics
and get a job at the Apple Store
We walked around the entire festival grounds
looking for a weak point in the fence.
Really felt like we were gonna go 'Ocean's 11/12/13/14' on the Festival


If we got caught
If 1 of us fell down
We had 2 go on
We had to experience the rave
and live to tell stories of the meaningful live DJ sets
to our bros
and 2 our future children
honestly feel like if a festival headliner saw our courage
they would 'invite us 2 chill in VIP'
because they want people who truly appreciate them.
We are the Electro Gate Crashers
Fighters 4 festival freedom [via $0 tickets]
Just wanting 2 party at a low cost price point
True fans like us getting priced out
We're not taking it any more
This is our fight
Old people say we 'don't stand up for anything'
Effing watch this shit, bitches
Cops/security guards coming after us
soon we will jump the fence
and blend in with the crowd, finding safety
Raving hard all day with my fave DJs

Note: also had some fence jumping experience [via running from the cops]
Are California raves too dangerous?
Are Californian teens too violent and aggressive?
Will music festivals have to invest in electric fences, moats, or armed guards in order to keep people out of the festival?
When u see some1 jump a fence, do u get pissed because u paid $300 for a ticket, and they got in for free?
Have u snuck in2 sooo many festivals 4 free, or do u just get free tix [via VIP connections]?
R u worried about going to festivals/raves in California?
Should all of these teens be 'sent to jail' for trespassing?
By Carles on 27 Apr 2010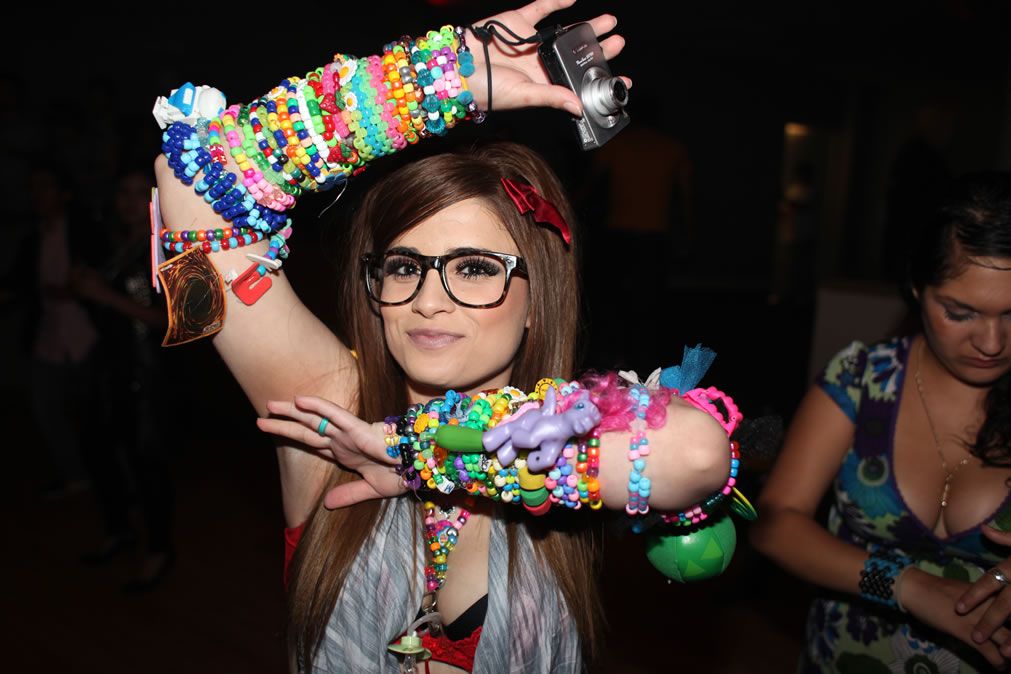 I kinda want to move to Southern California, so that I can experience the cornucopia of people + electro minorities whose personal brands are on full display at relevant electro events. I think Steve Aoki had some sort of concert that was part of the HARDfest party brand series. I think that is probably the most successful party brand in Southern California, basically the mini-Coachella for teens who can't afford a Coachella 3 day pass.
It seems like you either ask your parents to take you to the movies, or you tell your parents that you are spending the night with your friend who has bad parents, then they drop you off at an electro show.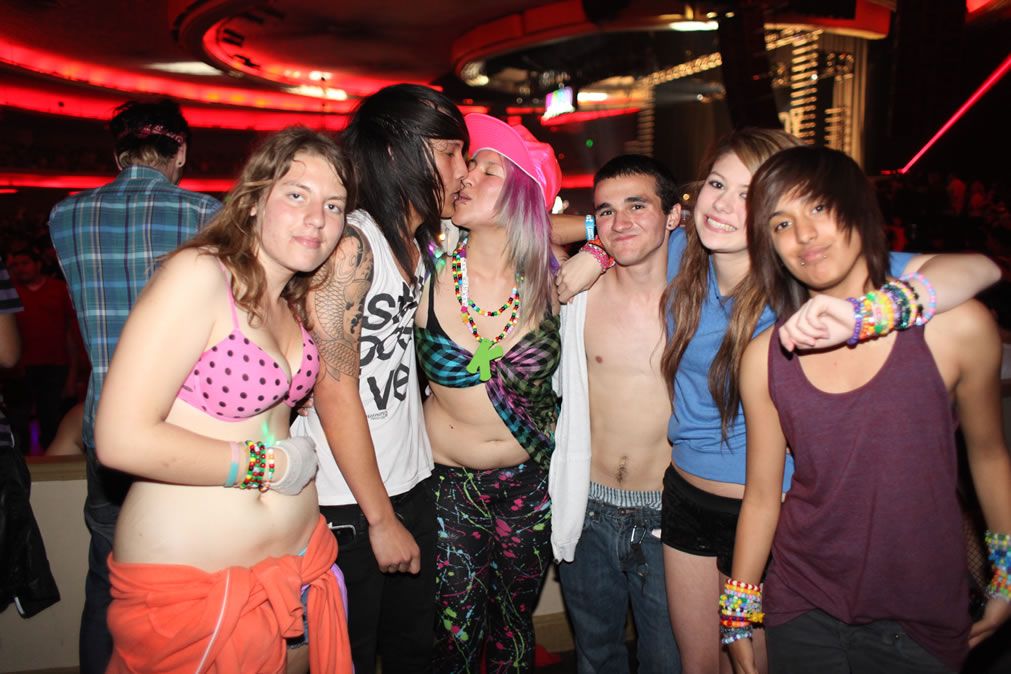 Feel worried about these kids, like they have minimal parental supervision. No1 who told them to drink water before they experimented with drugs + alcohol. Now they are all dehydrated

Just want a meaningful electro Girls Night Out. Do u think they had their parents drop them off like this, or did they just wear a baggy tshirt over their slutty outfits?

Wanna exchange bracelets?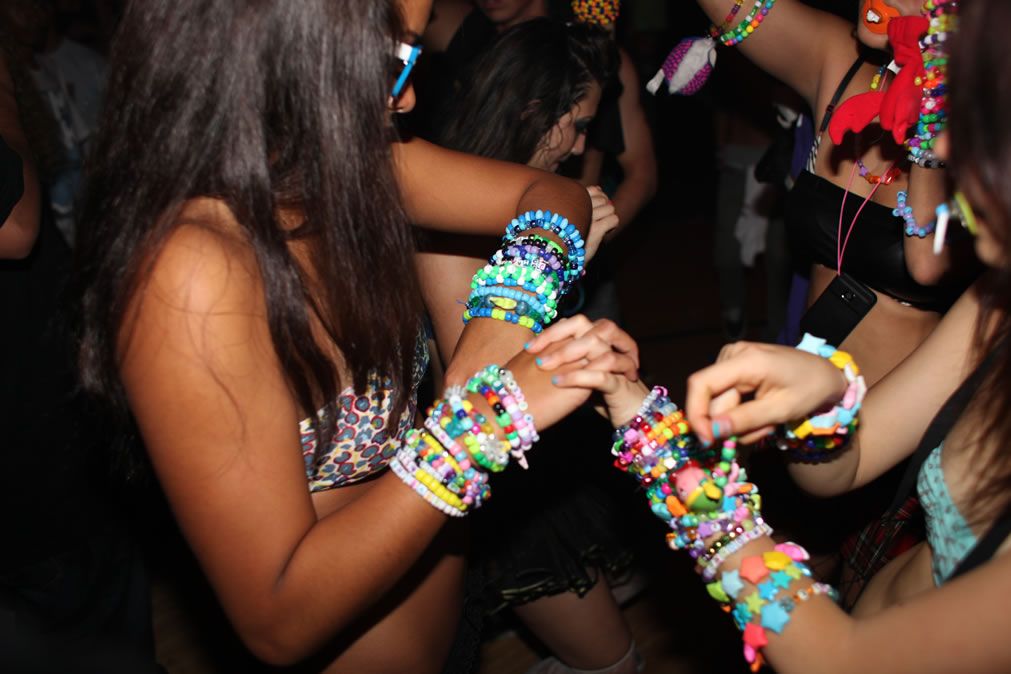 Worried that this relationship is 'barely legal.'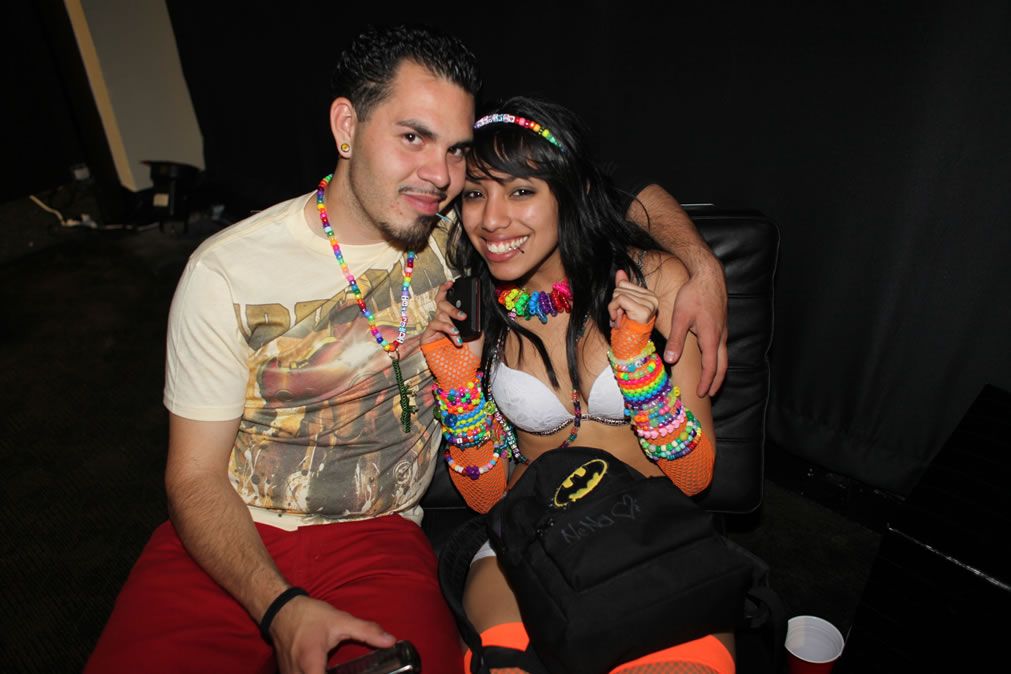 Need an electro-bromance with one of my closest bros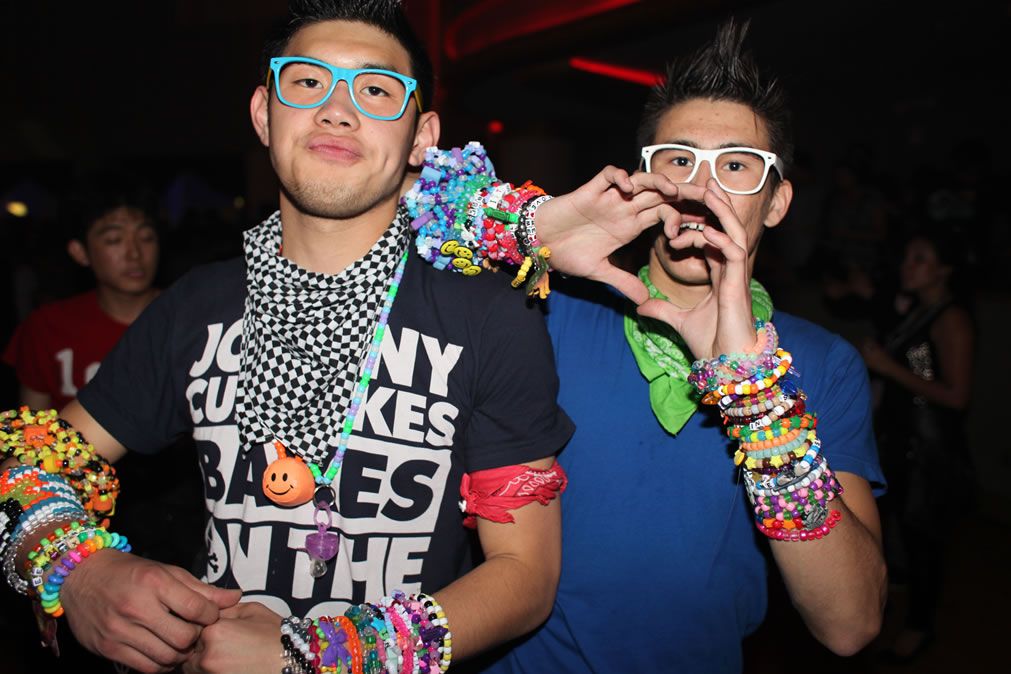 Need an entry level raver / alt girl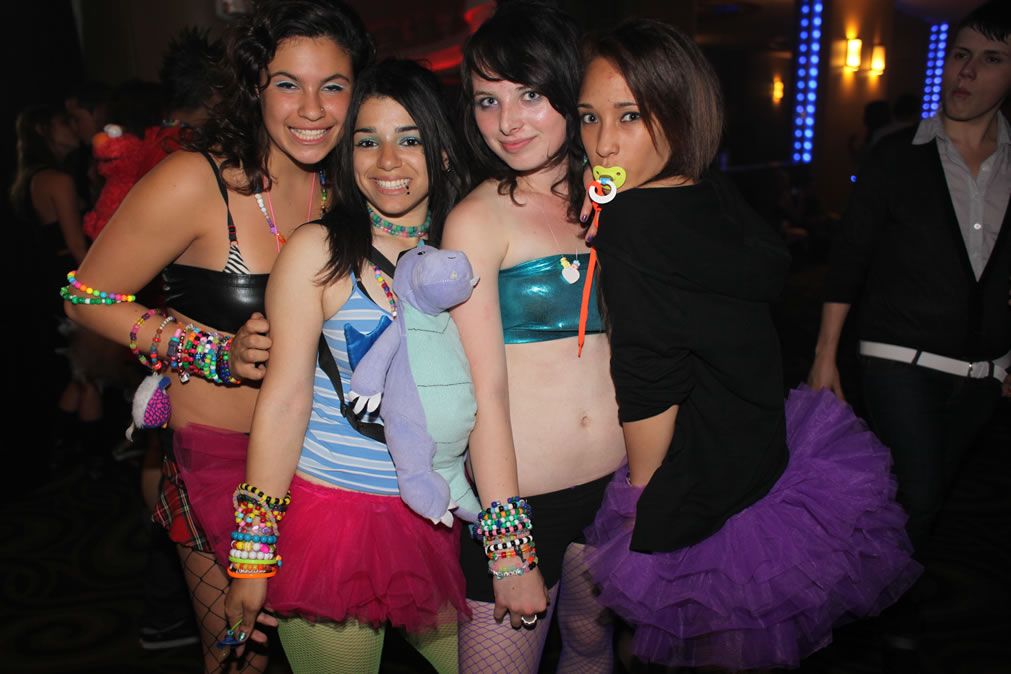 I wonder if 'electro in California' is sort of like 'high schoolers with a punk personal brand' in every other part of America.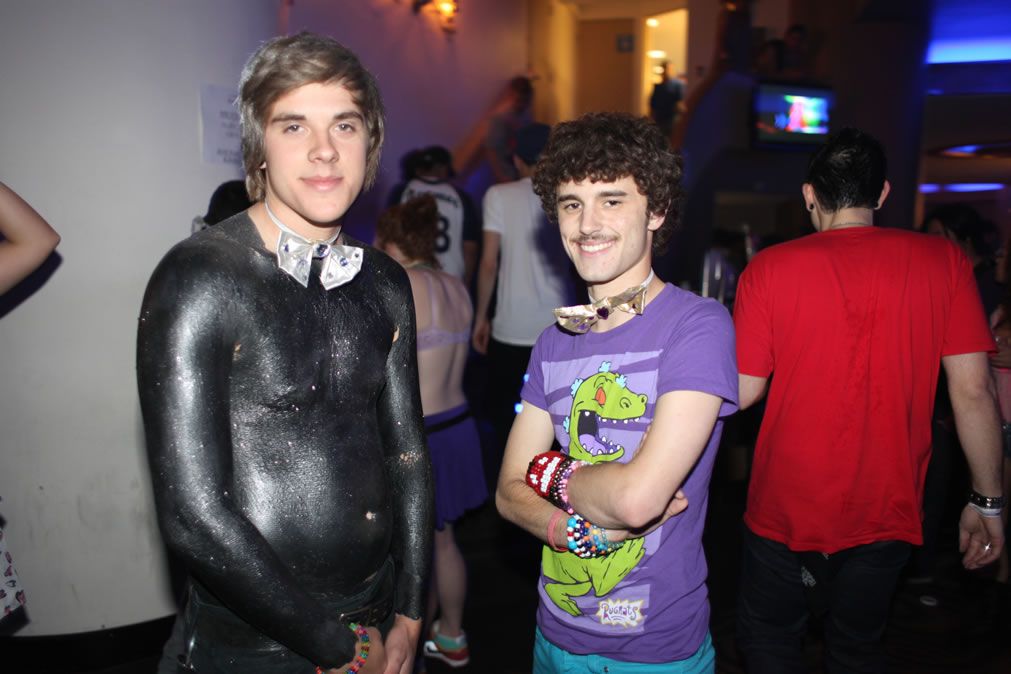 Goo goo gaa gaa. We're babies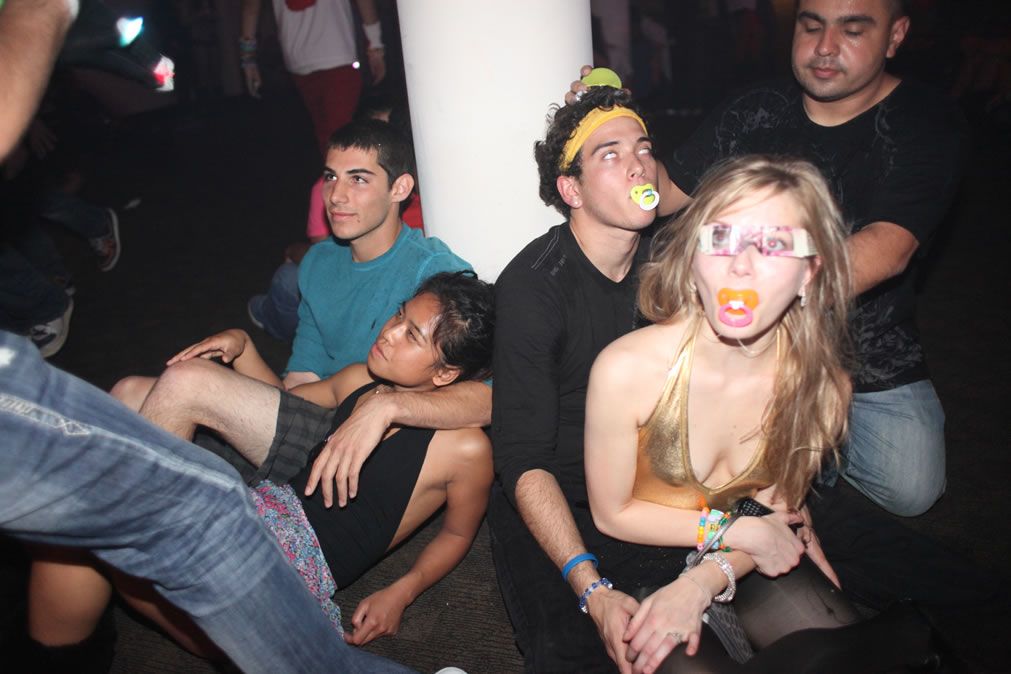 "Listen Bro. We're gonna dump her lifeless body on her front doorstep, then drive away, okay?"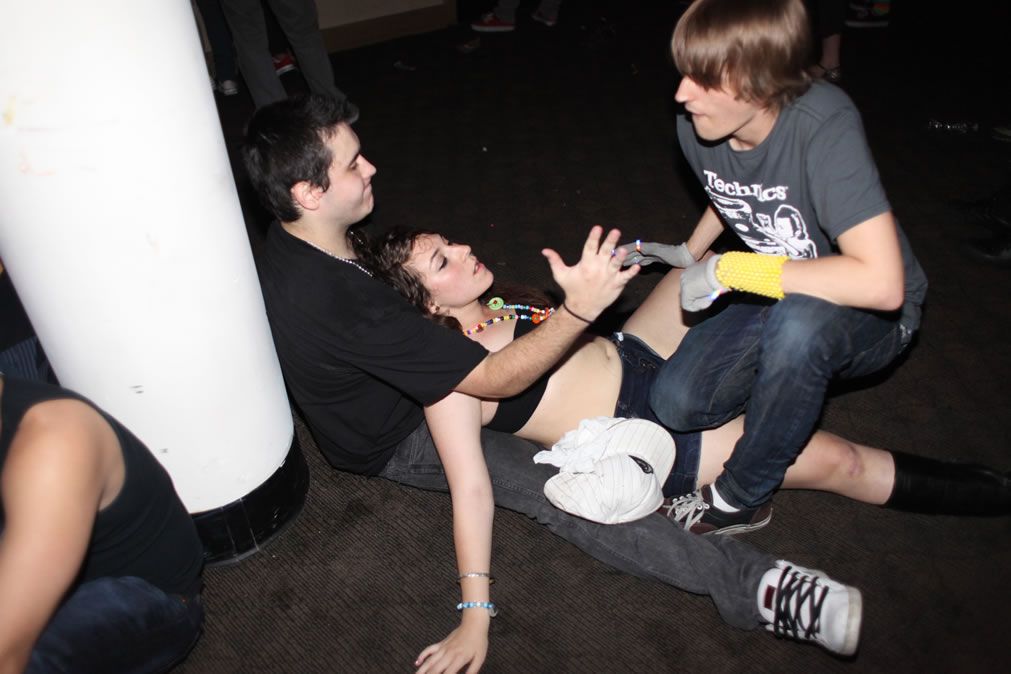 Srsly tho. Have yall ever taken advantage of some1 who was not 'in their right mind'?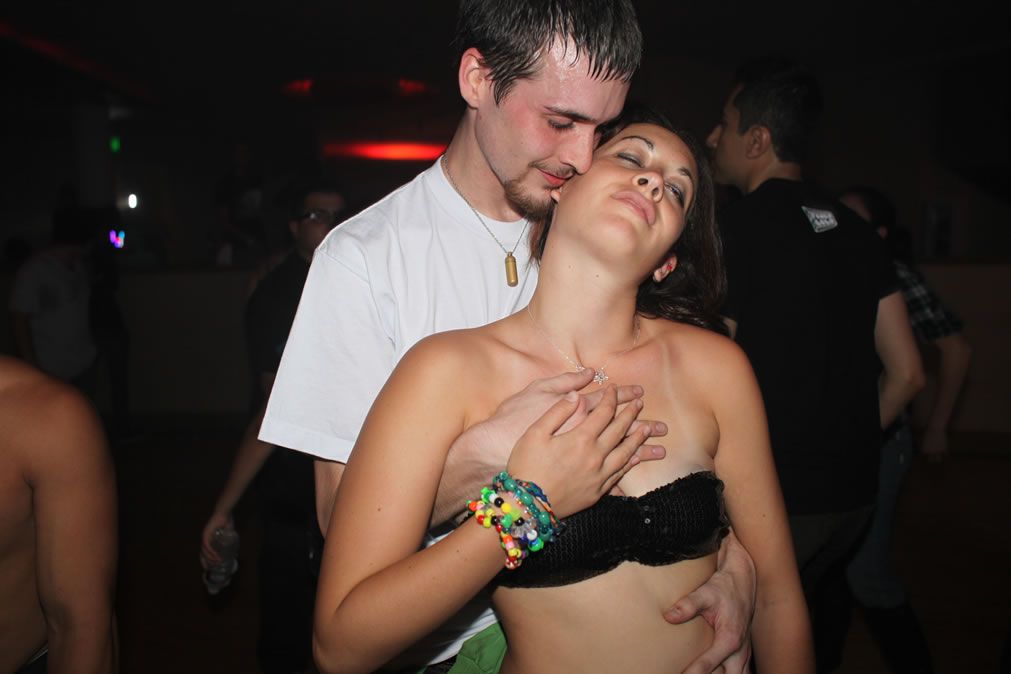 or do you get so effed up that you couldn't even 'perform' if u had the opportunity to take advantage of a passed out girl?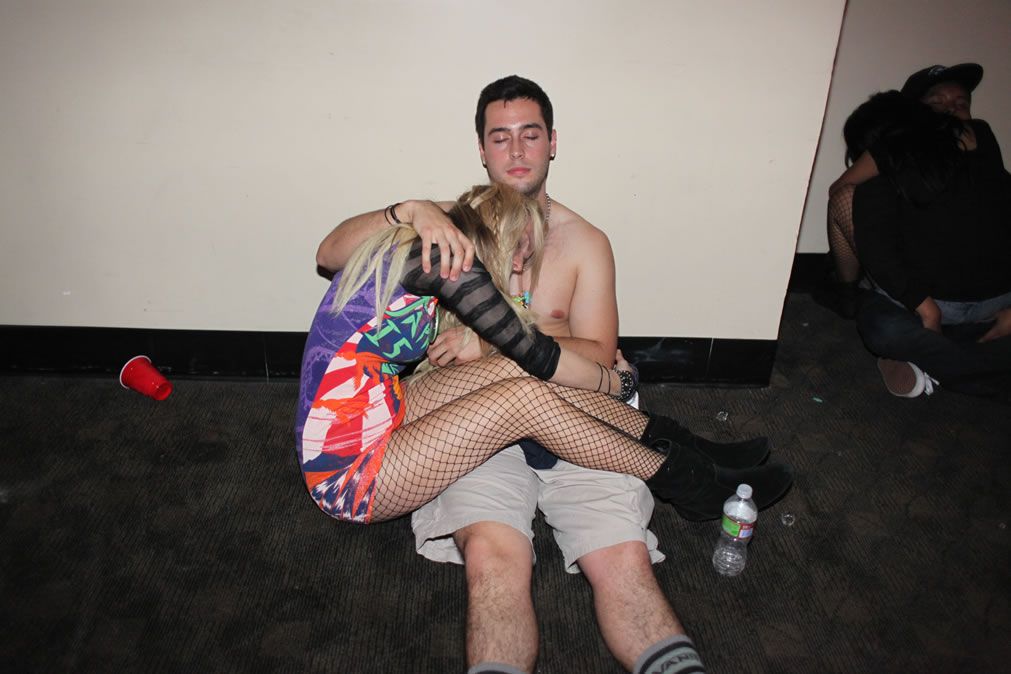 Is Steve Aoki the Electro God of California?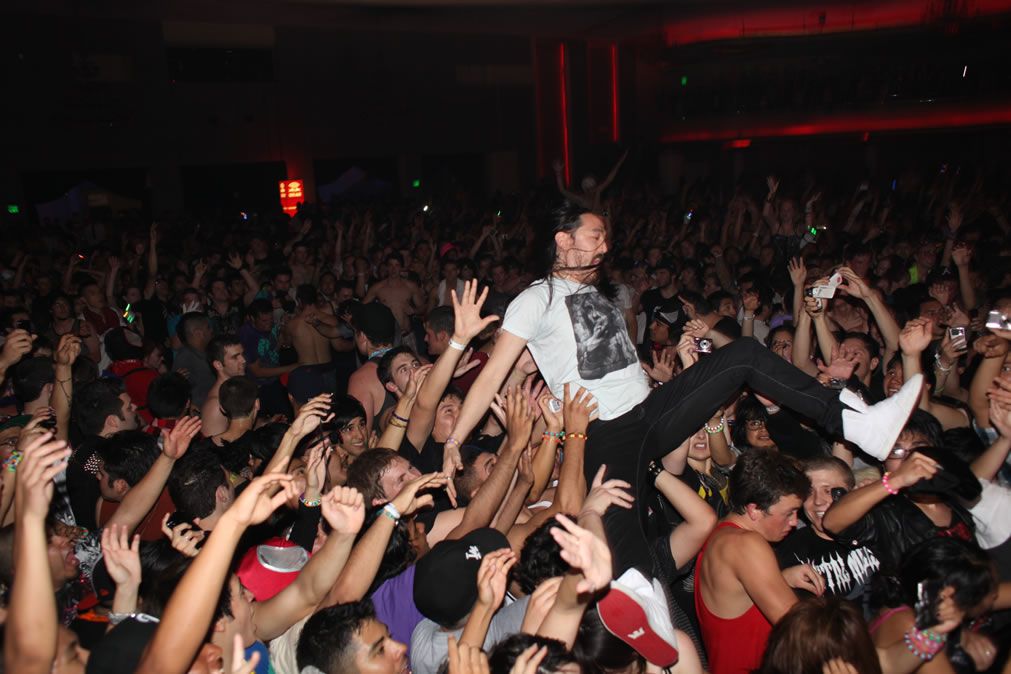 Connected with my bros after we touched Steve Aoki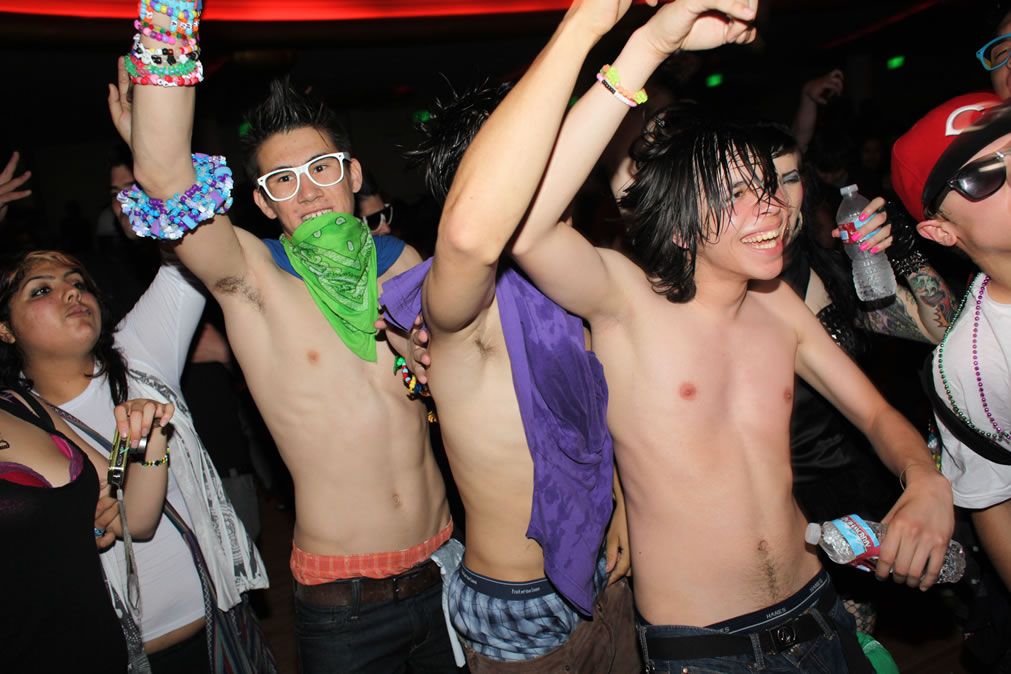 'I love my boyfriend.'

Does every 'all ages' event in California turn into a rave?
Do California Mexis + AZNs make the scene better?
Is HARDfest the #1 party brand in California?
Did u ever go to a rave when u were an unsupervised teenager?
Have yall ever accidentally gone to an indie concert thinking it was a rave?
Do u like to get half naked when you go 2 raves?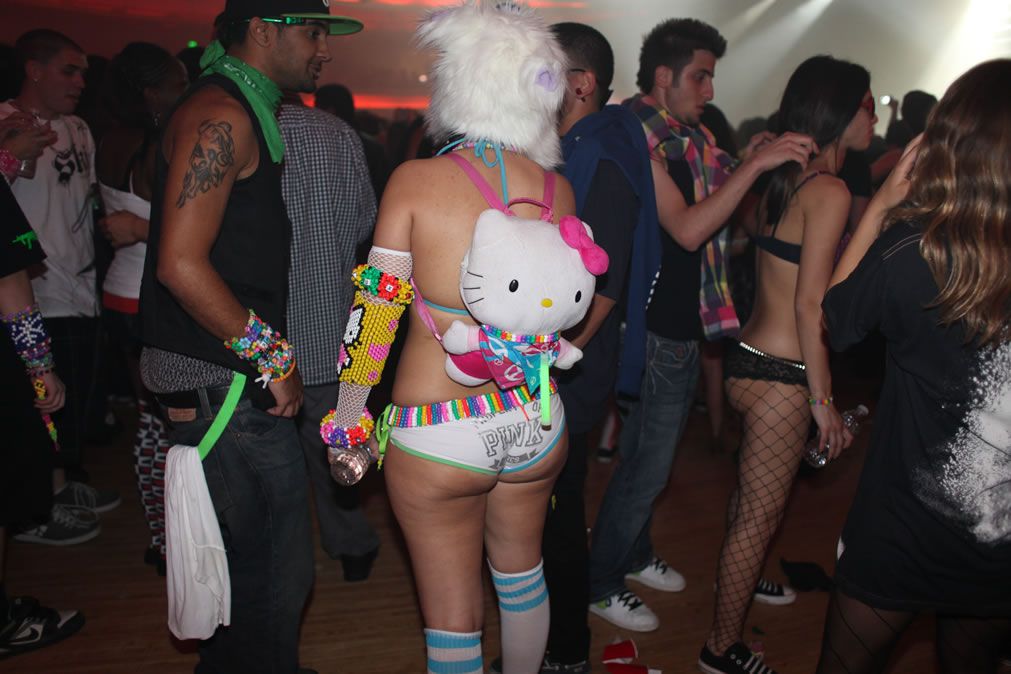 What should I wear to a rave?