logo design and corporate identity
By Carles on 28 Aug 2011
Link: http://www.pitchfork.com


Pitchfork.com is known as 'The King of Indie Music Blog Websites' bc it emerged as an early entrant 2 the blog scene, using a high-level editorial brand 2 convince ppl to 'take it seriously' as a music recommendation service. Like most websites on the internet, it must adapt to meet the users of contemporary-wave/modern internet users. It seems to have launched an ALL NEW redesign that attempts to make it more competitive in the current internet landscape. Do u think it is a 'design success' or a 'massive design failure'?
Here is the official statement on the redesign:
The new edition features larger, clearer images, improved organization and usability, and a more readable typeface. Pitchfork.tv has been reworked, making artists and series easier to find, and its archive of music videos has been moved to the still-expanding Music Videos section. Our new Tracks section merges Forkcast and The Playlist to highlight the best and most notable new tracks as they become available. Video game culture magazine Kill Screen has been given its own dedicated section, and experimental music blog Altered Zones now has a presence on our homepage.
Twitter is A-BUZZ with this SHOCKING NEW DEVELOPMENT, and reviews are MIXED. Needless to say, some users are NOT giving the site a 10.0, nor are they giving the site 'Best New Layout Status.'
I reached out to a well-known internet HTML designer, and he issued to following analysis on the redesign:
It's by no means a compelling or game-changing redesign It's super bland, really. In many ways, the indie thoughtleaders made their site look like just about any other site on the internet. The most notable element is the blank space on the side of the page, which will surely morph into a coveted skin-based ad solution. While Gawker used their redesign to push forward the internet's ad solution model, Pitchfork's redesign symbolized confidence in their advertising sales team AND probably just meant they needed to clean up their code-base, specifically on the TV side.

To get nit-picky, the redesign features an inordinate amount of clutter. It bastardizes the finer assets of a number of better sites. The footer approach lifted from at least 30 popular websites. The partners section is also doomed. It is highly redundant to have Tracks and Best New Tracks across from each other. The new design just made their typically poor typography even bigger--their confused brand identity illustrated by excessive number of fonts. 24 pt Georgia body text? You've gotta be kidding me. The prevalence of their social media presences is necessary for most blogs, but the implementation is incredibly middle-brow. The site is a colorless, slow-loading Frankenstein. No finesse by their design team. Cool treatment on hoverstates, though.
Did Pitchfork 'nail it' on their layout?
WIll they ENGAGE new users?
Have they already 'won' indie? Can they takeover more genres?
Have they 'gone Huff Po'?
Do they look unique + well-branded, or 'just like any other crappy blog on the internet?
Will they see a decrease or increase in pageviews based on their layout?
Will they see a decrease or increase in uniques based on their layout?
Do u think they will make more $$$ based on the layout?
Will they decrease server load with the new layout?
Did they hurt or help indie by redesigning?
Do u go 2 design school/internet college majoring in HTML? What is ur analysis on the new layout?
Do u miss the old layout?

Do u miss the older layout?

Do u miss the older older layout/kewl favicon?

Do u miss the lil text layout?

Should they revert 2 the original layout 2 refocus on Authentic Music Journalism? (Schreiber, 2000, pp. 1-3)


What is the best alt blog design of all time?
How would u rate the new layout?
Company, Blog
Pitchfork is a popular indie blogzine that does reviews and gets mad hits.
Read more>>>>
Alternative Entrepreneur, Alternative Celebrity, DJ
Ryan Schreiber is the creator of Pitchfork Media. He is one of TIME MAGAZINE's most important people in the world ever.
Read more>>>>
By Carles on 07 Mar 2011

I just saw the new Pitchfork Music Festival logo, and it looks pretty alt. Like it might be the background .jpg to my new indie underground altered zone wave blog that also has a vintage minidisc label... Sure it looks alt... but is it 'mainstream enough' to really present the p4k brand to the mainstream bro type? Can they really 'slap that bad boy on a t-shirt and sell the hell out of it' to all of the lamestreamer Midwesterners who go 2 Chicago for Lollapalooza?
I sorta miss the old vibe...

Always <3 making up my old fonts when I am bored in class.

This seems kinda chill too

Stencils are pretty chill. One time I spraypainted address numbers on curbs just to pick up a little bit more cash.

Do yall <3 the new redesign / rebrand?
Is this 'worse than the GAP logo'?
Is the new logo 'branded' enough in a mainstream lamestream way, or did they make it 100% alt?
Is the redesign 'brilliant' or does it leave u 'wanting more'?
R u an 'arm chair graphic design major' [via having high level design sensibilities]?
R u gonna get ur parents to buy u a 5 day pass 2 this music festy, or will u wait to see honkier bands at Lollapalooza?
Company, Blog
Pitchfork is a popular indie blogzine that does reviews and gets mad hits.
Read more>>>>
By Carles on 19 Dec 2010

CNN is a website 4 liberal mainstreamers who 'think the are interesting' bc they read the news, but aren't snarky enough to be all like "I love the Daily Show and the Colbert Report! Effing genius! Obama 4evr. H8 Fox News Bill O'Reilly is bullshit. Eff George W. Bush. I am interesting, I read news but not the newspaper and not the local news, but basically just as krappie." Anyways, CNN has a similar content stream for the Hispanic 'Underworld' called CNN En Español.
They apparently have a new logo with an "ñ" over the two "N's" in the CNN logo. This is supposed to be 'more conceptual and help Latinos 'identify' with the brand.

CNN en Español keeps the channel's iconic red logotype, but will now include a tilde over the two "N's." This device suggests movement, the dynamic nature of news, and a reference to the language that unites our viewers.
— Press Release
Do u think this logo is 'brilliant' or 'effing dumb'?
Is CNN 'a legit news source' + 'content provider' or are they basically 'the local national news'?
Do all ppl in the Third World get their news from Al Chareezo [via Usaman Ben Laden]?
Do u think ur gonna start learning Spanish so u can get in2 this brand?

***BREAKING ANNOUNCEMENT******
Inspired by the CNN en Espanol logo, HIPSTER RUNOFF has decided to launch HIPSTER RUÑOFF, a site for MexiAlts and Altinos.


Bienvienidies Al HIPSTER RUÑOFF, un blogotequa que tiene que blogar sobre.
Me llamo Carles. Sígueme en el Twitter.
¿Es HIPSTER RUÑOFF muy estupido y lamestreamando?
¿Es el blogger Carles del HIPSTER RUÑOFF un hombre muy chistoso?
¿Es HIPSTER RUÑOFF muy mainstreamanda?
¿Estas en #EquipoHIPSTERRUÑOFF o #EquipoAmericanoBlanca?
¿Piensas que CNN en Espanol es muy 'effing lame'?
¿Sabes un websitio muy 'alt' en el internecio?
¿Escucha a la indie banda Managmento o Semana de Los Vampiros?
¿Tienes Mac o PeeCe?
¿Quieres que leer HIPSTER RUÑOFF todos los dias o nunca quiere leer este bloga?
Meme, DJ, Company, Buzzband, Blog, Alternative Celebrity
HIPSTER RUNOFF is a blog worth blogging abt, created by Carles that is trying 2 stay relevant. It blogs abt buzzbands, alt stuff, relevant topics, the end of the social web, and more.
Read more>>>>
By Carles on 09 Nov 2010

It seems like in 2k10, every company is trying to rebrand, creating a new logo that makes their brand seem modern/bad ass/etc. I remember when GAP made a new logo, but then ppl on the internet were like 'that is ugly + stupid, yall', and then they changed it [link].
Urban Outfitters decided to create a new logo. I don't even know if they have an official logo. Maybe this is just a crappy logo that they put up on their website to drive traffic after the new GAP logo got so much internet buzz. Probably just trying to design something way dumber, see if it is a good marketing gimmick.


Does Urby Outtie have an official logo? Do they have a 'flexible logo' that represents constant evolution + 'now-ness'? Do logos grow old and die? Should Coca Cola rebrand [via cursive]?
Do u think they used Microsoft Word Art to design their logo? Is the Adobe Creative Suite 'overrated'?

Do u believe in the power of graphic design?
Is Urban Outfitters a legit store, or the ultimate entry level over-priced thrift store?
Why do u think Urby Outfitters is doing well, but Am Appy is 'swirling down the shitter'?
Do u think re-branding helps brands sell more goods?
Does this logo 'crush it'?
R u gonna start using Microsoft Word / Word Art 2 do most of ur designing?
What is 'the new aesthetic' now that the Helvetican look is 'dead'?
Is the new Myspace logo the #1 re-brand of 2k10? [link]
Company
Urban Outfitters is an alternative retailer that sells a bunch of clothes and knick knacks 2 alt ppl.
Read more>>>>
By Carles on 25 Oct 2010

Were yall ever a member of the popular social networking site MYSPACE? It used to be a popular place for people to friend, comment, and look at pix before facebook / twitter replaced Myspace cuz it was bulky, slow, ugly, and too customizable. So many emo/goth tweens 'pimped out' their profiles [via Thomas's Profile Editor] and it was all ugly and poopy of a website.
Every1 got on facebook and it is more chill, then alt ppl got in twitter, and they believe twitter is 'brilliant' bc it is simple. Myspace seems 'effed', so they keep trying to do shit that makes their site more like fb/twitter, but no1 rlly cares abt them any more.
The redesign, which was reportedly scheduled for mid-October (I assume it has hit some delays), has been described as the News Corp-owned social networking site's last stand to stop the loss of users and ad revenue. (comScore reports that Twitter recently passed MySpace in traffic for the first time. And the company has seen a number of executives leave.) Chief digital officer Jon Miller said last month that the redesign is "a full swing of the bat" that will initially scare some users away.
Here is some screen cap of 'the new user interface' that is meant to provide a 'more enriching' experience for ppl who still use myspace. Should I deactivate my facebook/twitter and become a re-early myspace adopter?

Check out this sweet 'identity' work. Wonder if the new logo / new site design is going to 'save' myspace, or if it is effed. New logo is soo flexible, open 2 interpretation. Like it doesn't matter how much of an individual u r, u will always have ur own space at my _________.


Is this logo 'dumber' than the GAP's new/old logo? [link]
Do u use myspace?
Is myspace for Mexis/ african americans / azns / whites / tweens / emos / poors / Californians?
When was the last time u logged in2 myspace?
Should I purchase Microsoft Paint and become a logo designer?
Is Myspace 'totes irrelevant'?
Why did Myspace die?
Should Myspace just 'pull the plug', or are there still a few billion dollars that they can squeeze out of it?
By Carles on 23 Sep 2010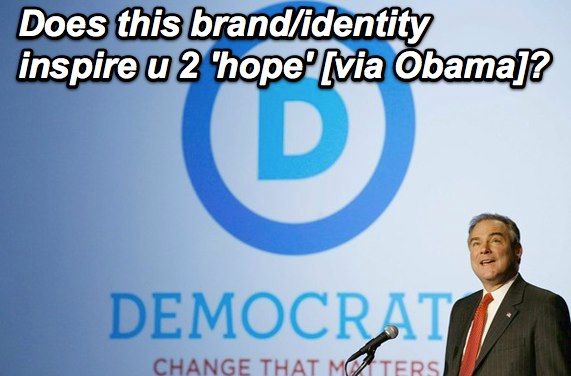 After the election of Barrack Obama in 2002, beating George W. Bush III in one of the most heated elections of all time, Democrats have been trying hard 2 hold on to their liberal, left wing power. Many say that the power of graphic design is what got Barry Obama elected into the Presidency chair because he inspired Americans 2 align with his logo that was all about 'HOPE'. It seems like the Democratic Party has 'unveiled' a new logo / brand / corporate identity. They are probably trying 2 ride Obama waves or something because he is trying to get re-elected with all of the other Presidents in every other State in the Union Confederacy. Who are u gonna vote for for mayor/city councilman/senator / Supreme Court Jousteece?
Logos + graphic design play a huge part in my consumer decisions every day. Something abt the Taco Bell / Pizza Hut logo makes me go there for lunch every day.
Really trying 2 analyze their new logo / brand. It seems like their old brand was all about 'being a donkey' and also 'being an American.' Now their new logo is about 'being a chill, minimalist Democrat' who only really cares abt reading design blogs, sweet fonts, and tweeting with @ObamaBro.


It seems like the "O" surrounds the D to represent the omniscient presence of Barrack Obama in the context of the modern Democratic Party.
Do u think their logo design and corporate identity will inspire u 2 vote for them?
Did Obama 'revolutionize politics' with effective graphic design?
Will the Republicans come up with a new logo in Comic Sans?
Is Obama 'overrated' as a politician, leader, and graphic designer?
Is the Obama brand more relevant than the Democratic Party Brand?
Are 'independents' ruining life 4 Democrats?
When Obama takes our country 'down the shitter' in 2011, will we all join chill ass Tea Parties?
By Carles on 23 Jun 2010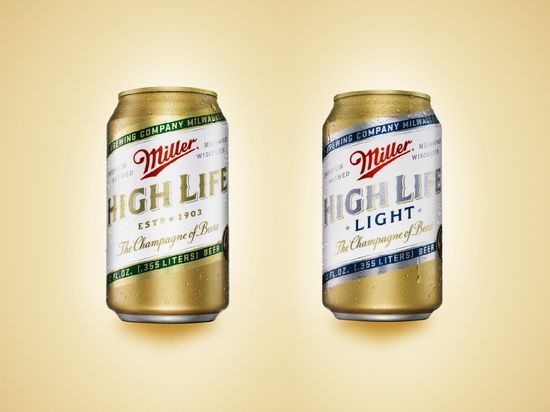 Miller High Life is a popular alt beer that is 'somewhat famous' for being 'mad cheap.' Some alts prefer Miller High Life over the popular alt beer 'PBR' and the popular alt energy drink 'Sparks.' It seems like Miller High Life had to rebrand in order to 'stop looking so cheap.' Maybe they weren't making enough money from it, so they want to rebrand it and drive prices up, tricking people into thinking it is a 'classy' beer.
"Once the flagship brand for Miller Brewing Company, Miller High Life had over time been repositioned as a below-premium beer that belied both its product quality and rich 100+ year-old heritage. In order to improve consumer perception, we contemporized and better leveraged its revered and iconic brand elements—the Miller High Life Soft Cross and the Girl in the Moon. The new visual identity allows the brand to stretch beyond the below-premium category into a more premium territory that we think positions the brand to reclaim its iconic status."
Do u think they 'deserve' to be an iconic brand, or should they have just tried to play up the 'ironic brand'? I feel like after the Bros Icing Bros era and the PBR model which embraces grassroots ironic hipster branding, it would be 'chill' if Miller High Life 'gave up' on High Life being a 'premium beer.'
A tag line like 'the Champagne of Beers' probably can't be taken seriously in the modern world.

Here's a bunch of designs to try to make people think that High Life was created in a microbrewery in Colorado/Maine/Oregon.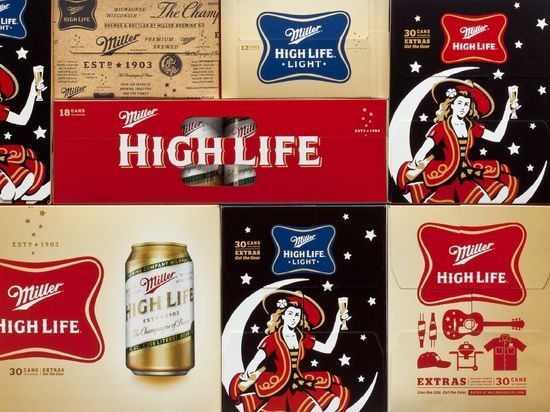 Is Miller High Life 'Light' 4 ass holes? If u buy 'cheap beer', does it make sense to 'buy light'?

Might buy a bunch of vintage High Life tall boys to sell on eBay in 30 years

Gonna miss their old brand. Really looked like 'the stuff that homeless people drank.' Made me connect with the brand whenever I had it for $1 per bottle at my local relevant dive bar.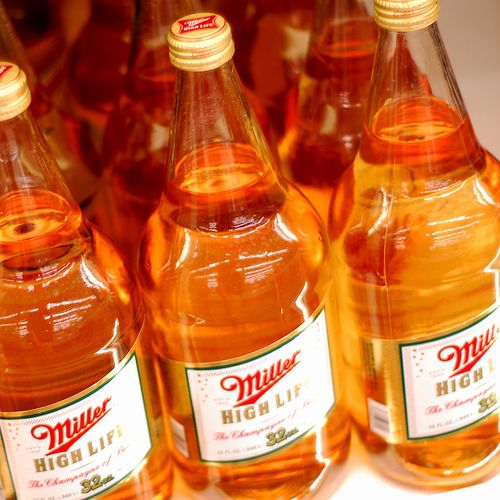 Do yall like 'high life'?
Is this brand/identity 'solid' or 'effing stupid'?
Can Miller High Life reach new, high end markets, or do those high end markets already drink gimmick regional beers / low calorie beers?
Is Miller High Life the 'champagne of beers'?
Is Sparks the 'champagne of energy drinks'?
Is The Alt Report the 'champagne of alt meme bloggregators'?
Is Washed Out the Champagne of chillwave?
Is Tom Cruise the champagne of scientologists?
Should brands embrace their modern ironic status?
Will a new 'hipster beer' emerge in the 2k10s?
Is Miller Chill 'the champagne of beers marketed towards Mexicans'?

By Carles on 19 May 2010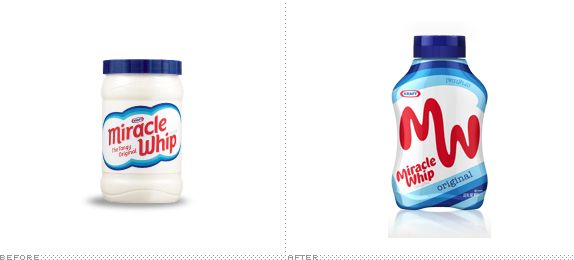 Miracle Whip has been trying for the past several years to 'rebrand' itself as a cool condiment that alternative people can use on their foods. Not sure if they are 'trying to replace ketchup/salsa' or something like that. It seems like they made a 'new logo' that breaks free from the limitations of font-based typography. Instead, they used an emotion-evoking scribble of mayo, similar to the way you zig zag a condiment on ur bread when you make a sandwich. It seems like this 'raw' branding decision is trying to appeal to the natural, animalistic human spirit, sorta like how humans used to have to communicate by 'cave drawing.'
I remember the days when I used to vibe out hard to this commercial, thinking about sweet rooftop parties where me and my bros would eat tons of mayo, and use it as a mixer in our 'vodka + mayo' drinks.
I wonder if Miracle Whip is 'the new Volkswagen.' Maybe they can make a series of 'hipster bashing' commercials that get blog coverage.
It feels as if this happened yesterday, but almost a year ago, we reported on the redesign of the mayo-alternative, Miracle Whip, and its repositioning as the coolest spread in town. That deliciously retro design is now gone, in the blink of an eye, and in return we get a more gooey rendition of the name and something that resembles more what they had before the change last year. Despite the quick switcharoo, it's nice to see that they still aimed for a certain simplicity and the new packaging is as minimal as you will find on the shelves; it's actually quite striking with that big MW.

Do u think this new logo will help Miracle Whip to become as popular as Coca Cola?
Do u use Miracle Whip?
What is the most alt/authentic condiment?
Is 'ranch' for white people?