marriage
By Carles on 13 Jan 2012

BroStepper: Yo, Skrill. Stop the music. I got something I've been meaning 2 do for a long time.
Skrillex: My Name Is Skrillex.
The Brostepper Brings his DubRaverBB on stage. She is confused, has no idea what is going on.
BroStepper: BB. I've been thinking a lot about us...
DubRave-BB: I was actually really enjoying that Skrillex show...
BroStepper: We've had a lot of fun on the Holy Ship, I feel like we're finally with our people.
DubRave-BB: Why did u stop the music? Can we have this conversation later?
BroStepper: I mean like, I REALLY love u... It's not the aluminum bottles of Bud Heavy talking
DubRave-BB: I think u have a drinking problem.
BroStepper: BABE. LISTEN 2 ME.
DubRave-BB: Ugh...
BroStepper: I mean, I just like REALLY, REALLY effing vibe 2 u.
DubRave-BB: I know, I know. Let's talk later plz.
BroStepper: U are the wompwomp in the beat of my heart. U are the bass that dropped in my life and changed my metaphorical DJ set. Without u, I am constant wah-wah, no stable vibes. I need you... That's why I wanted to ask you.
The Brostepper gets down on one knee. Takes out electro wedding ring.
DubRave-BB: OMG!!!!!!!
BroStepper: Babe. I really love you babe.
DubRave-BB: OMFG!!!!!
BroStepper: And I want you to be my...
DubRave-BB: ROTFOMGMAO!!!!
BroStepper: I want to go to every rave with u forever and drop molly with u...
DubRave-BB: OMGGGGG!!!!!
BroStepper: I want u to be my +1 for the rest of time...
DubRave-BB: U GOTTA BE FREAGGIN KIDDING ME!
BroStepper: When I'm with u, I just feel like I'm always in the VIP section
DubRave-BB: LOLMG!!
BroStepper: U held my hand when I started to cry when I got that tattoo
DubRave-BB: ME??????
BroStepper: And I asked ur dad, and he told me that I didn't have stable income, and he encouraged me to get a stable job, but I don't care, because I know we can be happy....
DubRave-BB: BABE!
BroStepper: Will u be my wife?
DubRave-BB: Yes!
Skrillex begins to play a meaningful dubstep track.
BroStepper: This is our long drive, bb.
DubRave-BB: Sigh...
BroStepper: Tonight, we have it all...
DubRave-BB: Tonight, we have eachother...
BroStepper: This must be para, para, paradise [via the Coldplays]
DubRave-BB: When I was a young girl, I always imagined that this is how my true love would ask me to marry me. I'm not one for romanticism, but right now, I know that you are my soulmate.
BroStepper: God Bless Us, every relevant dubstream electrocouple.
The night rolled on, and Skrillex played an amazing set. The newly engaged couple both did molly. The DubRave-BB ended up making out with a relevant DJ. BroStepper was devastated. He started getting AGGRO with his dubBros, and they were kicked out of the nightclub. They managed to start a fight with the bouncers, and were nearly beaten to death. As he made his way back to his room, he contemplated throwing himself off the Holy Ship. He decided against it. He knew that one day, he would find true DubLove again.
Alternative Celebrity, DJ
Skrillex is a popular dubstep DJ who is arguably the #1 alt DJ in the world.
Read more>>>>
By Carles on 29 Jul 2010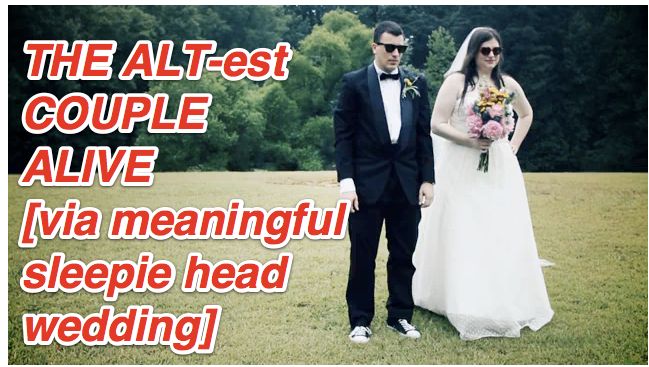 As yall know, I haven't been posting as much lately. I have some great news to relay to yall. I finally got married. It was a beautiful ceremony, and we even had one of my art school bros create a video for us that is really in line with our alternative brand. So many tacky ass people get standard wedding photographers to document their weddings. I think the goal of those photographers is to 'make the bride look skinny', and justify the groom's role in the wedding by taking a few meaningful 'bro pix' that really make it clear that the groomsmen are an 'authentic can of bros.'
N e ways, our conceptual video turned out pretty amazingly. We used the hit song "Sleepyhead" by the Passion Pits as 'our song' since it really represented our 'new lease on life.'
Just wanted every1 at the wedding to 'know who we are'
'what we're all about'
Understand that we are more than just 'any other lame couple'
who is uniting together for tax benefits
Beautiful ceremony
Beautiful bros
Beautiful bitches
Walking around conceptually
moving arms, facing zany angles
metaphor 4 how we are 'obtuse as shit' in a right angled society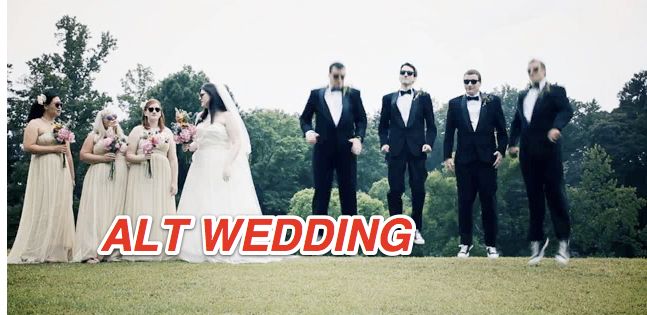 Eff dress shoes
Wearing some Converse
[via Best Coast / Vampy Weekend collab]
Feel like everything was perfect
for 1 night
we were all sleepie heads
A feast
a carnival
a partie
an electro rave without any deaths
Feel like my immediate family
and my extended family
finally realized 'who I am' as an alternative person
and how I 'see the world' in a different/abstract way
Just want to drive away with my lover
Riding the minivan wave
2 our honeymoon on the concrete beaches of Brooklyn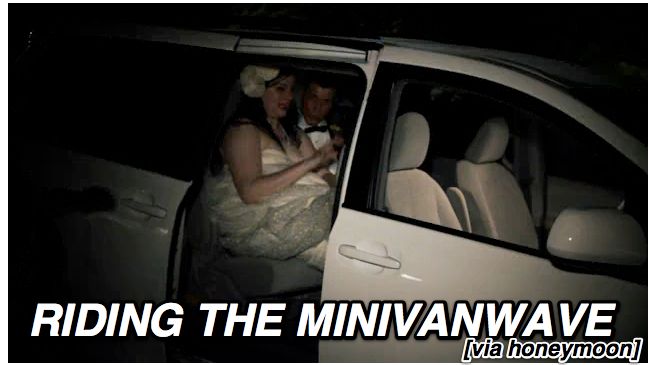 Are yall gonna have an alt wedding?
What indie song is going to be 'yalls song'?
Did this video 'kill it'?
Is this couple 'the most authentic couple in the world'?
Do u think they will be happy forever, or will they get divorced when 1 of them decides that Passion Pit is 'too entry level' 4 them, then the other 1 gets defensive because the song 'means a lot' 2 them?
What are u gonna do at ur wedding to make sure u don't have a mainstream, middle class wedding?
Do u feel sad when u see high school/college acquaintances 'getting married', 'looking happy', and ultimately having an upper-middle class tacky-wave wedding?
If ur not going to be rich, is the only thing left to do with ur life 'get married and pop/poop out a few kids'?
Passion Pit is a bleepy bloop indie pop band that tons of entry-level alts <3.
Read more>>>>
By Carles on 26 Jan 2010
view video HERE if above vid doesn't work...think they took it down from youtube bc of me. Worried.
The goal of any union between any man and woman is to prove to one another + the world that your bond is stronger than any other bond between any two other people in the history of the world. Your relationship must have a goal. It must generate a product, brand, or aesthetic that lets people know that your relationship is the most meaningful bond ever--even more meaningful than the bond between God and his cranky ol' wife. It seems like this relationship between 'Jeff' and 'Erin' is incredibly meaningful, and not just because they are breaking racial barriers.
Would u ever make a viral vid with ur soulmate about yalls relaish/eternal bond?
It really feels like we are entering the golden age of 'ppl trying to go viral so that they can feel 150% more meaningful' than the status quo of their lives'. I have always wondered what it will be like to 'plan my wedding', like if it will be stressful, and I will just say 'yes' to everything that my fiance suggests. But now it seems like the goal of a wedding has to be 'creating a crazie viral moment' that the entire internet can share. Then u end up being interviewed on the Today Show or something as a 'human interest' piece that inspires Middle American women 2 resent their non-creative type work horse simpleton husbands more than evr.
I feel like this video sort of documents the struggles of small AZN people, and their desire to be white. It also documents the struggles of plain white females, and their desire to have a creative identity. Just feel awkward when white people date 'outside of their race' in an effort to 'seem more cultured/less boring' or something.


Ultimately, I feel worried about their relationship. I am not sure if they will ever create anything more 'meaningful'/'viral' than this video, even if they create a child. It seems like they would probably have to make a viral video of their child's birth, perhaps something involving kittens coming out of Erin's womb. JeffAznBro is probably the 'creative' one, who can make 'sweet vids', but their end product kinda worries me. Even if this is supposed to just 'mock' traditional movie trailers, the ideas+brands+gimmicks that they have imported to represent their story prove that they have no identity. Like they have a vision of 'how they are supposed 2 feel', but have no ability to feel anything real. Seems like their whole relaish is just 'smoke and mirrors', kinda like Hollywood/Bollywood.
Do u think Jeff and Erin are going 2 'make it' because they are two like-minded ppl who created something beautiful?
Will their AZN + white identities keep them 2gether forever?
Is their movie not believable, because no white woman would go on a date with a tiny AZN man, even if he was 'AZN buff' [via karate + xtreme sports]?
Do u ever think they are on a date, and some1 thinks that she 'adopted' him from a North Korean adoption catalog of AZNs?
Do u think Jeff & Erin studios could produce my script for Garden State 2: Braffy's revenge that I have been working on?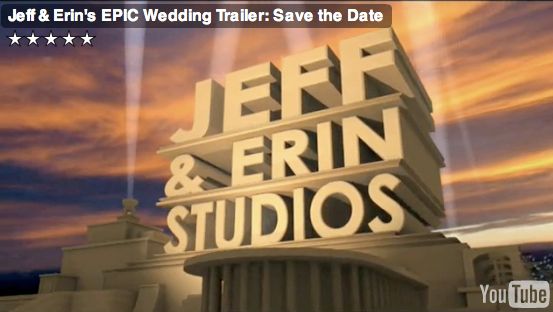 r u gonna get married or be alone 4evr?
r u gonna go viral, or live ur meaningless small scale life 4evr?
Should I buy an HD cammy and upload some viddies into the yewtewb?
Are AZNs creative, or do they just listen to Linkin Park, watch scifi action movies with fast cars in them, and work on turning their functional Honda/Civic/Toyota into a rice rocket?
R u gonna die alone, or would u chill with a metaphorical Erin/Jeff 4evr?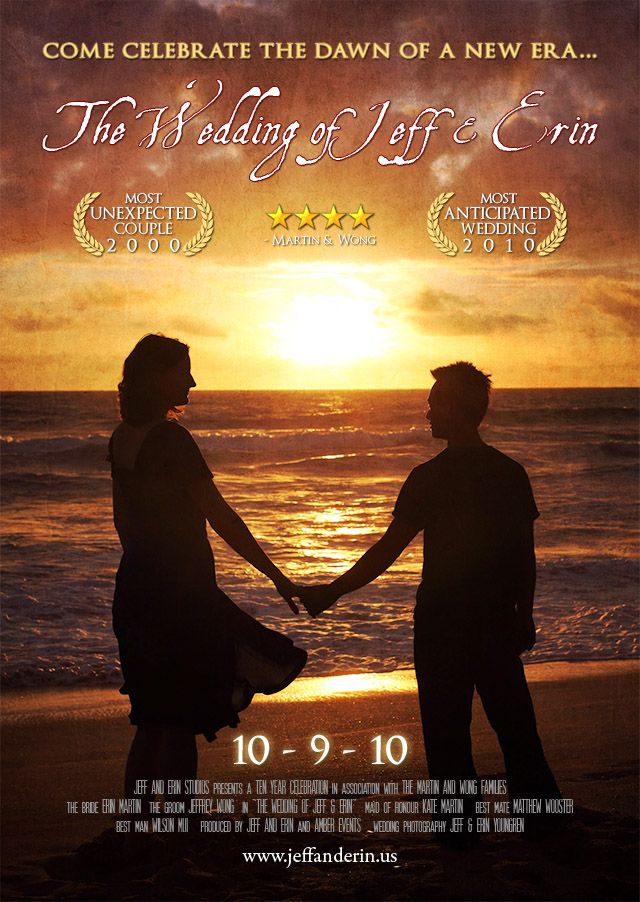 Previous zany meaningful wedding memes
http://www.hipsterrunoff.com/2009/07/white-people-must-go-to-extremes-to-make-a-life-event-seem-meaningful.html
http://www.hipsterrunoff.com/2008/11/my-meaningful-alternative-wedding.html
By Carles on 12 Nov 2009
I just watched this new video made by the Washed Out Bro (aka Ernest Greene). In the video, he showcases HD video footage of his honeymoon, featuring his newly acquired wife, on their vacation to some exotic location. You can see the beautiful images while listening to a promotional chillwave track. Juxtaposing the smooth sounds of chillwaves are a series of telephone messages from people who are looking for Ernest.
It's kinda weird how once you become a relevant, marketable product, covered by all of the most relevant eCommerce recommendation sites (altblogs), so many people want stuff from u. Whether it is a record label (Modular), a brand that puts on alternative concerts (the KIA soul tour), a 'relevant booking agency' (Billions), a pseudo-buzzband (Josh from the Small Black), miscellanous bros who 'want something from u', or even just friends, it seems like every1 wants a piece of Ernest Greene.
However, WashedOutBro is 'chilling' on his honeymoon with his wife. He is only accessible to the woman that he loves.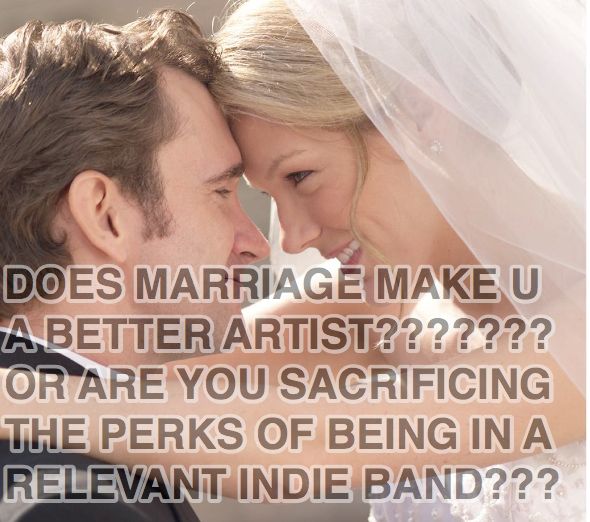 I wonder if 'having a wife/serious GF' makes you a better artist. Like you can focus on your craft, instead of seeking out rewards [via tugjobs] from entry-level alt fan girls at every stop on your North American tour. I feel like we could call this theory the AnCo Relationship Theory. All three members of Animal Collective are in 'serious relationships/marriages' (some with kids). It seems like they have only become 'mad relevant/successful' since they have found people who probably give them the space and support system that they need to be 'artists.'
It's kinda weird how Washed Out 'gave up on alt celeb perks' before his touring/entire career had even taken off. Do u think he will begin 2 regret 'what could have been', or will he be happy with his decision since it will allow him to 'truly chill' for the rest of his life?
Maybe the chillwave genre is more about 'moving forward with family values' as opposed to 'escapism' [via chilling]. Maybe chillwave is more about 'chilling with a wife' as opposed to 'chilling with a group of bros.' Maybe chillwave will help the former altbros of electro begin to transition into adult life.
What would do if u were in a budding hype-band? Would u 'use it to get alternative sex'? Would u try to marry some1 who 'knew u before u were an alt celeb'? Would u try to marry some1 who 'only loved u because of ur status as an alt celeb'? Were Ben Gibbard + Zooey Deschanel married for 'public relations/marketing' purposes?
When u become a buzzband, so many ppl who u don't know 'want something from u.' Maybe u just need some1 who wants/likes/loves u for u, even if you weren't a buzzworthy, monetizable artist.
See unwatermarked photo here.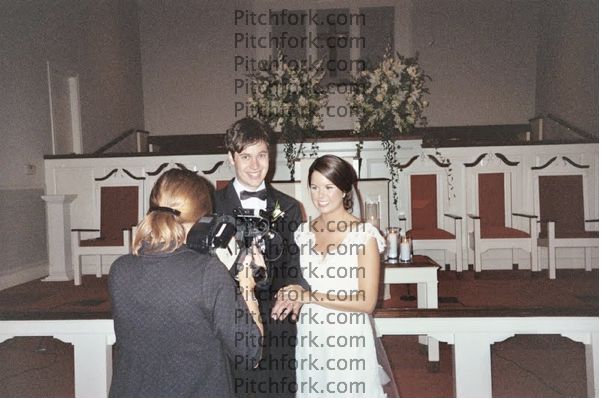 (wonder how much pitchfork paid for these exclusive wedding photos. wonder when an alternative website will pay for baby photos. Can't believe the alt blogosphere has entered the paying for wedding/baby photo meme era.)
Wondering if Panda Bear 'invented' chillwave back before we even knew it...
[MP3]
Panda Bear Untitled (eventually AnCo's Guy's Eyes)
I really want to do just what my body wants to
I really want to do just what my body needs to
I really want to show to my girl that I want her (and I do)
I really want to show to my girl that I need her (and I do)
If I could just hold all the thoughts in my head and just keep them for you
If I could just purge all the urges that I have and keep them for you
I really want to show to my girl that I need her
I keep it locked right now
Need her
-Panda Bear/Animal Collective
//////feeling it all around
////maybe being alt famous/artistically relevant is not a gateway to a meaningful/sex-filled life...
////maybe u need to 'shack up' with some1 before u r 'successful.'
////LoVe iS a HiGhWaY
By Carles on 21 Aug 2009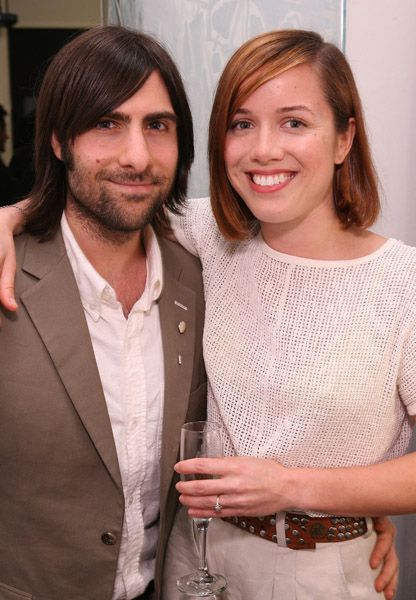 I recently read that Jason Schwartzman got married to a 'regular person' named the Brady Cunningham. I am not sure how to feel. I don't really feel that Jason Schwartzman is a 'real person.' I often pretend that he is the characterBros that he plays in movies, as if he is no different off screen than he is on screen. Because of this, I feel like many mainstream/malstream girls 'want to date a keut Jew-y indie boy' because of their 'infatuation with the indie aesthetic.'
Not sure how I feel about Jason Schwartzman. Feels weird that he married a 'regular person.' I wonder if a famous/altFamous person still has something in common with 'normal people.' Maybe they just need some1 who will help them to stay 'humble' or something/in touch with humanity.
Seems like I would have imagined him with some actress trying to 'piggyback' on his personal brand as a meaningful musician/actor.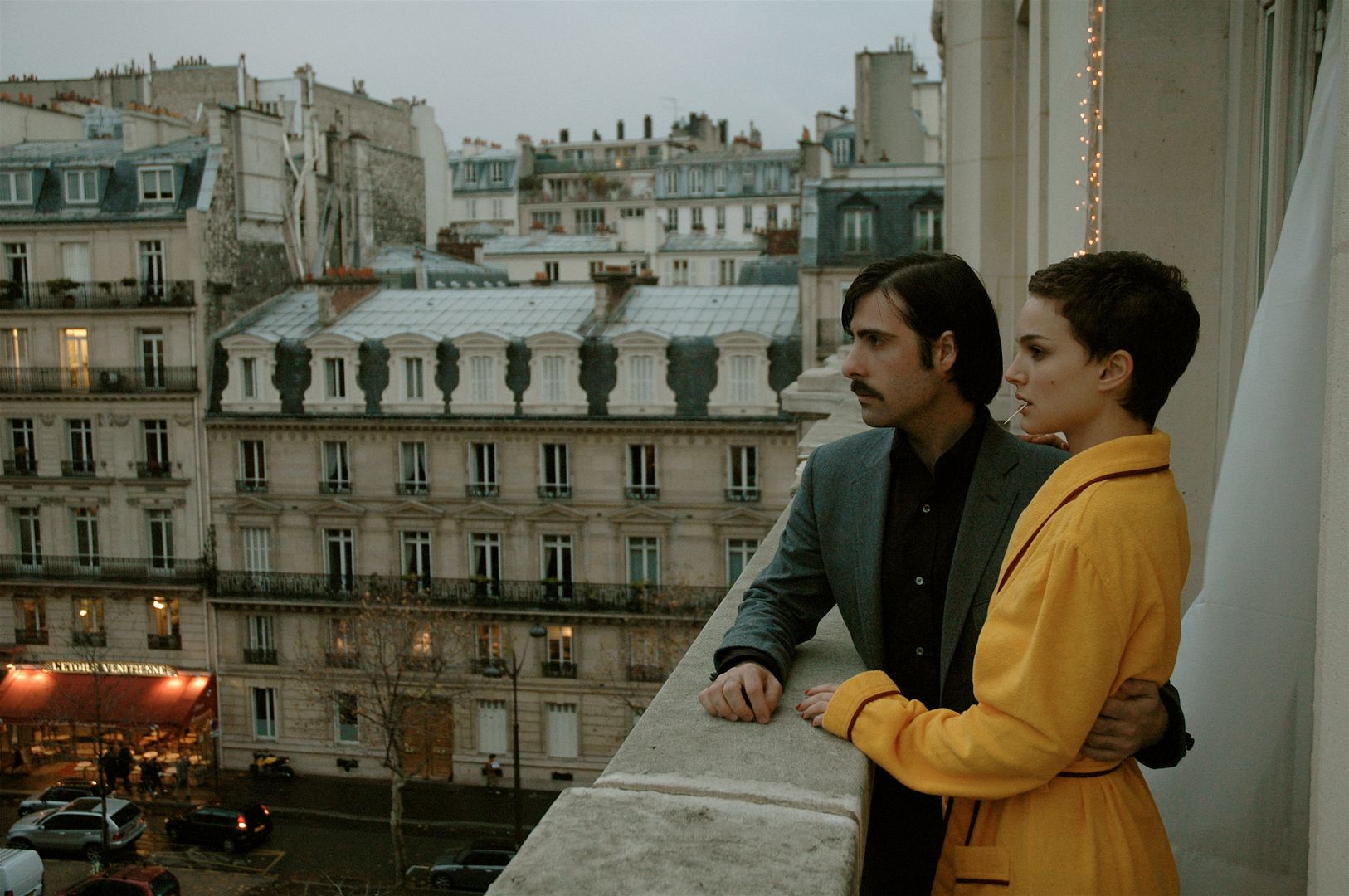 Or possibly some 'hot mainstream ass'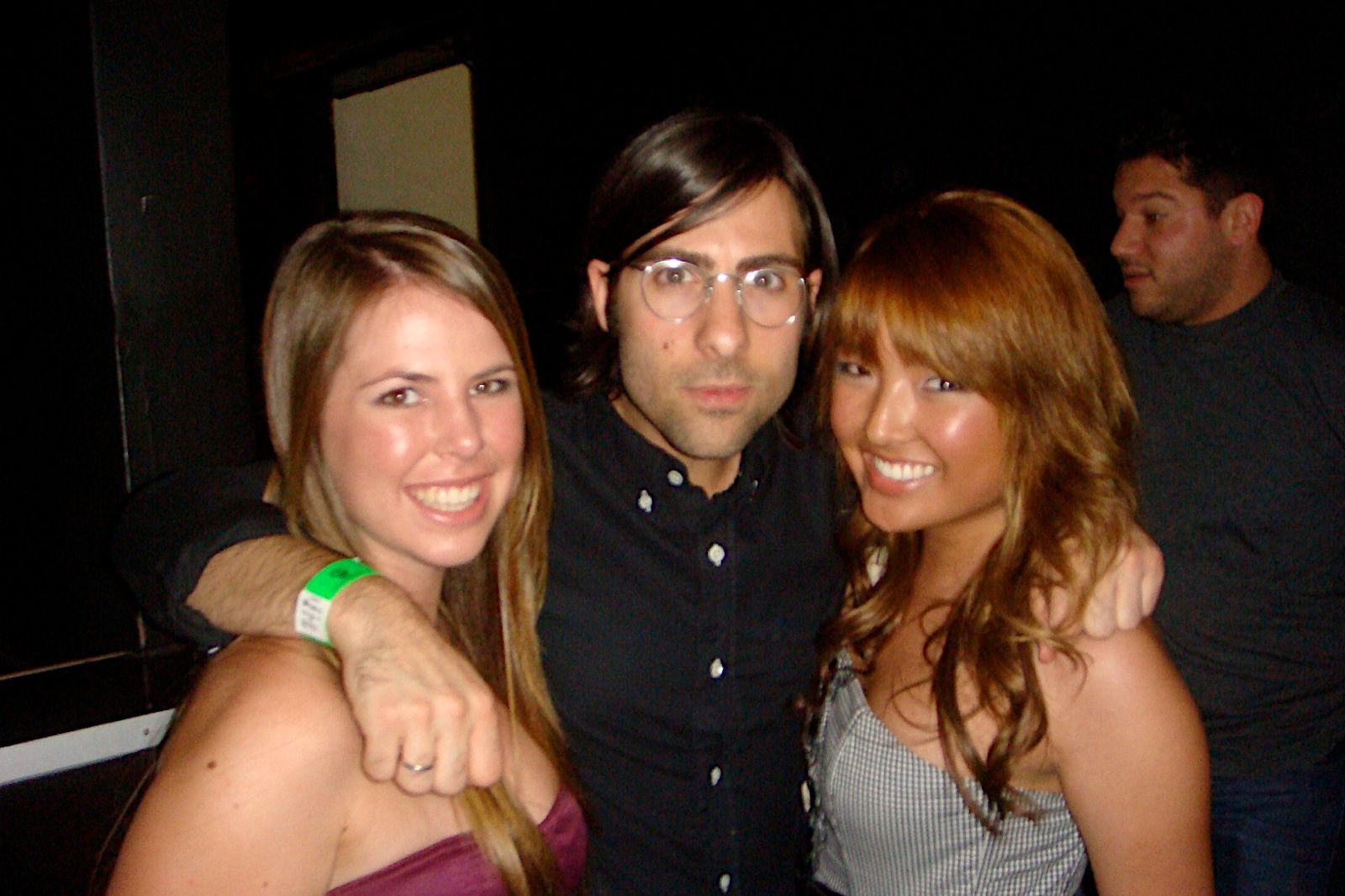 Feel like if his career 'tanked', he might have become some sort of 'lovechild' of a relevant artist/director/CEO of Fortune 500 company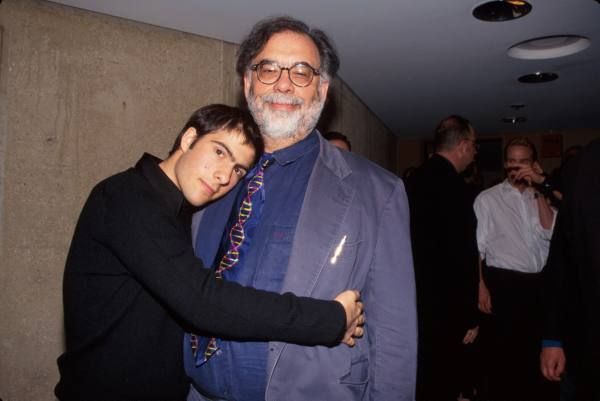 Can't believe JSchwartz is 'off the market.' Feeling sad, as if I will never get to chill with him, and pretend that he is still 'Max Fischer' and ask him questions about his movie roles as if he actually 'lived that life.' Feeling down. I heard that bros 'change' once they get married, like they are 40-90% 'less chill.'
Sorta wish SchwarBro married an alt-it girl, kinda like BenGibbard + Zooey Deschanel, or Green Ags and Ham, or even Devandy Barnie and Nattie Portman. It seems like it might be good for your alternative celebrity personal brand to 'be in a relaish' with another person who has indie credibility.


R u sad that this 'indie icon' has grown up (and so have u)?
Is it 'fair' to assume that actors are the exact same ppl as they play in the movies [via Heath Ledger]?
Should famous ppl get married in order to 'find love' or to 'advance their careers by creating brand synergy'?
Do u think that Jason Schwartzman's life will always be a disappointment because he didn't play ________ in the Royal Tenenbaums?
Actor, Alternative Celebrity
Jason Schwartzman is the poster boy of the indie era (besides maybe Zach Braff).
Read more>>>>
By Carles on 25 Jul 2009
Life is very hard for most white people, because they are 'so ordinary.' Their expectations of 'how things should feel' are constructed by watching 80s, 90s, and 00s cinema. Mainly movies like bromances, romantic comedies, comedies, and miscellaneous 'bad ass movies.' They just need life to 'seem like a movie' or something. Seems like average white people don't understand the insignificance of who they are as '1 person', and don't accept that they are just part of a larger white mass. They fight against this feeling of 'being ordinary' by trying to construct meaningful moments that seem like they are 'straight out of a movie.'
In this video, there are 2 people 'getting married.' I think that when people get married, they attempt to showcase their life to the large gathering of extended-family and acquaintances. This is their opportunity to 'once and for all' tell you that their life will be better than yours, because they will be sharing it with some one beautiful, funny, smart, and some who just 'knows how 2 enjoy life.' Think that this moment is supposed to tell people sitting in the church that 'life is beautiful' and that this group of friends is 'incredibly meaningful.' Instead of conforming to the 'traditional standards' of a wedding procedure, these people want to make things seem 'spontaneous' or something. They want spectators to feel 'joy'/'jealousy' about these two people uniting.
Sorta wish I had a core group of middle aged friends who would do this for me. Seems like all u can really want out of life is to 'perform' one 'great moment' in front of a room of old people who are clapping along to some 'hip hop song.' Can't believe they picked a Chris Brown song after he 'beat the shit' out of his girlfriend and ate her arm. Maybe they should have selected a song by a white artist, but that might not have been 'upbeat' enough.
I feel scared of 'getting married' because of the process of 'having a wedding.' Seems like some sort of event for your 'extended family' to reunite at, or something. Not sure if my group of friends 'care' enough to do something 'meaningful' that would make all of the 'spectators who just came to my wedding for a free meal/hopes of an open bar' view my life as 'awesome.' Weddings seem like they are 'for ass holes' or something. Aren't they 'expensive'? Seems fiscally irresponsible to have 'a huge wedding' unless you aren't marrying some middle-class person who is just like u, and u 'hit the jackpot' by marrying a 'rich significant other whose parents want them to have a meaningful wedding to show off how much money they have.'
Sorta just hope that my wedding presents an opportunity to film an organic viral meme.
Might start a blog about 'things that average white people think are meaningful'/a documentation of 'white ppls struggle' and how 'we' as white ppl have had more hardships (psychologically) than most other races + ethnic groups.
R yall gonna get married, and what will u do at ur wedding 2 make sure that ppl know that u 'get' why life is 'beautiful'?
If u r a white reader, do u ever wish u could pull a 'reverse Michael Jackson'?
Previous Wedding/Marriage Coverage
http://www.hipsterrunoff.com/2008/11/my-meaningful-alternative-wedding.html
http://www.hipsterrunoff.com/2008/02/we-are-looking-forward-to-our-alternative-wedding.html
By Carles on 20 Jun 2012
Ben Gibbard is easily one of the saddest figures in indie rock. He is one of the founding fathers of the genre and the aesthetic identifiers of 'indie' as a whole. He was able to use his 'Big Man on Indie Campus' status to get Zooey Deschanel 'before her prime' to marry him, but the entire marriage fell apart, as it became clear that she was only using him to 'piggyback' towards more indie fame. Then, when she was on the cusp of a hit TV show, mad record sales, and more megabrand expansions, she 'kicked his ass to the curb' so that she wouldn't have to share any of her money with him. Probably a wise business move, but in a way, they fractured the Royal Indie relationship in a way that makes us believe that love is not real any more.
If I were Ben Gibbard, I would no longer believe in the sanctity or marriage, whether it was between a man and a woman, a man and a man, a woman and a woman, a dog and a cat, a woman and a cat, or a man and his career. I am surprised he made this video in support of gay marriage. Ben Gibbard still has a cold, closed heart that was ruined by the wrath of #ZoZo. I wouldn't blame him for not believing in marriage. She really '500 Days of Summered' his a$$.
As u can see, Ben looks like he is rlly close 2 'effing offing himself.' :-( #itgetsbetter, bb...

So I guess gay marriage is chill, but Ben Gibbard knows that marriage can come with a ton of heartache.
R u on #TeamBen or #TeamZoZo?
Will he evr get ovr the marriage?
Does he still look 'close 2 the ledge'?
Should we #pray4ben?
Do u believe in marriage, or are u nervous that all women are 'two timing indie famewhores who only care abt status climbing beyong mindie 2 the mnstrm'?
Will Ben Gibbard find <3 in a hopeless place?
Alternative Celebrity
Ben Gibbard is the lead singer of the Death Cabs and the now defunct Postal Service. Zooey Deschanel married him to be more indie.
Read more>>>>