Mashups
By Carles on 14 Apr 2009
Just saw a picture of three bros chillin', bein' creative. Wonder which bro would be the best bro the chill with?
Photo via Kanye Blog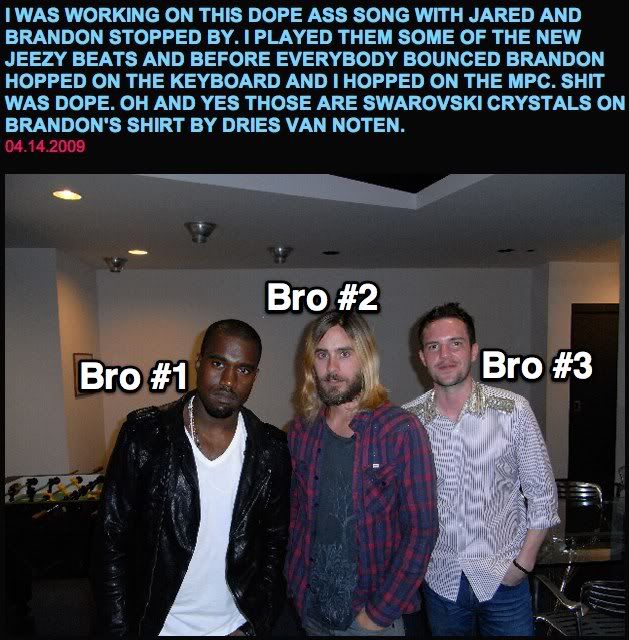 Who do yall think would be the best bro 2 chill with?

Bro #1) He seems like a bro who is into cool shit, like culture and rap and stuff. Might be awkward to become BFFs with a black person if ur parents aren't as progressive as they pretend to be.
Bro #2) Seems like a pretty cool post-Cobain type of bro. Might always be down to throw down an authentic rock n roll post-rock chill. Not sure if ur parents would want u hanging out with a bro who 'looks like a drug addict.'
Bro #3) Seems like he is a cool bro who is always down to play some kewl riffs on a no-wave tribute song. Not sure why he is wear a shirt for a 'flashy' 46 year old mom.

WHICH BRO DO U WANT 2 CHILL WITH/BRING HOME 2 UR PARENTS AND TELL THEM IS UR BFF?

...BUT SRSLY....
Does n e 1 know why artists always have to 'collaborate'? Feel like 95% of the time, it is pointless 'co branding' 2 make people feel like ur really 'making new, beautiful art' cuz u 'don't care about what genre u fall into.' Maybe in the future we need 2 leave 'mashing up' to experts like The Girl Talks, and othe nite life DJs. Tired of these artists trying to piggyback off 1 another 2 'reach new audiences'/assuming that 'authenticity' or 'pop appeal' is a transferrable force.
Miss the days when collabs were 'authentic' and 'exciting.'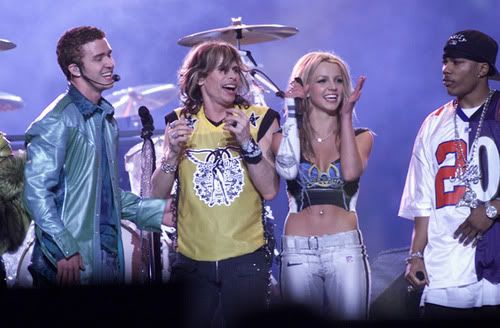 WHATS UR FAVE COLLAB OF ALL TIME THAT CHANGED MUSIC 4EVER?
By Carles on 07 Nov 2008
How many of yall use PCs?
"follow ur alternative dreams. u can do whatever u want in our alternative economy." -carles and Greg Gillis
Should I donate my current Mac to 'the War in Iraq' and start using a PC? I'm actually kinda tired of ComputerWars. Every1 knows how brand wars go...Eventually we get really tired. That's why Dr. Pepper did so well after the PepsiCoke Wars of the 1980s & 1990s.
We need to come together and find one solution for each problem that humans have. (This is what Barry Obama will do. He will implement a national dress code.)
I wish PCs and Macs would realize that I am my own person. If I could build my own computer, I would. I only rlly need a lil machine with a few websites. Not like I need what they even offer.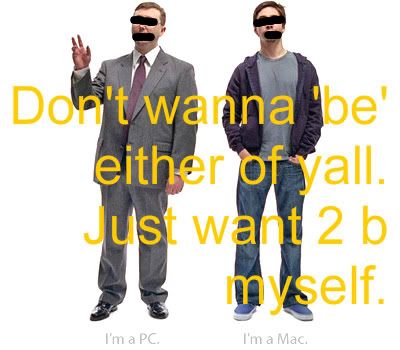 "being yourself": big in 2k1?
[learned about this ad from the popular news source The Daily Swarm]
BUT SRSLY...
does n e 1 know the most authentic way 2 make mashups?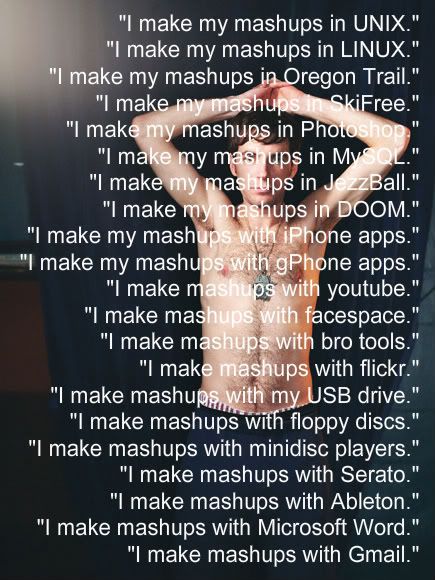 By Carles on 04 Oct 2007
Check out this clip of Girl Talk at work. It's pretty interesting to see that he's making a living underneath the covers, on a comfortable couch, with his girlfriend dozing off right next to him. Is he living the perfect life?
[youtube=http://www.youtube.com/watch?v=KykbPtRb0K4]
It's a concept worth exploring, and it will only become more relevant in the coming years. I am a big fan of bloggers, DJs, and Hype Machines changing the face of the music industry. I can't wait until Laptop DJs rule the world, and every 16 year old needs to have the hottest local mashup artist playing their Sweet 16.
True/False: GIRL TALK will be on the next season of MTV's "My Super Sweet 16."
BY THE WAY, I think Gregg Gillis (AKA GIRL TALK) is a handsome young man.

MP3: Girl Talk - Overtime
MP3: Girl Talk - Peak Out
Buy Girl Talk's "NIGHT RIPPER" at Amazon.
Girl Talk's Myspace Blog [Highly Rec'cd]