music festival lineup posters
By Carles on 25 Jan 2013

Every festival lineup ever TOTALLY EFFING SUCKS.
FROM THIS DAY FORWARD
AND EVERY LINEUP THAT WAS EVER RELEASED
MUSIC FESTIVALS HAVE NEVER 'NAILED IT'
NOR DO THEY EVER HAVE A CHANCE 2.
ARE MUSIC FESTIVAL LINEUPS 'EFFING DOOMED'?
The lineup just isn't as good as it was (n +/- ∞) years ago.
Those are the headliners? Not the festival for me.
My dog ate my festival bracelet.
There's like barely any good bands playing.
Did we really need for them 2 reunite? I'm glad they were dead.
I mean, it would have been a good one _ years ago.
I wouldn't take my dog to that festival, not even to shit on the grounds.
They totally just poached their bands from Pitchfork. (but like from the shitty era)
It's just too corporate now. There are sponsors all over the flyer. I can't tell the difference between bands and brands. It's all probably just a commercial jingle scouting opportunity.
I mean, we've all already seen those bands too many times in the past year.

It's a ripoff. I'd rather take my dog to a dog park and let him listen to mp3s on his DogPod.
Like, I would see it if it was in my living room, but I'm not gonna take the effort to drive all the way out there to see all those bands.
If promoters want to get it together, they should hire some one like me who can predict who will be big the time the festival rolls around, instead of booking all these lame, outdated acts.
The only reason they reunited is because they needed a payday.
The festival was built to attract more tweens/minorities/whites/30somethings/40somethings.
There's too much EDM.


They don't care enough about emerging genres like EDM.
They don't realize that EDM is dead.
They're ruining their festival brand.
The headliners are all well over 50 years old.
There are only a few good bands and they are playing at the same time. That's what happened to me last year. They don't know how to schedule.
The type on the flyer is too small.
My dog couldn't even recognize those bands.
No one deserves to headline. It's fucking amateur hour.
They are just giving a lot of bands that don't deserve it a chance to play. It used to be a sacred event, now they are inviting buskers off the street to play.
Most of the bands don't even have new albums.
I'd probably go if I won a free ticket from a radio station or blogspot or something.
It's just not worth it. I went last year and the lineup was good and I was so hot and thirsty then some one with a lawnchair stole my spot.
I miss the good ol' days.
My dog ate my festival bracelet.
Every festival lineup ever TOTALLY EFFING SUCKS.
FROM THIS DAY FORWARD
AND EVERY1 THAT WAS EVER RELEASED
MUSIC FESTIVALS HAVE NEVER 'NAILED IT'
NOR DO THEY EVER HAVE A CHANCE 2.
What is ur analysis of every music festival lineup ever?
Does it 'effing suck'?
Will any festival ever 'meet ur expectations'?
Would u rather be a person who h8s lineups, or is like 'OMG WE HAVE 2 GO, BITCHES! #carpoolchella"
By Carles on 28 Jan 2011

After the news of the 'Coachella lineup', it seems like every other music festival is eager to release their official lineups. I just saw that the Lollapalooza lineup was released, and it seems 'whatever.' Probs just got insecure that Coachy was getting so much buzz, so they were like "We gotta announce this shit asap so we don't lose out on some memes." Just the usual. Not sure if I will buy tix or what. Already see a lot of these bands when I watch MTV/MTV2, so u know...whatevz.
As a journalist, I had a funny feeling abt this lineup, so I did some research bc there weren't enough buzzbands on this flyer. After some investigative reporting, and can CONFIRM that this is not the American Lollapalooza. Instead, they are having Lollapalooza in Chile for some reason. Don't even rlly know where that is. Maybe somewhere in Mexico or Brazil. I wonder if there are tons of 'foreign alt markets' that festival organizers are trying to exploit, or if this will be a 'massive failure' and every1 will have to drink water out of a mud pit 2 keep themselves from dying [via dehydration].


Do u know why they are having this festival in Chile?
Is it no longer 'alt' 2 have a festival in Spain?
Are there just a bunch of emo latinos in South America?
R u sad that this lineup isn't performing at Coachella / USA Lolla?
Who r u excited abt seeing at LollaChile? The Jared Letos? The Kanye West? [miscellaneous latino alt rock band]?
'Do u wish Lolla would already release their lineup?'
Is 'Lolla' way better than 'Coachy'?
Is Lollapalooza sad bc there are too many sad lamestream Midwesterners trying 2 be alt there?
Should I move 2 Chile?
By Carles on 12 Aug 2010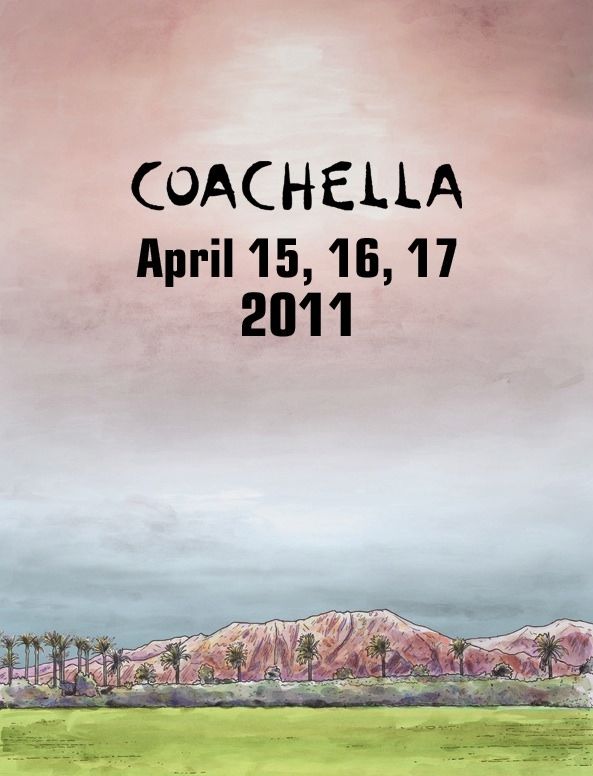 Not sure what is going on with Coachella and their design team. For some reason, they released this poster today, answering the question "When Is Coachella 2011?" but not really answering the question, "Who is playing Coachella 2011?" Feeling confused. Not sure why this poster exists. Seems like those are dates on the poster, but not a huge list of buzzbands.
Super disappointed by the lack of information in this .jpg.
Maybe this is just some sort of 'private jpg' for industry insiders so they can put the dates on their Outlook calendars, or they have to 'secure this date' so no other music festivals try 2 compete with them.
It seems like a kinda lonely field depicted in the image, maybe trying to represent a lack of buzzbands in Indio, California. Probably a metaphor for the buzz drought of 2k10, and how we are just 'praying' for 2k11 to restore positive indie vibes with new, relevant albums and buzzbands. Really hope Coachella isn't in some sort of 'booking crisis', unable to book buzzbands cuz they are all demanding 2 much money. Hope Coachella will work out. Things aren't looking too good.
R u gonna go to Coachella?
Are buzz mp3s and buzzbands hard 2 find in 2k10?
Will the indiesphere 'recover' by 2k11?
Should the 'designer' who created this meme .jpg be 'fired' for leaving out tons of information?
Will Jay-Z and Beyonce 'curate' an indie stage at Coachella?
Should I make a copy of this .jpg at Kinko's and put it up as a poster on my wall?
Company
Coachella is a music festival held in Southern California that turns into a gathering of the world's most relevant buzzbands, artists, designers, celebrities, and internet personalities.
Read more>>>>