Paramore
By Carles on 03 Feb 2008
I think it's great when artists, bands, DJs, or whoever are willing to talk to their fans on social networks.
Check out this exchange between me and Portland's EASTER EGG.
I can't count how many times I wrote the same thing on Justice's wall and never got a response. In the world of Web 2.0, artists need to make the time to brand themselves in comment convos with their fans.
Here's a [REC'CD] MIX by Easter Egg entitled LEMONADE 07. If this mix was on a CD and called 'EggFace and his Eggface Chronicles', I'd definitely purchase it at my local Best Buy.
LEMONADE could fit into a lot of different parts of your life. Whether you need to make a playlist that people will judge you on because you're throwing a party, or you are a girl who wants to listen to something other than Paramore on the elliptical, there are a lot of opportunities to integrate this mix into your life.
If you listen to this mix in a group of people, there are a lot of opportunities for conversations that start like this: 'omg, I've never heard this version of this song' or 'is this a mashup? I love mashups... have you heard the Ratatat remixes?'
You can DL for free here: LEMONADE 07. [REC'CD MIXES DON'T HAPPEN OFTEN]

Track List
LCD Soundsystem - All My Friends
The Outrunners - Cool Feeling (Anoraak Remix)
Health - Triceratops (CFCF Remix)
DK aka Donkey Kong - Yuah
Diplo - Work Is Never Over
YACHT - The Summer Song
Kid Sister - Pro Nails (Bag Raiders Remix)
Flo Rida - Low
The Cool Kids - Black Mags (Risk One B*fix)
Boys Noize - Shine Shine
Purple Crush - Fuck The DJ
Feist - 1234 (Van She Technologic Remix)
Digitalism - Pogo (Shinichi Osawa Remix)
Spank Rock - B.O.O.T.A.Y. (Krames Remix)
Bloc Party - Hunting For Witches (Crystal Castles Remix)
Copy - Remembering Florida
Wes Fif - Haters Everywhere ft. B.O.B.
Kill To Win - New Spells
Chromeo - Tenderoni (MSTRKRFT Remix)
Lil' Mama - Lip Gloss (Krazy Fiesta Remix)
50 Cent - Ayo Technology ft. Justin Timberlake (StellarDRV Remix)
Klever - The Stud
DJ Khaled - We Takin' Over ft. Akon, T.I., Rick Ross, Lil' Wayne, & Birdman
Party Time 2000 - Late Nights
Chromatics - I Want Your Love
Bag Raiders - Nil By Mouth (Reprise)
Timbaland - Give It To Me ft. Nelly Furtado & Justin Timberlake)
Russ Chimes - She's Got The Heat (Cryptonites Remix)
Thieves Like Us - Drugs In My Body
Eclier - Plexiglass Dreams
Mistah F.A.B. - Ghost Ride It
Thunderous Olympian - Web 2.0
M.I.A. - Jimmy
The Little Ones - Lovers Who Uncover (Crystal Castles Remix)
Timbaland - Apologize ft. One Republic
Klaxons - Not Over Yet (Gentlemen Driver Remix ft. Soko)
[BOLDED songs are some of HipsterRunoff's RECCD tracks]
Easter Egg on Myspace
http://www.myspace.com/eastereggmusic
by the UlTiMaTe LaMeStReAmER!!!

I LOVE LOVE LOVE Paramore bc Hayley Williams is a HOTTY MCHOTHOT who LOOKS GOOOD, bb!
She has such FUNKY HAIR. I honestly need to do something with my hair. I usually just tie it back with a rubber band or a scrunchie. I tried hairogami for a lil bit but it was too much work. I NEED a new hair iron because mine keep breaking and I can't effing afford a Chi. Speaking of chis... I kinda have a rash on my cheechee. I will DEFANATELY not be wearing a bikini to the pool this summer, not until I hit the gym and at least take an X off my t-shirt size
Hayley has THE BEST voice. She is HOT and SEXI and I would LOVE LOVE LOVE for her 2 be my BFF. I wanna do something NEw and FUNKY with my hair. I am DEFANATELY gonna tell the stylist at Fantastic Sam's to MAKE ME OVER.
Evanescense who? #TeamParamore
Gwen Stefan-who? #TeamParry!

Love,
~~~~*The Mainstreamer***~~~
by the UlTiMaTe LaMeStReAmER!!!

I really WANT 2 do SOMETHING FUN and FREE with my hair. I want to dye it but I did it myself last time and it totally turned out ugly and I had to buzz my hair and wear a wig for 6 months until it finally grew out, and my hair has never really looked the same. It is very coarse and nappy now.
ANYWAYS... Paramore lead singer Hayley Williams looks EFFING GOOD. I'll bet she hits the gym pretty hard. I need a makeover, and to hit up the gym... and it would be nice to be famous, too ;-)
Hayley is SO TALENTED and has the best voice in rock.
Katy Perry who? #TeamHayley
By carleser on 28 May 2010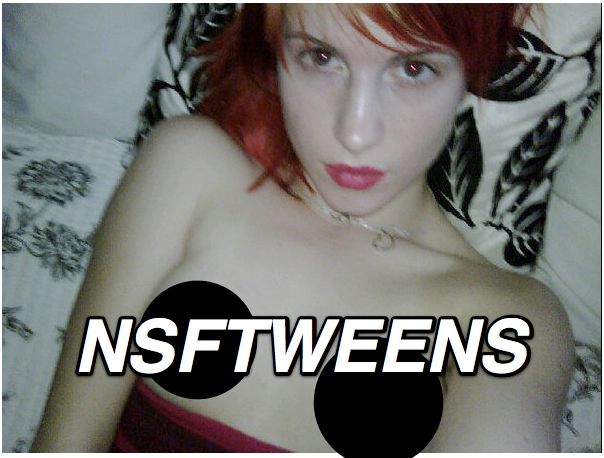 Paramore is probably the favourite alt rock band of every female tween who is into "Twilight" since they wrote the theme song for the first movie. I think those girls are all into Evanesence and other alt rock bands who have 'strong female front women.'
Anyways, she tweeted a picture of her 'breasts' and tons of tweens are 'having a meltdown' on twitter. Tweeting directly at her, 'demanding answers.'
Do u believe her 'coverup story' when she says she got hacked?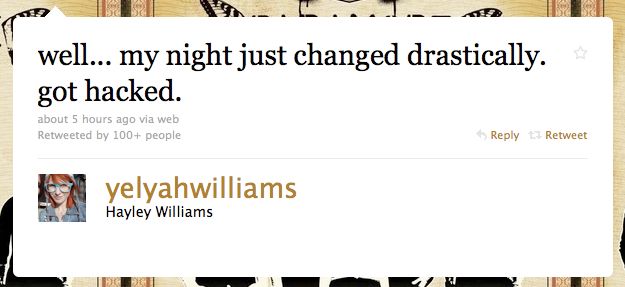 If ur gonna take pix of ur own titties, do u deserve to get ur 'sweet bod' leaked?
Does she have the perfect alternative breasts?


Sorta just wanna vibe out to some Paramore and think about her flaming red pubes.
R u hornie?


Wonder if Twilight tweens are sad/pissed/mad/excited that Hayley Williams released a tittie pic?
How old is this girl, does she need to be in a tween sexting prevention program?
Is Paramore's image with tween girls who wanna fuck vampires going to 'go down the shitter', or is the new movie good enough to 'gravy in' movies that I am not passionate abt.
Feeling hornie
also feeling worried about dying my hair red. Feel like people owul think I am a 'dumb slut' who 'likes to piss and shit herself'?
Does M.I.A. exist would what internt bad van u play really well.
R yall worried that some 1 is gonna ge married.
Worried.