Shannon Gaga
By Carles on 12 Aug 2010
Have u met Shannon Gaga? She is arguably the world's biggest Lady Gaga fan.

Shannon Gaga: The Dead End of Western Civilization
An In Depth Profile Piece by Carles, freelance journalist and Editor N Chiefs of HRO blog
In a previous article of writing, I asked the world, "Who is the world's biggest Lady Gaga fan?" I wanted to know about a fan who completely outsourced her personal brand to Lady Gaga. Who had the balls to become 'more than just a fan', completely dedicating her life to Lady Gaga. What fan truly 'gets' Lady Gaga and has become an unofficial spokesperson for Lady Gaga?
Meet Shannon Gaga. More than just any other Lady Gaga Fan.


Some say she is 'completely out of touch with reality', but her new found fame will have her coming into a living room near u on ur television sets. She is an avalanche, picking up steam, rolling down the pop culture mountain ready to slam in ur face.
The story of Shannon Gaga is about a girl from Corpus Christi, TX, who evolved out of her cocoon into a beautiful butterfly, all by being exposed to the positive female messages transmitted by the art of Lady Gaga.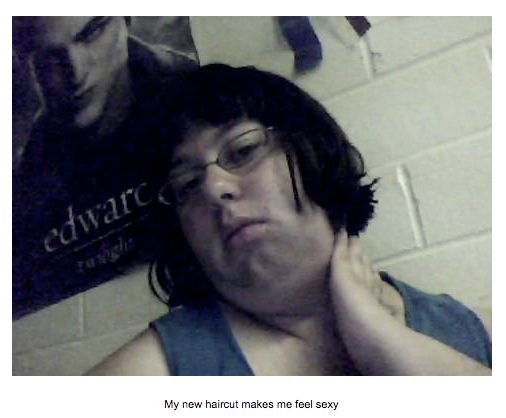 It all started with 1 lofi vlog in the dorm room of Shannon Annette Cantu's Texas State University dorm room, but through months of hard work and tons of high level exposure, it has become something more than just a youtube sensation or a story of the week. She is truly an individual who is also a lot like Lady Gaga.
Eventually, she became a bonafide super fan celebrity. She decided to take her brand to the next level by making a series of sexy videos and doing live performances around town. Her confidence grew with each show, and brought us modern marvels, like this video, where she rolls around on a campus volleyball court, pretending that the sand is a sexy beach, forming Gaga-esque sexy vibes for all of us to be inspired by.
Understanding Shannon Gaga is about as complex as understanding the Real Lady Gaga. Here is Shannon Gaga's manifesto, taken from her blog:
Manifeso

People are wondering who is "Shannon Gaga?" But that remains to be said. People have asked me 'Why Lady Gaga? What makes you so interested in her?' She inspired me. She changed me. I looked at my old journals, my old life and some old pictures and say, 'How did this happen?' Why didn't I choose Britney or when I was younger do Hilary Duff (which was a long time ago). Because GaGa did what she did. She changed me. As the song from Wicked says, "I have been changed for good..." I am sure, that whoever reads this, is either a fan or a hater. Haters-I don't think you "hate" me. We just use that word now. In fact, most of you probably dislike something about me. Maybe that I'm a big girl. Maybe that I like Lady GaGa a lot. Maybe that I love to perform and not ashamed. I'm pretty certain there are some that dislike me, because they disliked me in high school. They didn't know who I was. I just was a student at King High School. Or maybe I was smarter than you or something else. Who knows? I'm certain that if I just went to class, like Comm 1310 or something, and did 'normal' stuff. I'm pretty sure, you'll not like me either way. I am living life to the fullest. Some of you don't understand me. Well, I am a complex person. I think differently than most people, I now VERBALIZE my emotions more, and even though I may seem shy and weak every now and then. There's a tough girl behind that sweet, innocent facade. You know what? I'm doing this for fame or attention. I don't care about fame or money anymore. Fame, is something that just happened along the way. Fame is a ride-sometimes smooth like on a road, and sometimes it an emotional roller coaster-with jerks and twists and turns. And money, that's just whatever. Yes, I need money (as we all do) but it's not everything to me. Or fame. I never expected anything like this to happen. So, if you're reading this, you will know more of me. I usually give people changes-I try not to judge people. I don't care about what race you are or your sexuality or your size. Those are just labels. You all, have your ideas, of normal, and sometimes normal isn't good enough for anyone. But remember, I am Shannon Annette Cantu "Gaga" and I am proud of who I am. And whether I'm famous or not, whether I'm fat, skinny, big-boobed, or whatever, you can't change that. And Gaga, if you ever read this, I hope you learned something about me. Just like you taught me about you.
Love Shannon "Gaga" Cantu, Princess Monster
In addition, here is a selected tweet from her twitter account, @ShannonGaga20



It seems like Shannon Gaga has truly become a top tier celebrity, soon to get a record deal and end up on MTV. Fans seem to have a natural affinity towards her story. She is an artist of the people, inspired by true life and real sexual desires.
Shannon Gaga is more than just another fan. She is not just a 'Little Monster', which is what Lady Gaga calls her fan. She is a big monster, and a force to be reckoned with.
It seems like she has become a micro celebrity in the San Marcos / Austin central Texas scene. In this video, members of the campus community react to her brand since they see her wearing Gaga gear all around campus. Some say that she is truly a free spirit. Others claim that she is 'borderline retarded', and doesn't realize that people are only really laughing at her.
Just watched her get interviewed by a local radio show. They seem to keep 'cyber bullying her' about her weight, and ask her why she is wearing such a slutty dress, even though she is a massive human being. Then she gives an inspired live performance, showcasing her true vocal talents.
Does Shannon Gaga fail to 'get it', or do we fail to 'get' Shannon Gaga?
by the UlTiMaTe LaMeStReAmER!!!

Shannon BB! Ur looking good! Is there something new about ur look? It sorta reminds me of some1....
Hmm..
Who is it?...
I can't quite put my finger on it...
OMG It's mnstrm singer Lana Del Rey!

Yall r srsly splitting images of 1 another... and WE are LOVING it [via McDonalds]

U used to be the World's BIGGEST Lady Gaga Fan, but now ur ALL About LANA DEL REY!
And u know what? We sorta like the refined, classy, sophisticated look. As if looking like Lana Del Rey was not enough, she even COVERED Lana Del Rey, outdoing Lana Del Rey at her own song "Born To Die."
Listen to Shannon Del Rey's beautiful cover of "Born to Die" by Lana Del Rey.

Shannon Gaga singing Born to die from ShannonGaga on Vimeo.
#WeLoveShannonDelRey (please let us make this trend on Twitter at 4 PM Singapore time!
Ur a girl of many faces!


What's Shannon's best look?
Should she be Shannon Gaga or Shannon Del Rey?
Is LDR/Lady Gaga 4 mnstrmrs who like to pretend that they are in2 high-end art?
Does Shannon Del Rey have it all?
Will she become the next Lana or the next Lady?
By Carles on 17 Feb 2012

Shannon Gaga is known as the #1 Lady Gaga fan in the world. But what if I told you that she was no longer a Little Monster, and instead, turning into a #Lana_Del_R8tr! She is an ALL OUT Lana Del Rey fan these days. She recently went in the studio and recorded an AMAZING cover of Lana Del Rey's "Born To Die." She is rumored to have lost interest in Lady Gaga, and found love and inspiration in the words and stylings on Lana Del Rey.
Does Shannon Gaga sound better than Lana Del Rey?


Does Shannon look good, bb?
Is Shannon Gaga OFFICIALLY Shannon Del Rey?

Does Lana Del Rey have more mainstream appeal than evr?
Has she 'crossed over'?
Can u believe she sold over 1 million albums worldwide?
Is LDR going to be more mainstream than Lady Gaga?
Can Shannon Gaga's first album make her more famous than both Lana and Gaga?
Will Shannon Gaga change her name to Shannon Dal Ray?
Please enjoy Shannon Gaga's "Yoü And I."

Alternative Celebrity, Buzzband
Lana Del Rey is a hot female indie singer. She is 'mad controversial.'
Read more>>>>
by the UlTiMaTe LaMeStReAmER!!!

Shannon Gaga is a CREATIVE FORCE, not just a beautiful artist. She is BACK with a video for "You and I."
She has DONE IT AGAIN, bringing Jo Calderone back 2 life! She looks GOOD as a man AND as a woman, which she has created another beautaful, dark, intriguing character named KAYLA RIVERTON. She is honestly the most amazing creative spirit in the history of college students and humans.
Youtube was being a bitch so I posted my you and I video here
I DO NOT OWN THE SONG
JUST THE VIDEO
Credits
Starring Kayla Riverton and Jo Calderone
Creative Directed by Shannon Gaga Cantu
Filmed by Andrew and Aaron Richards, Wendy Canchola, and Shannon Gaga
Makeup Concept by Alejandra Cardenas
Makeup by Aaron Richards
Photographers, Aaron and Andrew Richards
Chorography : By Shannon Gaga
Photo Edits done by Tifani Fenmore and Shannon Gaga
Edited/Produced-Shannon Gaga Cantu
Song "You and I" (texas version) by Lady Gaga

FILMED IN SAN MARCOS AND AUSTIN, TEXAS
The Art Direction is truly brilliant. She is ALL AROUND the beuatiful scenery of Texas and she OWNS this town, much like Jo Calderone would. He's such an ass hole! Ugh. Jo reminds me of my exBF.
Shannon truly needs to TAKE OVER for Lady Gaga because once again she has outshined her. What a hottie! #yummy
Let's meetup soon, ShanShan. <3
by the UlTiMaTe LaMeStReAmER!!!
Lady Gaga must be TOTALLY PISSED OFF, because once again, Shannon Gaga has upstaged the QUEEN MONSTER!
SHANNON GAGA is the true MOMMA MONSTER! She looks good in her new video for "The Edge of Glory"! Her body looks bangin! Her spirit is confident! She was truly BORN THIS WAY and there is NOTHING u can do to bring her down!


BB what r u doing in a graveyard? I recently went to visit an exBF of mine in the local cemetary, and I felt haunted spirits around. Then I realized it was just the groundskeeper, and he asked me out on a date. We went to a local Arby's and he bought me a sammy, but all he talked about were dead spirits that followed him home. It was really weird, because eventually I saw a ghost pick up my roast beef sammy and take a bite. I was PISSED
Shannon Gaga has CAPTURED the heart of America! She is TRULY on the EDGE OF GLORY, and she has written, directed, art directed, and starred in this BEAUTAFUL video.
Lady Gaga who? #TeamShanShan
Lady Gaga would be LUCKY if she could eat Shannon Gaga's poop! Shannon is out of her league!
i wanna make a video soon too. #creative_projects
by the UlTiMaTe LaMeStReAmER!!!
Shannon Gaga is THE WORLD'S #1 LADY GAGA FAN...
but she also has her own career too... The NEW, AMAZING video for "Fashion Monster" totally blew my effing mind. Shannon looks FIERCE, like a high-fashion model, walking around her high school campus.
U look GOOD, ShanBB! Did u do PDX-90, bb....bc u look FIERCE! I gotta start hitting the gym.
It really seems like she has a good network of twinks to really help her 2 achieve her goals.


Honestly I have a gay best friend. Well... ex-best friend. One night we drank too many Schmirnoffs, and we made love. But then I woke up and he was in a ball, naked, crying. We went out to IHOP for choco chip pancakes, and talked about what happened the night before. Decided to just be friends. But I never heard from him after that because he went to live in a gay porn webcam frat house. It was hard. It felt like a breakup.
Shannon can DO NO WRONG and it is ONLY A MATTER OF TIME before she is OPENING for Lady Gaga?
Lady who? #TeamShanGag
By Carles on 10 May 2011
by the UlTiMaTe LaMeStReAmER!!!

Shannon Gaga looks HOT and FIERCE in her Gaga Costume. She is just drinking some Mike's Hard Lemonade. I could REALLY use a Girl's Nite Out... Just me, the girls, some rom-coms (romantic comedies) and a couple of six packs of Mike's.
I lovelovelove Mike's Hard... and Schmirnoff Ice. Hell... if it gets me buzzed and tastes like pure sweetness, or course I'm gonna love it! Unfortunately, it is usually a bad idea to drink a lot and eat a lot, because drinks have calories too. I learned the hard way drinking a lot of Bud Heavy during my freshman year at community college before I had to drop out to get a job stocking nights at Old Navy.
Shannon Gaga looks FIERCE, like she is STILL IN LOVE WITH JUDAS, BB!
Be careful... I hope Judas treats u right... Filling up ur fridge with moon pies and Mike's Hard Sweet Tea!
by the UlTiMaTe LaMeStReAmER!!!
Shannon BB! U look good!
What r u vlogging about? I can barely hear u.... Ur camera seems kinda messed up.


Shannon Gaga is an INSPIRATION and a HOTTIE. Lady Gaga who? #TeamShanShan
Shannon reminds me a lot of a young me, so it is great to see a young woman who is EMPOWERED and is empowering other young women... God Bless Shannon Gaga :-)