side boob
by the UlTiMaTe LaMeStReAmER!!!

Miley BB!! Ur new video for 'Wrecking Ball' is totally #SO_TURNT_UP!
Honestly every1 is talking shit about you but I think you know, but i am still honestly on #TeamMiley. They are HATING on u about the VMAs, but I honestly think that that was the best performance in VMA history, and I've been watching all 40 years of it. U have an AMAZING core. Have u been doing zumba, bb? I definitely need to get #toned. #Crossfit.


I think it is BEUATAFILL that you find a way to show off ur SIDEBOOB and ur UNDERBOOB at the same time. I need to get a tattoo soon too to #expressmyself but last time I got one the artist used a heated up clotheshanger and I got Hep C. :-(
I honestly believe ur body is a temple, and I honestly worship ur body. If I had that #BANGIN_BOD, I would def be at the pool at my apt complex every day bc guys would offer me so many Bud Light Lima-A-Ritas. Right now I have to buy my own and I love lovE LOVE getting buzzed on them, but I am so hungover the next day. Dr. Oz says its cuz of the shoogar, but I really need to start a better way of life. #mixology
Kewt CheeChees, bb!

At the end of the day, ur body still looks amazing. Ur chee chees are in GREAT shape. I honestly wish I had shown mine off more at your age. THese days, they are floppier than pancakes in an iHop dumpster.
I think it is so sexi that u lick cold, hard steel. Whenever a man is around me, it is usually soft, floppy goo. (His penis, that is). What can I say, I'm a pleaser. I'll still suck on it and luck it, but it is just as worthless as a piece of Bubble Yum

I really wish I had a better body like Miley so that more men would lay it down on me, but also, cuddle with me.
All of the people saying miley is a SLUT need to back off. I think it is bauteaful that she has #DISCOVERED her body and #SEXUALITY.
Honestly Miley,
U look good, bb!
and that's all that matters.
Trust me, as some one who LOOKS RLLY BAD, bb! :-(
Please tweet at me if you see this Miley.
bye
by the UlTiMaTe LaMeStReAmER!!!

Beyonce BB! If I had 2 guess, I would say u NEVER had a BB! Blue Ivey Carter CANNOT be real! Defanately an ALIEN BABY bc I can't see stretch marks ANYWHERE!
Ur gonna have 2 share ur post-baby weight loss secrets with me even though I never had a baby and I probably weight 2x as much as u without a second human inside of me. Ur abs look great! Do u do crunches or situps? I need 2 start working on my #core, bb!
Ur SO different than all the other slutwavers who just show off their bodies! Ur totally authentic pop diva! #Vh1DivasLive I always RESPECT how u don't have to SHOW OFF UR BODY is a SLUTTY way just to get attn. UR a REAL SINGER with a REAL VOICE! I LOVE the underboob look. I probably can't achieve that look bc my b00bs are huge, pancake titties that droop down emberressingly low. I guess I could, but my shirt would cut off beneath my belly button and people would be like 'wtf'
Let's play football, bb! Look at that badonkydonk!

I hope Jay-Z totally makes u feel like a natural woman, bb!
Alicia Key who? #TeamBeyonce
Destany's Child who? #TeamBey
Kimye baby who? #TeamBlueIveyCarter
Sideboob who? #Teamunderboob
by the UlTiMaTe LaMeStReAmER!!!

Miley BB! Where the EFF is ur brassiere?
Your breasts are PERFECT and PERKY, especially with ur TRIM FIGURE and TIGHT BODY. They look like lucsious lumps of goodness, ready to squirt milk when u r finally a mother. But ur so young and you should really think about it waiting for it, especially to make love to a man. I probably made a mistake and did it when I was too young. I thought I was making love, but it was just a hornie little boy getting his rocks off. He never talked to me again, and in fact, pretended that I was invisible. Every time I pass by the Golden Corral parking lot where we first made love, a part of me dies because I wish that I woulda just stayed inside and ate an extra plate or too instead of letting him have me.
I'll never get that back. Never.
But right now, it's ALL ABOUT MILEY. Enough about MY PROBLEMS. Miley's #sideb00b could honestly save the world <3
Get a bra, bb! But at the same time I LOVE LOVE LOVE the new haircut! Ur such a #femanist! Burn ur bra!
I tried to burn my bra once and I actually ended up burning down an entire wing of my apartment complex. #dontask
Selena Gomwho? #TeamMiley
Nipple who? #TeamSideB00b
by the UlTiMaTe LaMeStReAmER!!!

Kim BB! I love LOVE LOVe ur entire family! Yall give me strength that one day my big ass will be considered BEAUTIFUL and I will have my own EMPIRE of self-perpetuating fame where some1 loves ME for ME!
Is that a lil nip I see! U need to cover up, bb! I remember one time I had the MOST EMBERRESING NIP SLIP at McDonalds. The cashier started laughing at me, and said that my nip looked like a big gum drop. It was the first time in my life that I realized that I had big, bullet nips and since them, I wear a piece of tape over them to prevent myself from nipping out.
I CANNOT wait til your lil Jenner Sisters GROW INTO THEIR BODIES so that they can be as HOT and CURVIE as U! Bruce Jenner is so HOT, it makes sense that his spawn would have BANGIN BODS!
But u gotta cover up, bb! At the end of the day, ur nip DOES look good, bb! I wanna hang out with u and Khloe! Khloe gives me #strength.
Paris Hiltin who? #TeamKimmyK
by the UlTiMaTe LaMeStReAmER!!!

Miley BB! I see some floppy jalopy! Is that the side of ur bosom?
WTF Miles! Cover the EFF up! U used to be a pure Disney star and now ur a SLUTWAVE SENSATION!
Don't get me wrong, ur body is AMAZING. Have u been going gluten free? UGH. I need to try that, but bread and butter are honestly my achilles heel. I would LOVE to have ur FIRM body. I'll bet u really hit the gym, doing cardio AND weights. At the end of the day, ur sideboob looks great. Nice, firm boobie. Mine would look like a pancake sitting on my belly, so at the end of the day, if u've GOT IT, WORK IT!
I honestly expect more out of u. Maybe u WANT the attention, but if Billy Ray were my daddy, I would ONLY want his attention. Is that a creepy thing to say outloud?


U look good, bb!
Oh Milesy... I will honestly ALWAYS have a soft spot 4 u.
Taylor Swift who? #TeamMiley
Noah Cyrus who? #TeamMiley
by the UlTiMaTe LaMeStReAmER!!!

Miley BB! What are you THINKING? Put on a braissere, bb! Or maybe a tube top.
I could NEVER wear a tube top, unless some one personally wrapped serran wrap around my body. I would honestly be afraid of busting the elastic. :-( U know it's a bad sign when u can't even wear stretchy things any more. I REALLY gotta hit the gym. But first, I'd LOVE to go shopping with Miley!
Ur teet is honestly PERFECTO*! (* ="perfecto" is Mexican word for "perfect")


I honestly think u have the perfect breasts and body. Ur so tight and firm, but then ur breasts are this nice lil lump of goodness. I am GLAD you did not succumb to Hollywood pressure and put BIG, FAKE implants in ur breasts. I am a REAL GIRL, and although my cha chas are like big floppy pancakes, I Can RESPECT u 4 what u did.
UR a TRUE feminist, bb! Who CARES if MEN want us to wear bras? U are NOT a sex object prostitute! Ur a former child star turned DIVA!
Iron Maiden? Whose that? I gotta check them out! They probably sound like Cobra Starship or Maroon Fives!


Call me if u and Noah ever wanna hang out, bb!
Ur an ICON, bb!
LindzLohanSideboob who? #teamMiley!
by the UlTiMaTe LaMeStReAmER!!!

Miley BB! Ur looking AMAZING. I could honestly nvr wear a shirt that tiny. It would look like a little table napkin covering up my cha chas and belly.
Ur sideboob looks good, bb! Honestly, my boob from teh side looks so, so very floppy. You could probably put a few pencils underneath it and they wouldn't fall to the ground. My exBF actually used to use that area of my body to smuggle drugs across the border. It was embarassing to get caught with massive amounts of drugs in miscellaneous folds of your body. I did serve time for him, but when I got out of prison, he had sold my Honda Civic AND the timeshare that my grandma left me! #asshold
That's why ur THE BEST, Miley. U have a PERFECT everything. Especially that sideb00b! So lil, perky, unfloppy. How do u do it, bb? Ur so PRESTIGEOUS. That's why ur on the cover of PRESTIGE magazine, bb!
I'm buyin' this at Borders and hangin it up on my wall 4 sure, bb!
by the UlTiMaTe LaMeStReAmER!!!

Miley honestly has the perfect body.
A lot of women want implants, but I jsut want keut, small, perky boobs. Trust me. As you get older, they start to sag and turn into huge, pancake-like masses. Then your boyfriend loses interest in ur physically, and you find out he's been going to strip clubs, and you go to the strip club and go in there and he tells you to get out because he is just unwinding and having a good time, and says that he wants to break up then a whole gang of stripper trash starts laughing at you and the bouncer/DJ comes to ask you to leave. #humiliating.
Miley's sideboob looks REAL GOOD, hot, and sexi...
Billy Ray is a GOOD DAD and lets Miley be herself, making mistakes but at the same time, learning how to grow up in the spotlight.
#Team_Miley. Noah who?
by the UlTiMaTe LaMeStReAmER!!!

Beyonce bb! U look good... I see a lil bit of sideboob...
She looks STRONG and CONFIDENT, showing off her skin... but u can't help but wonder if u see some signs of an implant.... If would do what she did too, just get a small, modest implant that really perks up my breasts... After I get a breast reduction for my pancake titties. :-( She does LOOK GOOD and FIERCE, though.
I could honestly never show much of my body due to a really bad previous relationship. I 100% H8 my ex . I rele thought that he loved me 4 who i was & i started feeling comfortable for once in my own body after we got 2gether. OMG-was I wrong. just bcuz my weight shifted from 170-??? should NOT make a difference (Editor's Note: afraid 2 step on a scale). he totally ruined my life and broke up with me over livejournal. i will NEVER love or TRUST a man again! Heck. I have a hard time loving my own body.
Beyonce is FIERCE and is sending a strong message to Rihanna that Beyonce is HERE 2 STAY.
I hope Jay-Z gets more than sideboob in the bedroom! #TeamBeyonce
by the UlTiMaTe LaMeStReAmER!!!

Miley bb! U have really grown up!
I lovelovelove ur tattoo.
I honestly believe that tattoos are a PURE form of self-expression. I have gotten many a-tattoo, but I have also had many of them painfully removed. Unfortunately, I had the name of two of my exes tattooed on my wrist, and also had a 'Property of JaMarcus' tattooed on my butt cheek. It is painful to get tattoos removed, not just the process, but also psychologically because it reminds u of the breakup.
Miley's sideboob looks good, bb! I could honestly never show sideboob because it would look like a hanging pancake that you could slide a pencil under. #embarressing
Miley is a GODDESS and a good role model for being in touch with her body. At least she doesn't do X like Vanny Hudgy!
By Carles on 17 Feb 2011

Have yall ever been 2 the relevant music festival Coachella? Have u been inspired by the QT alt girls wearing tons of free-spirited tank tops / tube tops / alternative sexi clothing? What if I told u that a shirt was designed
Not sure if this was an official collaboration with Coachella, or if Coachella is gonna 'sue the fuck' out of Forever 21 for exploiting their brand.
Knit tank features Navajo inspired print and racerback silhouette. Lightweight. Scoopneck, sleeveless.
- 23.5" approx. length from high point shoulder to hem, 32" chest, 34" waist, 9" sleeve length from shoulder ridge, 10.5" shoulder width
- Measured from Small
- 100% cotton
- Machine wash cold, tumble dry low
- Imported
Have yall ever been inspired by the Navajo people to start a Neon Indian buzzband, or design a Neon Coachella tank top?
Should I get the shirt in Neon Yellow or Neon Coral?

Really feel like this shirt could maybe expose a little bit more sideboob, but maybe if you have above a c-cup, you'll be good.


Do u think Forever 21 'nailed it' with this shirt?
Is the Urban Outfitters lead product designer 'pissed' that they didn't invent this shirt? Will they respond by making a 'Lollapalooza'/'ACL'/'Bonnaroo'/'SXSW' tube top?
Can Coachella 'sue' Forever 21 because of this shirt's name?
Will it be entry-level if some alt wears a Coachella tank 2 Coachella?
Is Forever 21 just for mainstreamers and lamestreamers and hefty 20something girls looking for 'girls night out' slutwave gear at a low price?
Does Coachella fashion 'inspire u'?
Whenever u see a girl in a tank top, do u obsessively monitor the potential of their breasts/nips slipping out?
Company
Coachella is a music festival held in Southern California that turns into a gathering of the world's most relevant buzzbands, artists, designers, celebrities, and internet personalities.
Read more>>>>
By carleser on 23 Apr 2010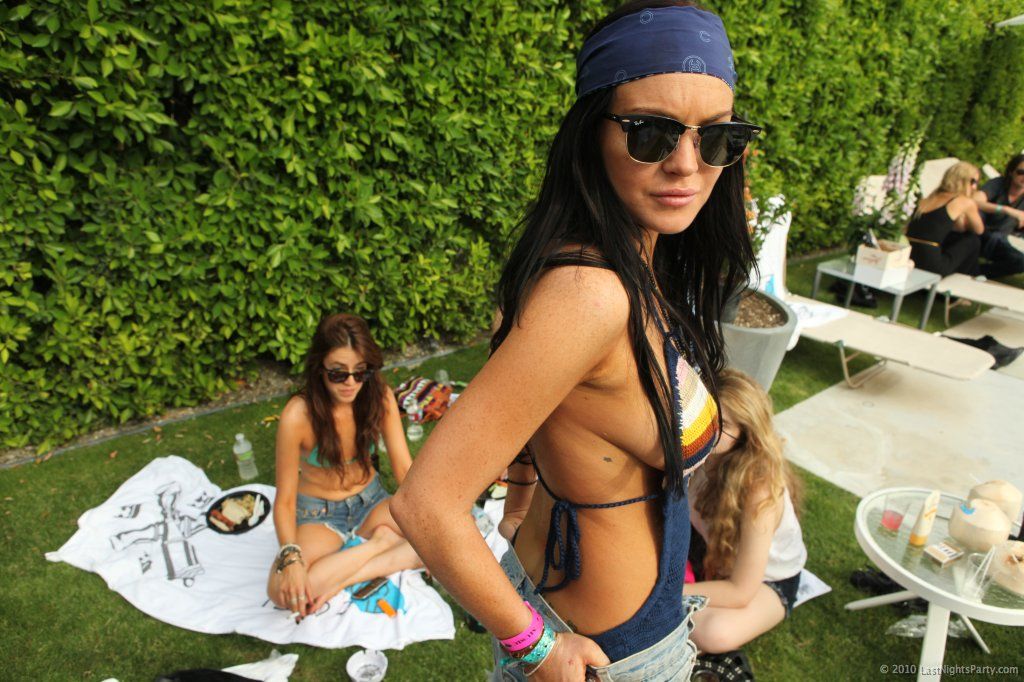 Not really gonna bother 'blurbing' this or 'trying to make it relate to coachella / alt culture.'
Just seems like an intense side boob. Might get some 'horn dog' hits. Even if her life is a wreck / joke, at least she still perpetuates her sexy / slutty personal brand for people who read blogs and magazines.
Is side boob better than nip slip?
Which 1 turns u on more?
Is Lindsay Lohan's rack the set of the perfect alternative breasts?
Are Lindsay Lohan's breasts 'all natural' or artificially enhanced [via implants]?