the sponsored experience
By Carles on 06 Mar 2012
Photos by LNP

Things have been going pretty well for me lately. After so many false starts, I've finally decided that my passion lies in business and marketing. I recently obtained a marketing internship with a relevant liquor/adult alcoholic beverage brand. I was told by the man who interviewed me that I had the opportunity to grow within the company, and even the regional manager started on the LIVE Events Marketing Street team. Basically what I do is go to events and try to raise brand awareness, getting people PUMPED about the brand. It's been very fun, rewarding work, and I am excited to add a line of premium professional experience to my resume.
On top of all that, I adore the girls that I work with. Sometimes we have so much fun that it doesn't even feel like work.


The camaraderie actually reminds me of my short stint as a stripper when I initially turned 18. Although the stripper locker room eventually led me to a meth addiction, and I ended up in an emotionally abusive relationship with my 43 year old manager, I still miss the way the girls all took care of one another. It also helped to familiarize me with 'pasties,' and how to effectively cover your nipples/areolas.
I love marketing and advertising. I love #interfacing with people and customers, leveraging my knowledge to get them up to speed with the brand. I work with a product that I ACTUALLY consume, a product that I am passionate about.
The only time I ever worry is when I think that people might be able to see my cooch.


It's actually the perfect job for me. I understand that SEX SELLS, so I have the BRAINS and the BODY to really be the best brand ambassador that I can be.
Have I mentioned that I love the girls that I work with? The body paint artist Julio has also been amazing to work with.

It's been a really exciting era of my career, and I'm certain that before I know it, I'll be wearing a suite and marching into a huge office in the Big City. Right now I'm young, and I'm trying to have fun and build a career for myself. I love brands, sponsorships, and partying on the job. I know that sometimes men sexually harass me, but I am fortunate to have a BANGIN BOD where I can have this dreamjob.
After we are done tonight, me and the girls are gonna take a shower, wash up
Have u ever had a relevant marketing internship?
Do u <3 alcohol girls?
Do u <3 branded street teams?
Do u <3 body painted broads with BANGIN BODS?
By Carles on 31 May 2011

So there I was, standing in a massive Adidas shoebox that was located inside the festival grounds of a relevant alternative event, and I had 2 ask myself, "Where the eff am I?" After attending so many relevant alternative events, experiencing life as a VIP and sometimes stepping outside of the VIP area in order to experience life as a 'common alt' with the herds of non-VIP alt consumers, I find myself wondering if the 'sponsored' experience has helped or hurt the State of Alt.

The Sponsored Experience////////
If an experience isn't sponsored, did it ever even happen?
Festivals, VIP areas, sporting events, mainstream events, stadiums, amphitheatres, holiday parades, and even youth sports teams' entire seasons. A brand It seems chill that relevant alt festivals are 'monetizing', 'going mainstream', and getting top tier brands. It seems chill that top tier brands have embraced alt events as a place to expose their brand to 'high-end early adoping tastemaking consumers.'
But while entities who are grandfathered into the highly lucrative buzz machine get richer and more powerful, who are the economic victims of The_sponsored_experience? Or is it chill 2 be hella sponsored as long as u invite local vegan, grass-fed, organic venders to make some $$$ by selling relevant food-truck-wave food at ur alternative event?
Pictured: Sponsored Ice Cream Experience
I feel scared and sad. Scared for our children, and future generations of alt who will never get to experience chill indie vibes and websites without being overwhelmed by the sponsored experience. Scared for the future of buzzbands, who will be forced to cultivate sponsored buzz in order to be looped into the sponsored indie buzz machine.
Pictured: Sponsored MP3 farming experience
But maybe I <3 the sponsored experience. Getting free iPhone cases, alcohol, cards to redeem free MP3s from a startup music service, and chillwave koozies. Sometimes I even get XL t-shirts. Maybe the sponsored experience is a good thing 4 evry1. Maybe the sponsored experience is where art and commerce intersect, creating a portal of synergistic vibes that allow us all to chill and vibe like never before.
Can a band 'go mainstream' without embracing the sponsored experience?
Have u ever had any chill times within a sponsored experience?
Have u ever exploited a sponsored experience to get free _________?
Are brands wasting money by sponsoring experiences [via marketing]?
Sponsored experience in a sponsored experience experience sponsorship?
Is a blog only as valuable as the sponsored content is blogs?
Do u ever wish that ur own life was a sponsored experience?
Will the sponsored experience enable all great art, music, and architecture for the rest of time?
Can a 'new authenticity' emerge now that 'authenticity' is a sponsored experience?
Is 'government' a sponsored experience [via taxes]?
Is 'life' a sponsored experience?
Is society a sponsored experience?
Can u sponsor a sponsored experience?
Pictured: I got this coupon at a relevant music festival, exposing me 2 the Pepsi Max brand
///Can we ever get away from the Sponsored Experience?
By Carles on 26 Nov 2012

Hey! Andre Three Thousand! Or should I say HEY YA! Great song!
Anyways, this is Tom with Gillette. Are you interested in expanding your brand, moving to a whole new audience who you RESONATE with? You have a beard, right? U trim it sometimes? U have a goatee sometimes too? Cool, cool. Good to know, Andrew 2000. Have I said we love your music?! SPEAKERBOXX (The Love Below)!
Alright, so u wanna be in our commercial for some new razor that we have? We just want people to think that they can 'style' their beards and look cool just like u. Could you 'be cool' and shit in a commercial, maybe make it seem like people who shave with this razor are rich and famous and rapper/singer/artist/bohemians?

Cool! Yeah I like that part about STYLE and BEARDS and stuff. Anyways lets hurry up because I have a call with a football player with a long hair coming up in 5 minutes.
Let's iron out the final part of this contract.
One more thing, do u mind wearing all denim and standing in front of an SUV with our new razor on it?

Cool, this will be in Times Square.

Do u mind driving the SUV for a year as your only car?

Also, this has to be your next album cover.

Additionally, this picture will be posted on your grave.

Sign on the dotted line my man!
. . . . . . . . . . . . . . . . . . . . . . . . . . . . . . . . . . . . . . . . . . . . . . . . . . . . . .
Welcome to the Gillette family. Please do not put over 10,000 miles on the car. We will need it back exactly 1 year from today.
By Carles on 15 Oct 2012
Dude!
Crack open a Red Bull, dawg!
and fall 24 miles 2 Earth.
Bc I'm free...
Free Falling
[while jacked up on fuckin Red Bull]

Life is just a series of sponsored experiences.
Life is just a series of xtreme experiences.

I wish I could be a tween again
Looking for 'energy' to 'rage hard'
Looking to get 'JACKED UP'
Staying alcohol free at my school dance


Jersey Shore style dbag bros
Vibing on some N_R_G before a workout
Tons of caffeine
Heart is pounding out of my goddamned chest.
Dude, I fell so goddamned far [via Red Bull]

I am so deep
I am so extreme
I have #RedBull running thru my veins.

Via Forbes:
"The sponsorship transcended sports and entertainment into Pop Culture, hitting new consumers that Red Bull does not usually capture, and on a global scale," said Ben Sturner, President and CEO of Leverage Agency, a full-service sports, entertainment and media marketing company. "The value for Red Bull is in the tens of millions of dollars of global exposure, and Red Bull Stratos will continue to be talked about and passed along socially for a very long time."
Oh damn.
U 'transcended' basically everything, bro.
Congrats on that [via Red Bull]
HUGE branding #win
#trending
#transcendence
God Bless our troops
God Bless our Astronauts
But more importantly,
God Bless Our Dudes Sponsored By Red Bull Doing Extreme Shit

If I drink this shit
Will I be able 2 fall 24 miles 2 Earth?


U did it.
U fell out of a balloon.
U were sponsored.
U were a meme.
Ur 'famous'.
Ur 'that dude who fell.'
U went all fast.
Ur organs probably moved around a lil bit.
U will be the face of an energy drink.
U r fueled by Red Bull.
Red Bull gave u wings.
U r a brand ambassador, sponsored human meme.

Do u wish he had died so that ppl would have stopped drinking Red Bull?
Should he just do something more 'normal' in an extreme way like sex addiction?
Does he need 2 just 'chill out' and do regular ppl things?
Why does he have to do something so extreme 2 get his rocks off?
Is this what happens when u drink 2 much energy drink?
PREVIOUSLY
I am a grassroots marketing representative for an energy drink.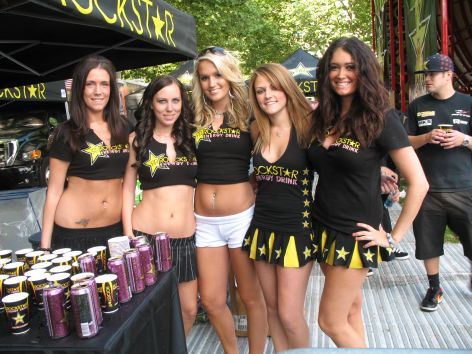 By Carles on 21 Jun 2012
Photos by The Cobrasnake


Middle Aged Man.
Searching for something more.
Middle Aged Man.
Career going very well.
Meet Mitchell. Go ahead and call him "Mitch." He is in middle management at a regional Samsung supplier, a liaison to partners in the Far East and a well-respected project manager within the company. Mitch posted huge numbers in 2012-Q1. The biggest thrill of his life was watching the birth of his only son, Mitchell Jr. Well, besides the time he had to go to Thailand and purchased sex from a she-male prostitute. Mitch has a dark side, tired of his life. Tired of his job. Tired of day to day responsibilities. Tired of the way he looked. The way he felt. The way young people looked at him as if he didn't exist, just a boring background face in their lives'.
This night had been a long time coming for Mitch.
The night it all changed was a Samsung Galaxy S III launch party. He had never heard of Skrillex. He had never heard dubstep. He had never even been to a sponsored event with an open bar. Over the course of the night, Mitch found a new scene where he truly belonged.
He felt the dub, the womp womp, the bass, the youth, the feelings, the vibes, the emotions in his entire body.


Mitch was finally free. The person he never had the opportunity to be. Tonight, Mitch was a bottle poppin VIP ass nigga, tearing up the club. The club truly could not handle Mitch right now.
CRAFT BEER, BITCHES!

Mitch had so much confidence in his new environment. He felt like any girl could be his. He approached with his failsafe Mitch 2.0 line, "Do you know who I am, bb?"

Young people looked at Mitch and at first it looked like he didn't belong. But the way Mitch partied was admirable. By the end of the night, every one was friends with Mitch. Mitch insisted on ordering rounds of shots for the entire party even though the alcohol was free.

We can learn a lot about the human spirit from Mitch. Maybe we're all just searching for a fun place, young, pretty people, and most importantly, an open bar. Maybe we're all just scavenging this Earth for a free drink, a good friend. A pal like Mitch. Even though something like a product launch is what brought us all together, maybe we need to focus on the pure vibes of a free spirit like Mitch.
Maybe we learned that the spirit of Skrillex can invade any one, despite their age, size, race, nationality, or sexual orientation. Perhaps the power of the Samsung Galaxy Android Phone is inside of us all.

Mitch,
O Mitch...
No1 does it like u, Mitch...
U truly have infinite swag
Last night, the entire world belonged to Mitch.


#ThankUMitch
Did this Middle Aged Man turn into a VIP raver d-bag?
Or is he the purest, alt-est soul of 2k12?
Is 'craft beer' the only thing that a middle aged man can taste?
What did u learn from the Story of Mitch?
Alternative Celebrity, Meme
Mitchell, aka Mitch, is a partying middle aged bro.
Read more>>>>
Alternative Celebrity, DJ
Skrillex is a popular dubstep DJ who is arguably the #1 alt DJ in the world.
Read more>>>>
By Carles on 23 Jun 2011

These days, artists and buzzbands are forced to unite with brands in order 2 get paid bc no1 buys albums any more. Most artists who partake in sponsored opportunities are 'pretty anal' abt how their brand will be perceived. Naturally, when Robyn was offered 2 have a concert in a JetBlue Airport terminal, she said, "Hells Yeah!" I wonder if she just made some money, or did she get VIP first class JetBlue premium international VIP sky miles admiral rapid rewards status.
Basically, she obtained A1 status 4 life [via Southwest Airlines cattle herding seating system].
Do u fly JetBlue bc of their amazing TVs + SiriusXM radio, or are they lamestream bc they don't have wifi?
Do u wish u were a part of this sponsored experience?
'Hi I'm Ted Frankfurter, head of marketing for JetBlue and we read on the internet that if u hire a trendy musician 2 do something for u, 18-35 year olds will automatically think ur brand is kewler.'

Show Me Love!

Group of ghey hawtties 'got the setlist'.


Is Robyn 4 altGheys?
'I missed my goddamned connecting flight bc of some little boy with a wedge haircut performing.'

Dancing on my own.... with JetBlue....

Was Robyn forced 2 'dress in ble' 2 integrate with the brand?
Is this an authentic display of art + commerce?
How much do u think she was paid?
How many free flights would it take u 2 leverage ur buzzband's brand?
What is the most alt/authentic airline?
What is the crappiest airline?
Is Robyn relevant or is she sorta just an 'afterthought'?
Should JetBlue start a record label/Vinyl Imprint?
Do u think an airport terminal is a good place 2 find new fans [via buskers]?
Alternative Entrepreneur, Buzzband
Robyn is a former 1990s pop sensation who rebranded herself as an indie electro singer just 2 try 2 stay relevant.
Read more>>>>
By Carles on 31 May 2011

Were u totally sad that u weren't able to get a Coachella ticket because they sold out in such a short amount of time? What if I told u they were going to have the EXACT same festival with the EXACT same artists 1 weekend later, and u had a chance to experience the EXACT SAME event, only it was 1 week later? Is that something u might be interested in?
Apparently Coachella is going to be a back-2-back multi-weekend event next year. Not sure wtf they are thinking, but insiders are calling this 'batshit insane', 'a logistical nightmare', and 'a desperate attempt to make more money, losing credibility and buzz by watering down the entire Coachelly experience.'
AEG-owned concert promoter Goldenvoice is taking its wildly successful Coachella Valley Music & Arts Festival model and doubling it. Paul Tollett, the architect of Indio's Coachella and head of Goldenvoice, unveiled plans Tuesday to launch a second multi-day music event in 2012 at the Indio site. Coachella will now be held over two consecutive weekends, the first on April 13-15, 2012, and second on April 20-22, 2010.

"We will attempt to produce two identical festival weekends," the company said in a statement. "That means same lineup, same art, same place, different people."

Modeled after major long-running European festivals such as Denmark's Roskilde and England's Glastonbury, Coachella is coming off its second-consecutive sell-out year, hosting approximately 90,000 people per day. Tickets for the 2011 edition went in a record six days, and the event, held at the Empire Polo Grounds, is considered the unofficial kick-off to the summer festival season.

Does this seem like a good idea?
R u gonna go the first weekend or the second weekend?
Which weekend will be more 'VIP'?
Is it reasonable/feasible 4 them 2 replicate this experience over 2 weekends?
Can buzzbands just 'bum around' California during the week until they wait for the next weekend?
In case yall didn't know, they are doing this FOR U, the consumer.
"We know many of you were unable to attend this year's festival because passes sold out much sooner than anticipated," read the release. "We were truly surprised by the overwhelming response and remain honored by your passion and enthusiasm. We also know some of you purchased through nonlegitimate sources and were inconvenienced, gouged or totally scammed. We hope that these changes will give everyone the opportunity to purchase directly from Coachella.com."

Passes will go on sale via Coachella's official site Friday and will be available until June 10. In prior years, tickets were not sold until the lineup had been revealed, and were sold via Ticketmaster. Tickets are once again priced at $269, not including additional fees, and for those who don't wish to pay in full up front Goldenvoice is again offering tickets through a layaway plan, with 10% down and eight equal monthly payments.
R u one of those ppl who buy $300 festival tix without knowing who the lineup is?
Are music festivals getting 'too corporate'/'too sponsored experience-y'?
Did Coachella 'jump the shark'?
Are they just gonna sell out (x2) and laugh all the way 2 the bank?
Are they trying 2 hard 2 go mainstream?
Can a festival make 'too much' money?
Does the festival experience 'suck' when there are so many ppl there?
R u gonna buy tix [via layaway]?
Is this a 'great idea' or 'the worst idea ever'?
Which performances will be more authentic/VIP, weekend #1 or weekend #2?
Can we house buzzbands in internment camps, forcing them to collab and generate content during the week that they are just chillin?
Company
Coachella is a music festival held in Southern California that turns into a gathering of the world's most relevant buzzbands, artists, designers, celebrities, and internet personalities.
Read more>>>>