Subway
By Carles on 07 Mar 2011
u·biq·ui·tous /yo͞oˈbikwətəs/
: Present, appearing, or found everywhere: "his ubiquitous influence".
Painting by Jake "Dirty Projectbro" Longstreth

U did it Subway
U finally gave ppl a healthy fast food option
and u have been rewarded
as the #1 fast food restaurant chain in the universe of all time [link]
It's official: the Subway sandwich chain has surpassed McDonald's Corp. as the world's largest restaurant chain, in terms of units.

At the end of last year, Subway had 33,749 restaurants worldwide, compared to McDonald's 32,737. The burger giant disclosed its year-end store count in a Securities and Exchange Commission filing late last month.

The race for global dominance is an important one for an industry that's mostly saturated in the U.S. High unemployment and economic uncertainty have battered the restaurant industry in the U.S., and chains are increasingly looking overseas for growth, particularly in Asia.
We used to think that McDonalds
Was the greatest fast food chain of all time
and it could never be uncrowned
There would never be any logo/symbol/brand more ubiquitous than Golden Arches


but now
Subway exists
more than any other eatery on the planet
33,749 locations 2 get a sweet ass sub
First of all,
We gotta thank Jared for eating a shit load of Subway
and losing all of that weight
U inspired millions of Middle Americans 2 believe
that they would lose mad weight if they ate Subway


U've been really important
Even though u might not have ever been paid.
Via selling ur soul to the devil in order 2 lose weight
So many Subways in my local area
that whenever I am craving a sandwich
it just seems more cost + time effective 2 go 2 my local Subway
which is located 'just around the corner'
potentially inside of a gas station
inside of a Walmart
"We're continually looking at just about any opportunity for someone to buy a sandwich, wherever that might be. The closer we can get to the customer, the better," Mr. Fertman says, explaining that it now has almost 8,000 Subways in unusual locations. "The non-traditional is becoming traditional."

Even though so many Subways are competing against one another
via plausible 'over-expansion'
That's the problem of the franchise owner
They should probably offer cheaper footlongs
BRB gotta go 2 Walmart and pick up some groceries

We also have 2 thank the Chinese Markets
For having 'so many ppl'
They deserve to eat sandwiches too
even if we had to feed them noodle sandwiches and dog meat sandwiches
[via Western stereotypes of the Eastern World when they are actually willing 2 eat the same crap that we do bc it tastes yummy]
McDonald's is still the leader when it comes to sales. The burger chain reported $24 billion in revenue last year. "We remain focused on listening to and serving our customers, and are committed to being better, not just bigger," a McDonald's spokeswoman says.

Subway, which surpassed the number of McDonald's in the U.S. about nine years ago, expects China to eventually become one of its largest markets. The sandwich shop only has 199 restaurants in China now, but expects to have more than 500 by 2015.
Subway couldn't do this without the little people
The Sandwich artists who come into work every day
and resentfully make your sandwich 4 u
and h8 u for asking for 'a little bit more spinach/lettuce'

Cmon bro... It's ur job
I just want a sandwich
I'm sorry if you feel enslaved for working in fast food even though you don't operate a fryer
But I know that operating a microwave toaster oven can seem dehumanizing


U have to realize that you are 'part of a health movement'
to see chicken teriyaki subs
Philly Cheesesteak subs
Meatball subs
Coldcut combos
Jimmy John's, Quizno's, Which Wich, Blimpie, Panera Bread
They will never catch us
We can start a pop-up shop where ever we want.
Go ahead and order a sandwich while ur getting some gas

Plz chill out, Sandwich artist bro
What kind of bread do yall get? Which 1 is 'the healthiest'?

Plz don't put too many _____ on my sandwich. Yall srsly always put too much _______ and it taste rlly soggy and gross.

What kind of sandwich do yall get?

Does ur sandwich look yummy?

What type of chips should I get? I know I should get Baked Lays or Sun Chips bc I wanna be healthy... but at the same time Cheetos sound rlly good right now...

Eff it, I'm just gonna get a cookie

and a pizza

and some breakfast

Taking a step back
And thinking abt what we have in common with other humans
What common ground we have with ppl from all over the world
Ppl who are poor, rich, middle class, uneducated, black, white, Chinese, etc.
The only thing we share
is the low price consumer experience
Obtaining a foot long sandwich for $5
to save time and money
Interacting with a sandwich artist to customize our own version of sandwichian utopia
A process where we are given more consumer freedom than ever
to customize our own version of reality, our own version of fast food
Subway has liberated us
We must analyze these experiences at McDonalds, Subway, and other relevant fastfood establishments
and come together to create a better world
Where we all understand that we are searching for the same thing
1. survival
2. a low cost, healthy meal
3. a meaningful experience in a relevant space
4. the opportunity to integrate meaningful brands in2 our lives'
Fast Food is the ultimate art
Fast Food will save our world
Sandwich Artistry = The Master Art?


U did it, Subway
U won 'food'
//////////
What kind of sandwich do yall get at Subway?
Do u <3 or h8 Subway?
Is Subway healthy?
Is Subway a scam?
Are footlongs rlly $5?
Do u think McDonalds is pissed that Subway has more restaurants than them or are they chill making more money?
Are the ppl who work at Subway 'complete ass holes' or just modern slaves?
Will Subway take over the world?
Inside of Subway, does a perfect society exist that we can use as a template to save the world?
Should Barry Obama work with Subway and McDonalds to try to solve problems in other parts of the foreign world?
Is the modern fast food experience the only 'shared human experience' that we can use 2 relate 2 other humans?
By Carles on 04 Mar 2010

It's difficult to be a buzzband in the modern world. It seems like every1 is just trying to do stuff on the internet to 'go viral'/capture ur attention for 1-4 minutes, but they are forgetting about the spirit of music. The spirit of humanity. Music is here to lift us up, and help us enjoy life...sometimes even 2 help us escape from how much we h8 the trappings of modern society. My buzzband decided to do something new and original. We decided to go to the people. Instead of playing in a club or bar or church auditorium, we were going to find real people to play our real music. We went to a meaningful subway portal.
Playing our music to people who use public transportation will help us connect with real people, living real lives' in this real city of ours. First, we will succeed as a local band, playing rush hour every day for the next year. Then we will be signed and go 'national', and hopefully 'international.' It seems plausible that record label CEOs chill on this bus stop. In addition, this meaningful public space means provided us with some sweet acoustics that really helped our sound.
It was kinda inconvenient though, bc my female band mate has a really zany vintage piano thingy. Sucked 2 lug it down the stairs.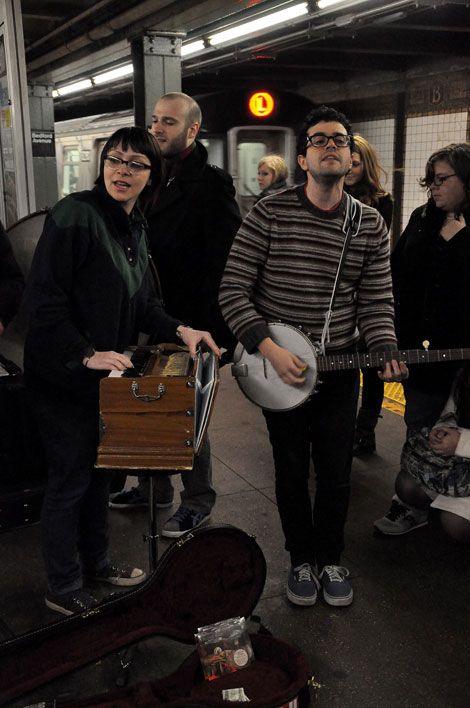 A lot of people didn't 'get' us and our music though. Maybe this is indicative of mainstream markets and their expectation of 'how music should sound.' So many bros were just like 'I want to get on my day without all of this hipster scum making my life hell.'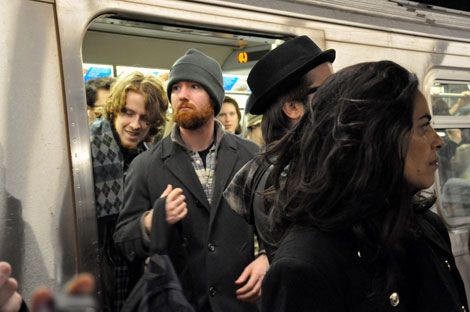 I think some of them confused us for 'beggars'. They didn't look at us or listen to us, as if we were less than human. Maybe they hated buskers (people who play music 4 money) because they don't have a solid track record.
We made $1. I wonder if it would be easier to maintain this business model, or to try to sell digital copies + exploit commercial licensing on the internet.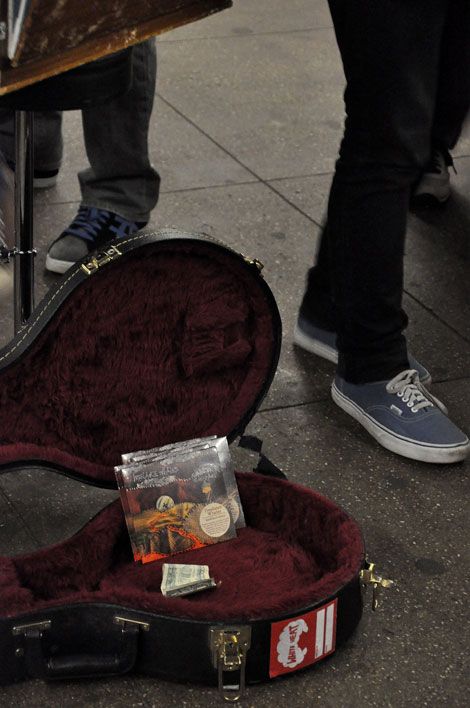 It was about more than just 'making money.' We used HD flip cams to cover the event, so we could get tons of internet media. Youtube, tweets, flickr fotos. We are social. We are social media.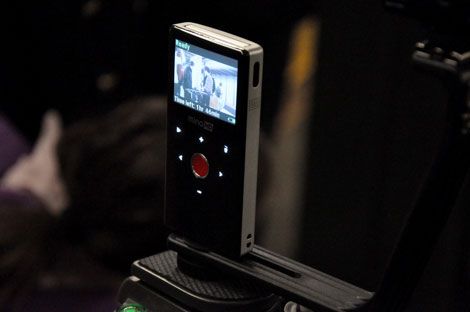 Tons of people were twitpicing and dropping mad hashtags. Some people even used a tumblr app to live microblog that (Thank G-d for 3G wireless networks).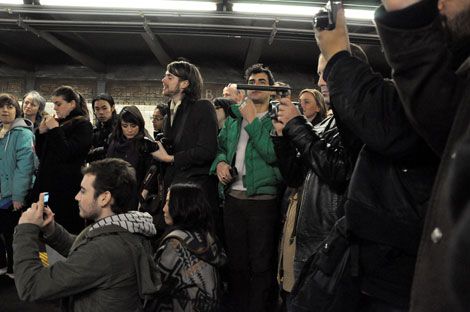 Wonder if the Bedford L Platform the altest place to play a meaningful live impromptu performance, or if we should have gone to a stop with a mainstream audience?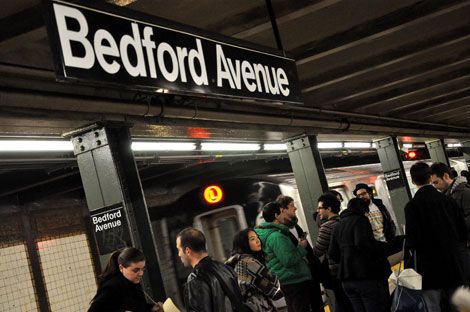 It seemed like we had invented something new. A new movement. The busker wave scene had been born, and we felt like we were the ones taking it to the mainstream.
Everything was going really chill. We had a lot of fans, and people were mad stoked to see us playing our cutesy indie music in a live zany context...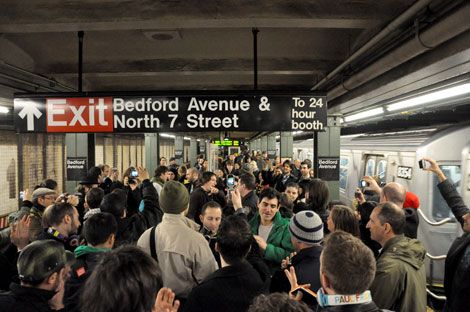 but then some ass hole African American came over and started banging on empty Home Depot buckets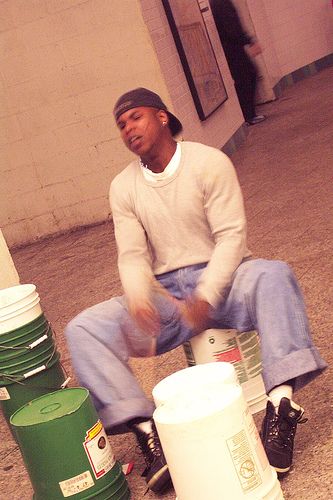 Then some other African american came along and started banging on even more buckets, creating an ambient sound that sorta felt like Phil Spector recording Animal Collective.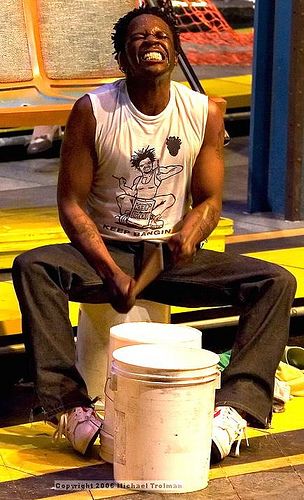 Then things got weird when another busker band came along and started playing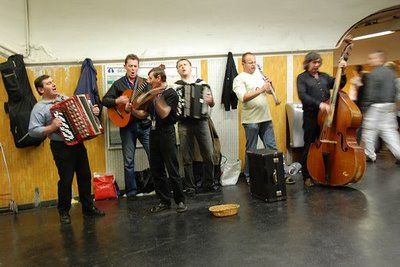 Then some AZN bro came and started riffing on his acoustic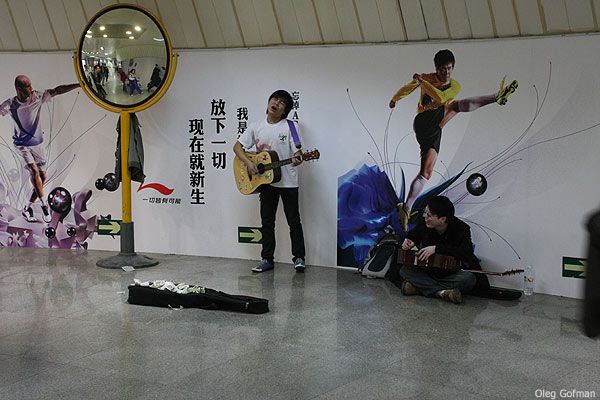 The vibe was texturous, and another African American busker came to riff on his sax.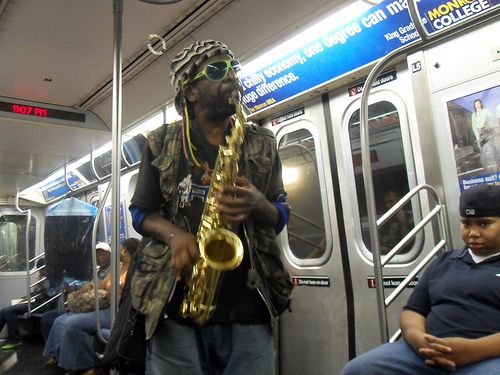 We were fortunate enough to have a keyboard player there to really add some cute jingles. Her yamaha keyboard + amp + power generator really came in handy in the 3rd hour of our jam sesh.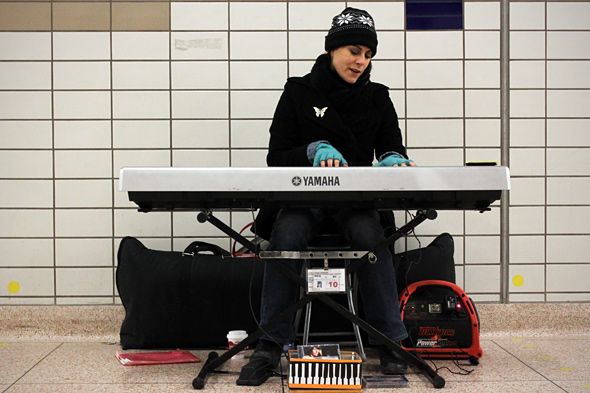 Another AZN came out of nowhere and jammed hard on his sterling silver electro saxophone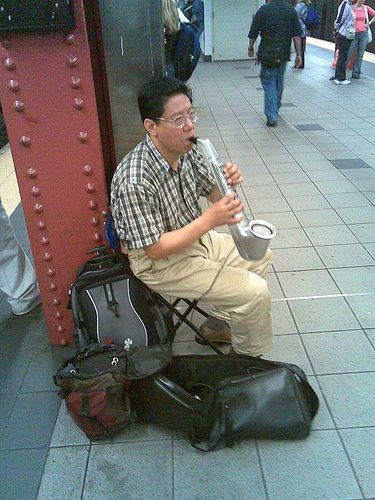 Two of the founding members of the busker wave movement were sort of resentful of the new found popularity of our busker wave super group. They had been in the industry for 20 years, but didn't understand how our busker group had monetized so well.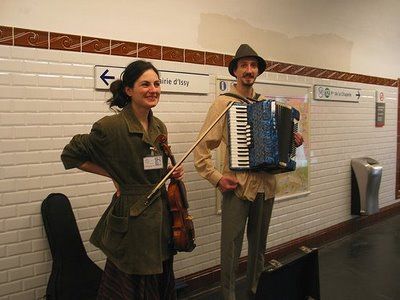 Then a cello bro got off the subway, and we wrote a 'sad' song. Really mellowed out the whole subway platform.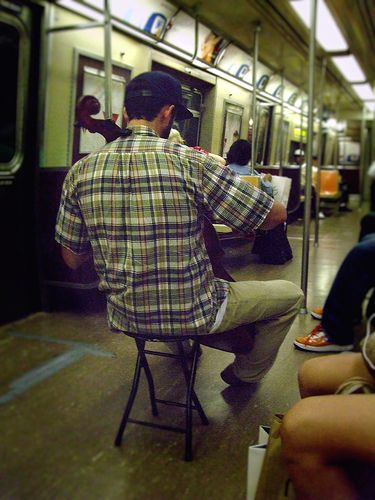 Then wrote a dance anthem with the help of a zany guy + another accordion player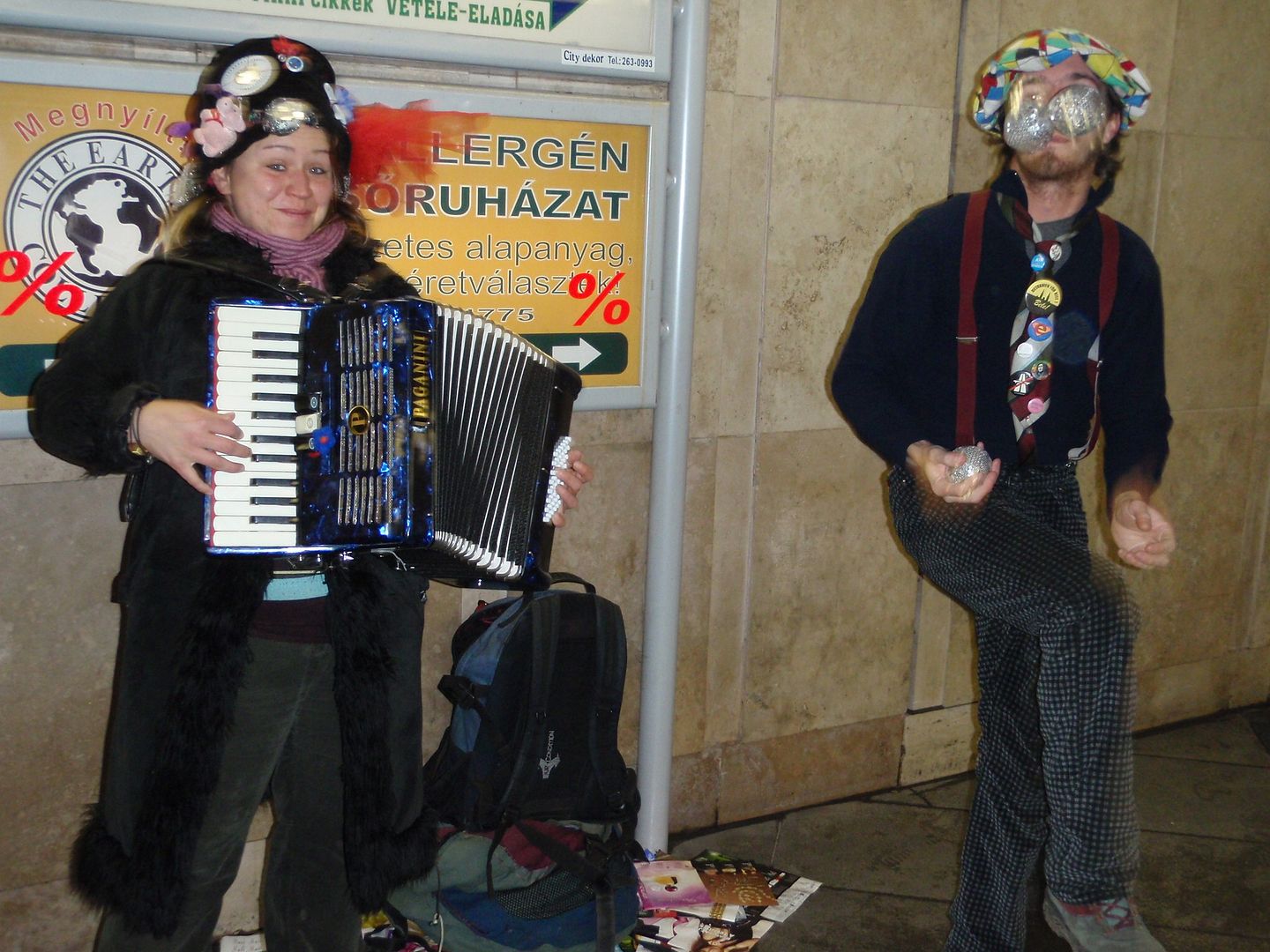 It seems like tons of foreign tourists really got into our band. They took pictures on their digital cameras, then uploaded them to their picasa accounts.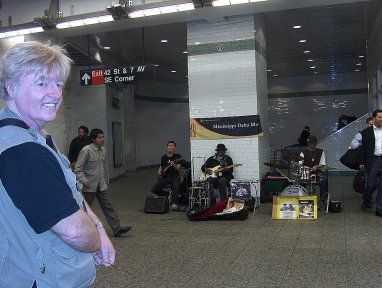 Overall, I think our experiment was successful. We made a lot of new fans, met some real people, and we felt like we reconnected with the spirit of music. Indie music no longer just lives on the internet. Indie music lives on the streets, in the subways, and in the sewers [via the Ninja Turtles].
Not sure if our next show should be in a city bus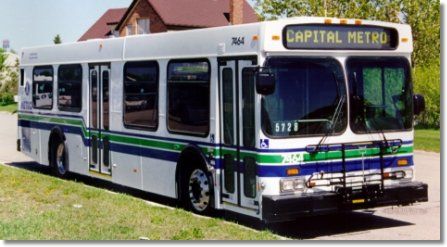 or on an airplane?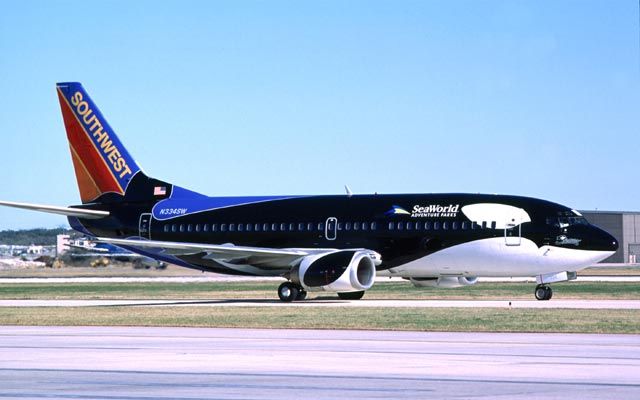 Feel like city bus might 'reach real people', but people who are flying probably have tons of spending money that they are willing 2 spend on CDs + band merch.
1 indie band. 1 dream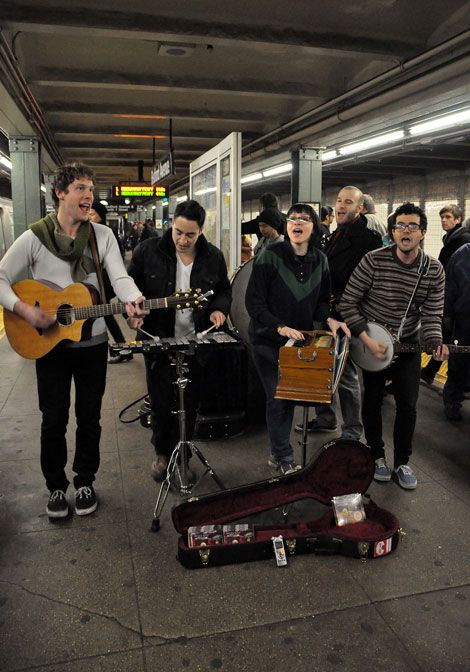 Was it a 'good idea' for this indie band to play a show at a subway stop to create internet media?
Where would yall play to make the most amount of fans? The Super Bowl?
Do yall think buskers are annoying because they play shitty music?
How do u feel about black men who bang on buckets as if it is a 'real art form'?
Would yall rather give money to a busker, a beggar with a witty sign, or an indie band?
By Carles on 24 Aug 2009
'There's no such thing as home.'
- Zacharias Braff, The Garden State of Friendship movie film

This is the story of how Carles gave up his prestigious position at a leading architecture firm and eventually ended up living in this temporary cardboard structure attached to a wall in the subway. A story about giving up everything 2 find urself.

I went away to the city. After I finished the 5 year architecture program at Rhode Island Institute of Design, I got a job with one of the most prestigious architecture firms in the world. They were known for their innovation, 'kewl looking buildings' and sometimes downright zany/dangerous design decisions. I was the understudy to one of the most respected architects in the world, and he really taught me a lot--how to challenge norms and how 2 transcend society. How 2 value public space and how not 2 care about material things. He taught me about how to use the Adobe Creative Suite, as well as how to use 'actual Adobe' to create a shelter. The truth is, when u architectify a beautiful building, it doesn't need to stand out--it needs to be functional and cheap. This is the beauty behind architecture.
After I 'matured' into a true designer, I resigned from my position, and decided to go to a suburban construction company who designed 'shitty buildings' that people take for granted. I made a lot of structures that I was very proud of. I did not make as much money as I could of, nor did I design museums or investment banking facilities, but I was truly happie.
Here is a strip mall that I designed.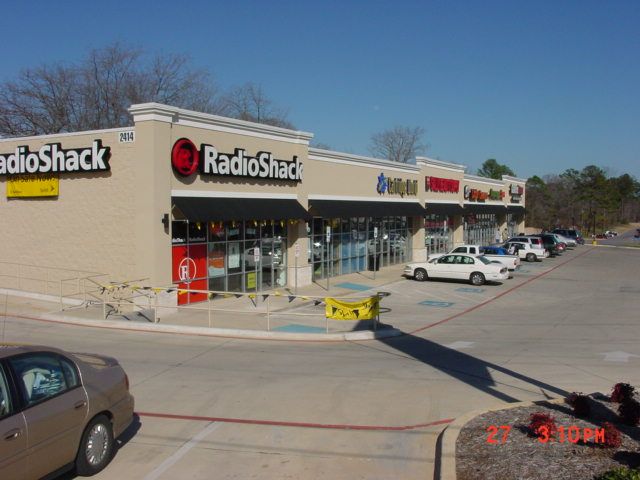 I redesigned the space within 24% of Subways in the USA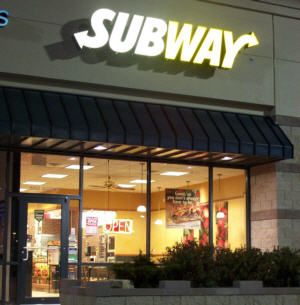 I designed a space in which Chicken and Tacos could be served.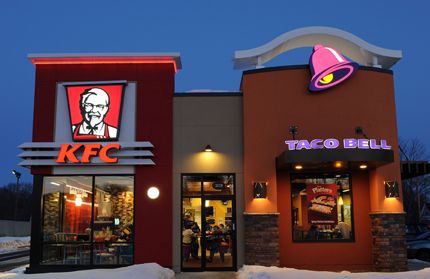 Here is a concept Chinese restaurant that I embedded within a now defunct mall.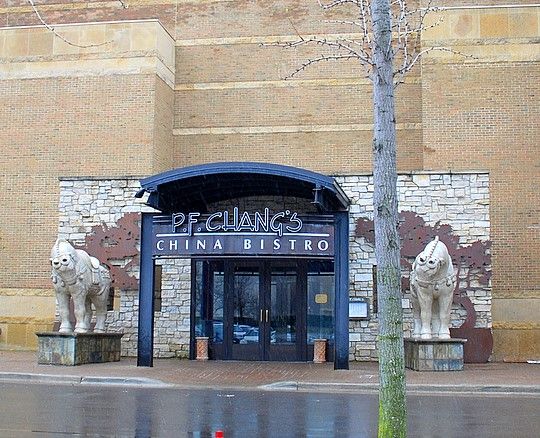 I even revolutionized the storage industry by inventing something called 'Portable On Demand Storage' (PODS), where people can put all of their shit in a huge box.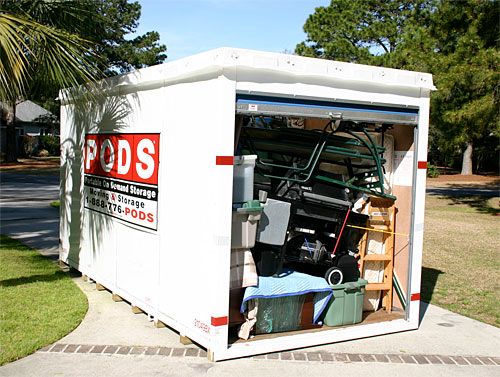 As you can see, I designed things that real people use on a daily basis. It was as if I had 'mastered' architecture, and there was nothing else to achieve. I felt like I was on top of the world, much like after most architects build their 'master building.' I was truly on top of my game.
This was when I decided to challenge norms for the rest of my own life.


I created a temporary structure within the local subway system. It was made out of cardboard and duct tape. The purpose of this structure is to promote 'sustainability' and 'portability.' One of the walls of my new home was 'already built' and I could theoretically live any where in the world, just as long as there was some sort of 'wall' where my home could be attached. I did not need multiple rooms, a restroom, or even many furnishings beyond a bundle of cloth to sleep upon.
No longer do I need to be 'connected to a world' so I no longer require television, internet, nor radio. I am truly free. I have formed a small bartering community with other 'underlings' and we trade essential goods and services.
I am finally home. This is my structure. It took me 20 years of being an architect to finally realize what it means to feel 'at home' within a structure. After years of searching for a place where I belong after the death of my mother, I finally felt 'free.' While many people within society would thing that I am 'a piece of shit', they don't realize that until you have learned what it takes to create+alter space, u don't truly understand how 'structures', 'buildings', and miscellaneous portals of space have changed U as a person.
U R Where U Live.
This Bro Is Me.

Previous homelessness coverage
http://www.hipsterrunoff.com/2008/12/homelessness-big-in-2k9.html
http://www.hipsterrunoff.com/2009/06/my-parents-kicked-me-out-of-the-house.html
By Carles on 15 Jan 2009
Sometimes I wonder what I will do when I 'start to get older' and 'lose my edge'/sense of community/sense of youth/sense of free-spiritedness. What will I do when I realize that my life is 'probz not gonna be meaningful' and I am still 'not where I would like it to be' when I am making $44K/year at age 32? I will have a sense of comfort, but still be 'longing for something more.' What can I do to lighten the tone of my life?
I will participate in activities that will make the 'oddly enough' section of the newspaper/the 'oddly enough' news in the final minute of the local news/ go 'viral' on blogs that are looking 2 'make u smile' and 'make u feel connected to cities where real stuff is happening.'

(Note: does n e 1 know if the background music is the Animal Collective/MSTRKRFT leak?)
I want to participate in zany community activities that 'gain steam/notoriety' [via the internet]. I want to brand myself to my parents by appearing in videos like this / taking pictures and posting them to my public flickr account, sending a link 2 my parents so that they can show their network of friends about my meaningful life 'in the city.' I want to participate in at least 1 flash mob / group performance art activity per month. I want to re-create my college experience--I miss the sense of community when we executed our 'senior prank' in high school.

"So there we were. In our underwear. United as one. Like the time we voted for Obama. They were looking at us like we were crazy. But if they only knew... if they only knew."
-The Diary of a No Underwear bro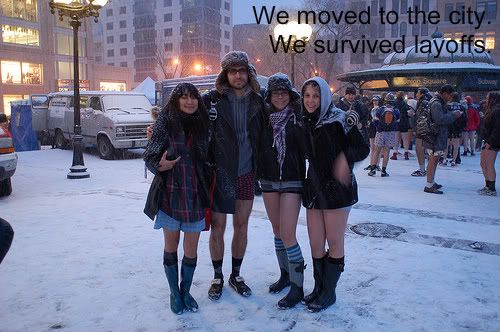 We moved to the city
and became
part of a movement
that made old people
smile
when they saw footage of us
at night
and young people
want to grow old
to be us
We are now
Because we have disposable income
and time to spend on the internet
allowing us to take place
in events that we perceive to be
more than just an internet-meme-generation process
Improvisation may or may not be everywhere
Because life is improv
and life is meant 2 be
interpreted [via progressive media]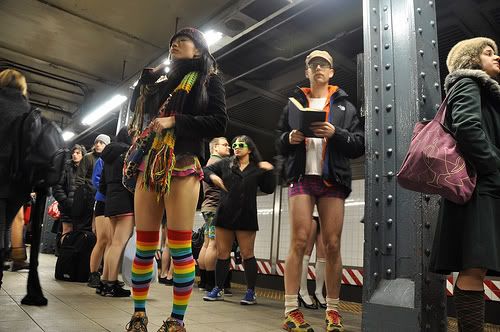 [photos via SBCTVC]
I really need to start thinking about 'existing outside of the internet.' What should I do? Should I put up flyers around the city that make people smile?
I need 2 spend the rest of 2k9 organizing ppl into a physical army. We need 2 start 'making the world think/laugh' by undertaking progressively zany missions.
We need to fight as hard as we can to be more // than // just // a // meme.


If u were going to create a zany group event that 'made peoplez headz turn', what would u do and in what setting would u do it?
By Carles on 20 Dec 2008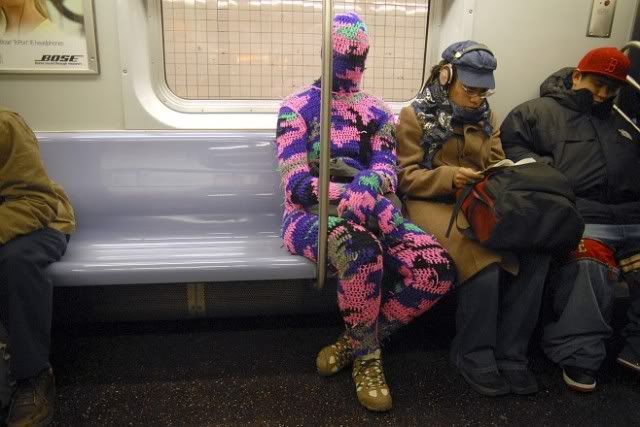 I ride the subway a lot. I'm actually thinking of moving from Brooklyn to Manhattan. Brooklyn is just becoming kinda like the inside of an Urban Outfitters. I just need 2 grow up. I need to be around people who are actually creative, and not just trying to 'look like Bob Dylan.' I just want substance/meaning. I want 2 be inspired by my peers. I want to represent inspiration to others. The most frustrating thing about it for me is not being able to stand out from the crowd because s0 many posers have hijacked the personal brand of a traditionally creative person.
This winter has given me an excellent opportunity to experiment with new personal branding concepts. My latest yarn body suit represents 'being trapped in my society' but kind of highlights how I am lazy and comfortable within this trapped state. Instead of buying clothes, I think I'm gonna start making my own wardrobe. It might not be as 'nice looking' as a Crystal Castles fan bag, but I think I will be a better metaphor.
2k9 will be all about exploring 'what u represent' and trying to be a lil bit more conceptual.
/////
/// <3 Mass Transit/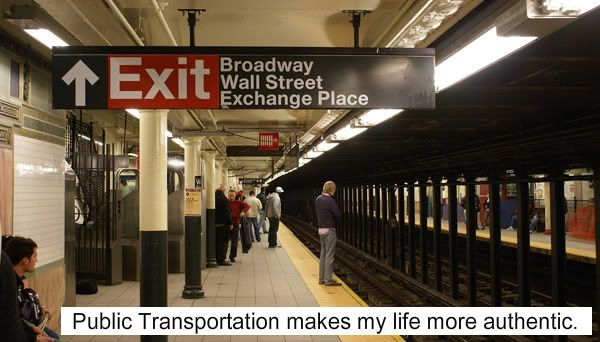 Public Transportation: I utilize u
I stand with the common man
I make more money than most of the common men
But I ride with them
Saving fuel
Saving emissions
The city thrives
because we can move from Point A to Point B
I move from Point X to Point Z
But I still ride with the common man
Listening to podcasts
People watching
Visiting websites on my 3G network
I live in a real city
Will never move to suburbia
Because they live in houses
and drive cars
forgetting what makes us
human after all
Next time I play Sim City
I will not build roads.
By Carles on 14 Aug 2008

Hints:
He has zany music videos in front of blue screens (before MGMT did it)
He usually just pretends to play music on stage while bellowing into a microphone with a bunch of FX
He looks sort of like a child predator with a free-spirited personal brand, as opposed to a 'down to business' person brand.
He often plays to crowds of entry-level alts as they stand around his table, shimmying and shaking to the sounds of his post-electronic music.
He is bald.
He was offered the opportunity to go on the Subway diet, but he turned it down in order to stay authentic--he uses his image & body as a thinkpiece to represent 'the collective health of Americans in the fast food era.'
WHO IS IT?
THE WINNER OF THIS CONTEST GETS A $50 GIFT CARD TO THE CHILI'S OUTLET OF YOUR CHOICE.
[Photo by Neon Sleep]
Been on n e effective diets lately?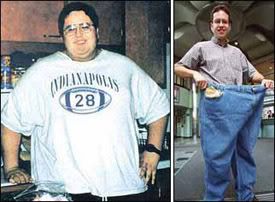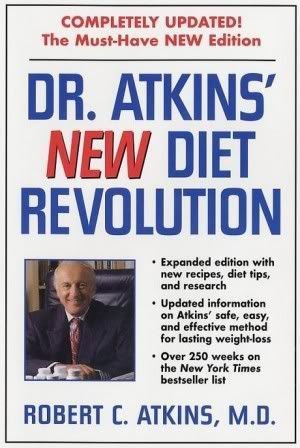 Don't starve yalls selves.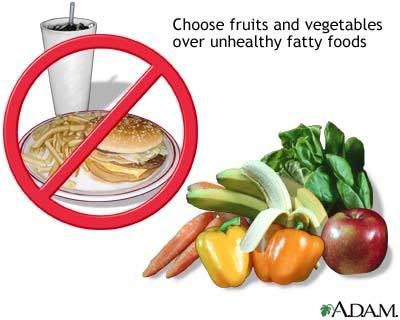 By Carles on 05 Dec 2012

Jared BB
R u okay?
U look really thin
I mean it is super good 2 be that skinny if ur a girl
but ur a bro
drink some brewdogs, eat some wings, and put on some weight
Oh Jared Leto...
Ur the most alternative man alive
and u always give the best advice.
Like the time you told me, "▲"
I took your advice and I ▲ed
I ▲ed as hard as I could,
and at the end of the day
I could that that ▲ despite the ▲ in the ▲.
I'm worried abt u.
Maybe u should eat some Doritos
[via shaped like ▲]

Be my eyebrowless BB

Jared BB... Plz tell me that ur not #hooking.

Leto has been fasting for his role in "Dallas Buyer's Club." Leto, 40, stars as a transsexual woman with AIDS in the film, so he is also shaving his eyebrows and waxing his legs, he told Vulture magazine. But when it comes to his weight, Leto said he's trying to stay healthy.
"Your body goes through weird stages," he said. "Sometimes it's hard to hold on to water. But for me, it's not about the most weight I can lose, it's more to represent the character. I'm focused on what it means to be a transsexual woman."
I sorta miss 'Fat Jared' via SubwaySamwiches

Oh Jared
U make me feel like I need 2 hit the gym.

Sigh

"Historically, people have done it for pursuit of self, to achieve a meditative state, so I'm hoping for that, and not the other things," he said. "It's not necessarily a bad thing."
Does Jared Leto look good BB?
Do u <3 ur men skinnie?
Will Jared Leto win an Academy Award 4 his performance?
R u on #TeamJaredFromSubwayWeightLoss or #TeamJaredLetoWeightLoss?

"▲"
-Jared Leto
Actor, Buzzband
Jared Leto is an alternative actor, and the lead singer of the band 30 Seconds to Mars.
Read more>>>>
By Carles on 24 Apr 2012

I believe that sandwich artistry is the master art, which is why I am currently attending Art & Design School in the greater New York City area. One day, I want to practice sandwich art with the best of them, alongside the other sandwich artists at Subway. I dream of franchise gallery openings where I manage teams of accomplished sandwich artists from all over the world. While we may not speak the same language, the language of sandwich will be all that we need to make masterful sammies.
I will not be the half assed artist who makes a sandwich without love and passion. Whether it is a 6 inch sub or a foot long, I will put all of myself into my art. I study the history of sandwichery, and I believe that I can continue pushing the sandwich making genre to such great heights.
I was recently impressed by the work of Hector, a sandwich artist under whom I'd been interning. Interning usually means bitchwork. Cleaning out the microwave toasters, taking out the trash, cleaning the soda fountain. Usually, he just had me restock the Lays potato chips. After a long day at the Subway, we stayed late and enjoyed the cold, refreshing taste of Coca Cola products. He told me, "I want to sandwich you."
"What?" I asked. I had no idea what it meant to sandwich. For a moment, I thought he was propositioning sex.
"I want to make sandwich in your likeliness. I think you are beautiful. I think sammies are beautiful. Together, it becomes something double beautiful."
I disrobed, and Hector observed my body. At first I was insecure. He assured me that I had nothing to be ashamed of. "You are beautiful like footlong club on parmesan oregano," he told me.
I saw a sandwich begin to form in my likeness. Multiple types of bread, meatballs, green peppers, banana peppers, and black olives began to resemble me. The way he used lo-fat mayo as an adhesive was masterful. It was all coming together, one slice of bologna at a time.
It was getting late, but I knew Hector was almost done. He utilized some spinach + egg whites and 3 cookies for 99 cents to finish off the sculpture of me. It was beautiful.
It was in that moment that I finally realized what it meant to be a sandwich artist. I saw myself, but at the same time, I saw the sandwich as art. Everything was beautiful, and nothing hurt.


Then I ate myself.
By Carles on 03 Oct 2010
I go to Subway every day for lunch, because I am on the Five Dollar Footlong subway diet. So many choices. Great, fresh breads. Complex cheeses. Fresh meat. Garden ripe veggies. So many different sauces with which my sandy can be lathered. Really thought it was a chill place where the franchise owners truly care about their customers. Usually get a meatball sub with extra chicken and salami. Add some ranch. Big bag of Doritos. What do yall get?
Anyways, I always thought that 'the customer is always right', but then I was watching youtube, and it seems like this alternative Subway employee, aka 'sandwich artist' is all pissed abt how I order my sandwich. He seems to be 'bitching at me' because I don't 'order my sandwich' the 'right way.' Just wish I could go 2 subway without being yelled at by some alt dude :-( Feeling sad, like I might have to start eating at Quizno's or something.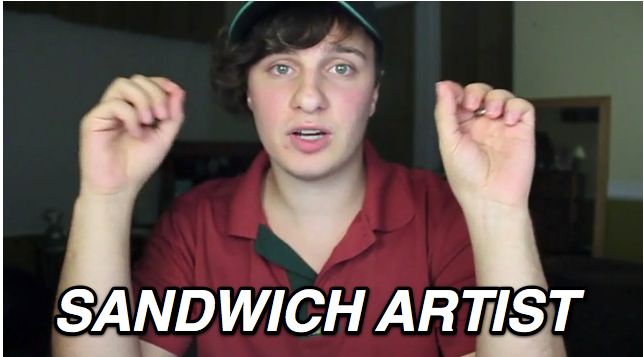 Wonder if this bro is 'out of line' and corporate is going to 'come down on his ass.'
Seems like he should chill on the customers. Wish there was just some computer screen where I entered my order, and I didn't have to look into the ass-hole faces of employees who h8 me. Just wanted a sandwich.
This is effing bullshit.
Might start eating fastfood again, giving up the Subby Diet [via Jarr0d].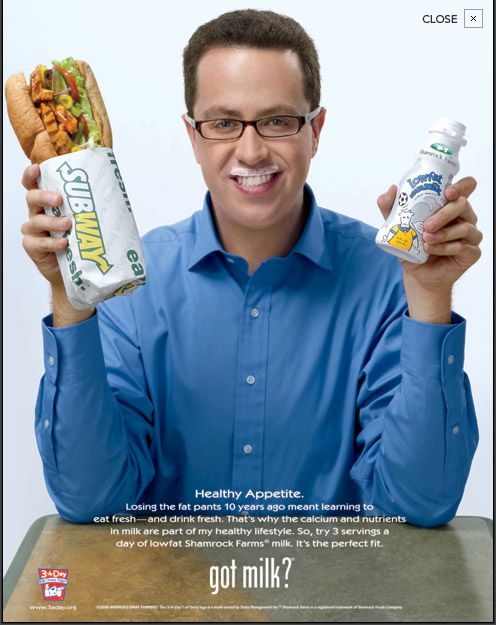 So bummed.
Do all fast food employees h8 their customers bc they are richer than they r?
Does this bro 'disgrace' sandwich artists?
Does this bro need to get his ass 'fired'?
Should he get an internship with Quizno's / Jimmy John's / Which Wich / Blimpie / Schlotzky's?
Should Subway change their ordering system?
Should Subway close down?
Does Subway bread /meat /veggies taste 'like shit'?
Do u think this bro uses turkey slices as toilet paper then puts them in ur sammy?
By Carles on 02 Sep 2010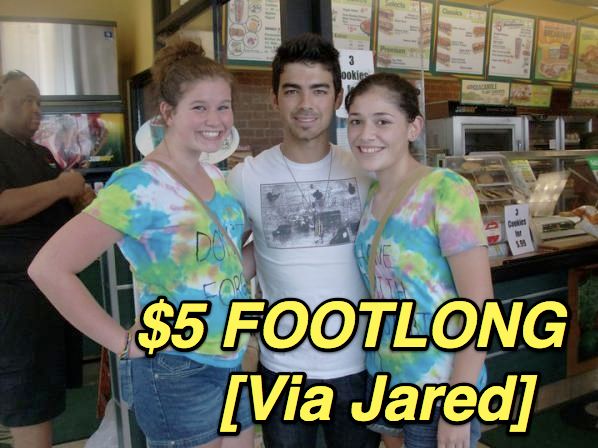 Just wanted to grab a bite 2 eat
chill out on a $5 footlong
ride the Subway diet wave
But then 2 unchill tweens
ruined our vibe
h8 being famous
h8 being a tween icon
h8 that there aren't any high-end luxury boutique subways where u can eat ur sandy in privacy/luxury
Was thinking about going with Meatball marinara sub
but then changed my mind
and got a Chicken & Bacon Ranch
and a cold cut combo for later
Not sure what kinda bread 2 get
Maybe 'whole wheat'
possibly parmesan oregano
Honey Oat bread seems chill
Just want my sandwich 2 represent me.
So many types of cheeses//so many fun toppics
might add avocado wedges for $5 extra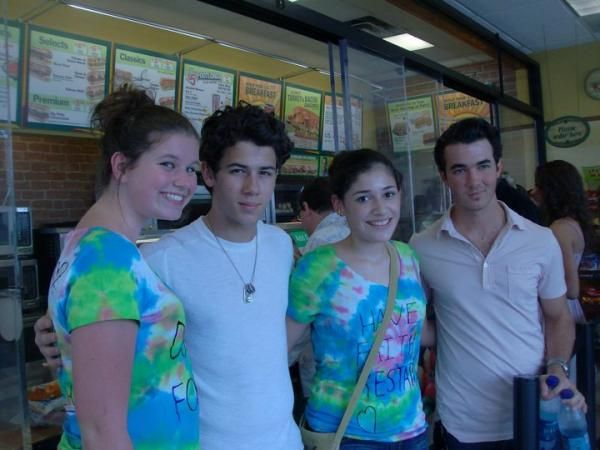 Just wanted a healthy meal
on the go alternative 2 'fast food'
was standing in line, having a minority make my sandwich
thought 'shit' when they soaked my sandwich with mustard
shoulda been more specific with my order
but thought they woulda got pissed
So many choices
Turkey Melt
Veggie Delite® [via Freeganism]
Black Forest Ham
Turkey Breast
Sweet Onion Chicken Teriyaki
Roast Beef
SUBWAY CLUB®
Oven Roasted Chicken
Turkey Breast & Black Forest Ham
Feel confuse when they ask me if I want it 'toasted' then they put it in some sort of extreme microwave
sometimes I wish I could ride the Quizno's Wave or something
Getting that shit toasted 'authentically'
oh Subbie...
Just wanna chill out
munch on my sandwich
grab a bag of chips
Maybe some Lay's, Kettle chips, or even Sun chips
and chill out on a cookie
Gotta lose some weight
inspired by Jared
following in the footsteps of thousands of middle americans
who thought they could lose weight by eating foot long sandwiches on the reg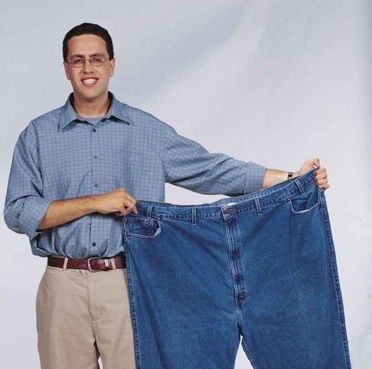 Miss u authentic Jared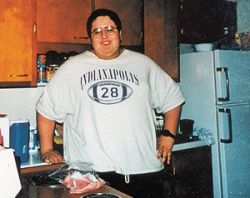 Do yall eat at Subway?
What sandwich do u get?
R u on the 'Subway diet'?
What is the most authentic sandwich chain?
Quizno's? Jimmy John's? Schlotzky's? Which Wich? Panera Bread? Chili's 2 Go?
IS $5 for a footlong a 'rip off' because Subway gives u 'crappy' ingredients/toppings/meats/iceberg lettuce?
By Carles on 31 Aug 2010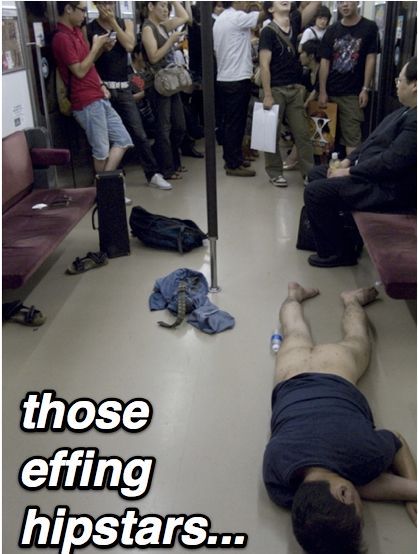 Sigh...
When will those hipsters ever learn
that it is unchill to be azn
and to fall asleep bare assed
on the subway
We're just trying to get home
And ur here being an 'effing freegan'
who doesn't care abt society
Probably just got done dumpster diving
not just for food
but for penal lubricant
to help yourself ejaculate in a totally unique way
When r u going to learn that u r a 'slave to rampant consumerism'
and that listening to bands like
MGMT
MGMT
MGMT
Vampire Weekend
Vampire Weekend
Vampire Weekend
is going to get you no where.
People aren't looking at you because they want to be you
They don't want to copy your look
They are laughing at you
They think you are a big effing joke
U r not an individual, nor r u a free spirit
This is public transportation
built for getting the public to and from different parts of our beautiful city.
And you just had 2 pull down ur pants
and take a lil nap.
Vibes are really harsh
Seems like ur just another unchill azn bro in some way or form
and I wish u'd just realize
that you're just a 20-something
who needs to get his life 2gether.
R yall tired of effing hipsters being 2 alt to 'follow rules'?
What's the difference between a subway and a light rail?
Have yall ever slept nude in public?
Do u like his tight lil ass?
By Carles on 18 Jun 2010
Waiting 4 the subway
to take me to a relevant part of the city
my headphones are on
filling my head with relevant sounds
via mp3 format
Gonna get my dance on
Gonna celebrate [via 1 more time]
Gonna ride a crimewave
Get my groove on with my girl Alice Glass
The subway connects the city
Not the sandwich shop
the method of public transportation
waiting 4 my train 2 come
I'm not like the rest of these people
using public transportation to get 2 work
2 stay alive
2 feed their families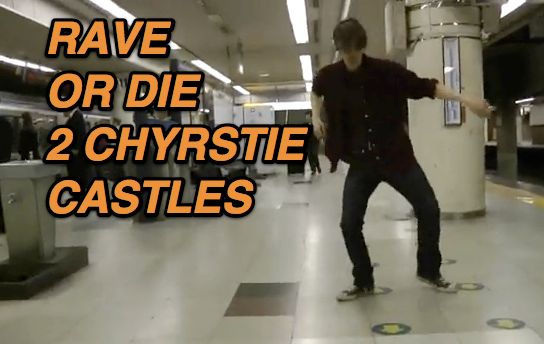 I am young and free
living in a Crystal Castle
All of the business men walk by me
not understanding what I'm all about
they don't understand the hardcore blipwave scene
I am free
I am human
I am dancer
dance, dance, dance
dance like no one is watching
dance like every1 is watching
miss u