upskirt
by the UlTiMaTe LaMeStReAmER!!!

Lana BB! Say it ain't so! I can see ur knickers*! Good thing u were wearing panties and didn't have a vagine lip slip!
(* = knickers is the English word for 'underwear' in England)
Ur panties honestly looks KEUT and LACEY. I'll bet u REALLY know how to get a man excited in the bed room. Unfortunately, I can only afford huge, uggo granny panties from WalMart. In my past relationship, I tried to 'spice things up' in the bedroom to reawaken our physical relationship. However, it just resulted in tons of ripped lacey materials because my thick body ripped apart all of the sexy, sheer Victoria's Secret underpants.
It sucks because my exBFF gave me a Vicki's Secret gift certificate and I can't even use it!
Don't bend over, Lana BB! Even though ur butt is perfect and we've already seen ur tight lil bare a$$, u should SAVE IT for some1 special. Trust me. As some1 who lost her virginity in the back of a Geo Metro in the parking lot of a Baskin Robbins... u should always VALUE ur body and not USE IT in any sort of sex trade. #dontask
Oh Lana. Maybe after I hit the gym we can go panty shopping! I wanna get something functional, sporty, and keut!
Ur a legend, bb! Act like it! Don't be a #slutwaver
Larry Gaga who? #TeamLanaBB
Alternative Celebrity, Buzzband
Lana Del Rey is a hot female indie singer. She is 'mad controversial.'
Read more>>>>
by the UlTiMaTe LaMeStReAmER!!!

Lana BB! Say it ain't so! Ur undies r showing!
Honestly, I know this might be kinda emberressing 4 u 2 have ur UNDERPANTS all over the internet, but it makes it look like ur a REAL celeb! Ur SO FAMOUS now, it is hard 2 believe indie blogs EVER cared abt u. Now ur PANTIES are EVERY WHERE, and in case u were wondering, they are some KEUT see-thru pink lace shear bad boys. U r the DEFANITION of a HOTTIE MC HOTHOT, bb!
My ex always used to buy me sexy underwear to ignite our relationship in the bedroom, but I just felt too insecure when I wore that stuff. It felt like a lil piece of floss in my butt crack, and it would smell SO bad when I took them off.

Honestly, I would play video games ALL DAY if it meant I could have a bangin body like u. Unfortunately, NO ONE cares abt my underpants. They are just cheapo granny panties from WalMart anyways :-(
U should be PROUD that ur panty shot will be in Google 4evr, next to such Upskirt Hall of Famers like Emma Watson and Paris Hilton! I am HAPPY that ur wearing PANTIES, and not showing off ur #Cooch! Ur a CLASSY girl, bb!

Lana 4evr!
Lady Gaga who? #TeamLDR!
Adele SUX! #TEAMLANA
Alternative Celebrity, Buzzband
Lana Del Rey is a hot female indie singer. She is 'mad controversial.'
Read more>>>>
by the UlTiMaTe LaMeStReAmER!!!

Lana BB! Is that u? As always, u look INCREIDBLE! I defanately want to read this magazine even thought I have never heard of it!
OMG! ur showing off a little bit of thigh... That CANNOT be legal in the continental United States, bb! UGH ur such a Hottie McHotHot! I could NEVER show that much thigh and ass. I mean, those are my favorite parts of a fried chicken, but my thighs are completely cottage cheesey. Sometimes I wish I could eat my own cottage cheese thighs with a spoon and a little bit of fresh fruit. That would be YUMMY and HEALTHY.
Honestly, all ur haters need to BACK OFF. I thought u were AMAZING on SNL! And I loved watching the lil Harry Potter guy do his MAGIC SPELLS on the show! He is a hottie hunk delight! U guys have GOT to be canoodling IRL! I wish I could ride a magic stick, but I haven't been with a man in over 2 decades.
Larry Gaga who? #TeamDelRey!
By Carles on 17 Apr 2011

Alice Glass is known as one of the best live indie performers of all time. Crystal Castles performed at Coachella, and Alice truly 'crushed it', not only with her voice, but also with her heart. She continues to perform in a protective walking boot after breaking her ankle. No word on when she will recover fully, but you have to 'give her props' 4 toughing it out and continuing to make mad buzz dollars for each of her performances.
She's just Alice bein' Alice.... When ur at Coachelly, u have 2 crowd surf...

Alice Glass upskirts make my Am Appy underwear get hot and creamy...
Even though she is wearing protective leggings, you can't help but imagine what it would be like to have buzzworthy relations with Alice Glass....


Is Alice Glass the #1 QT at Coachella?
Is she still the #1
Does Victoria LeGrand need 2 show more upskirt?
Whose upskirt do u want 2 see?
Whose upskirt do u NOT want 2 see?
R u #praying4Alice'sAnkle?
Alternative Celebrity
Alice Glass is the lead singer of Crystal Castles. She is known for her KrAzY onStAgE aNtiCs.
Read more>>>>
Buzzband
Crystal Castles are an 8 bit bleep bloop band from Canada.
Read more>>>>
Company
Coachella is a music festival held in Southern California that turns into a gathering of the world's most relevant buzzbands, artists, designers, celebrities, and internet personalities.
Read more>>>>
By Carles on 23 Sep 2010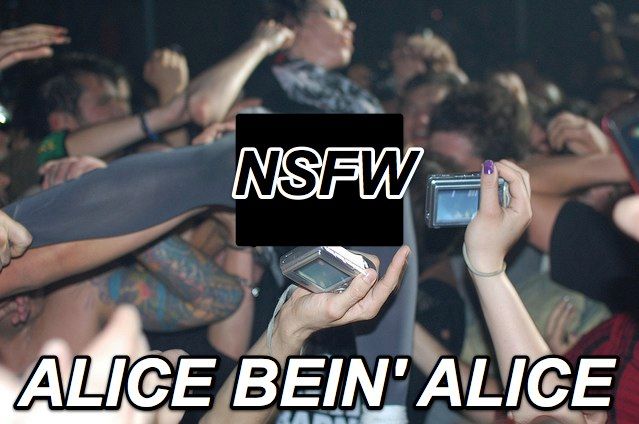 Alice Glass is known for her wild on-stage antics. Drinking entire bottles of Jack Daniels on stage. Beating people in the crowds with microphones. Crowdsurfing, and letting seas of altbros have 'grabfests' with her entire body. It seems like Alice Glass has added another upskirt-opportunity to her massive collection of concert photography memes.
UNEDITED POTENTIALLY NSFW IMAGE: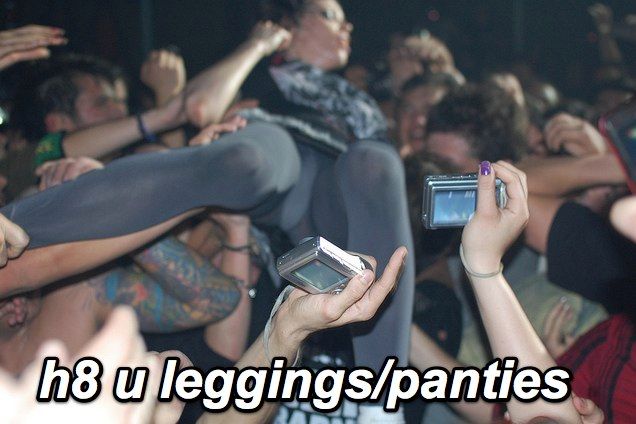 Shit. Guess she wore leggings + panties /some sort of protective underwear/diaper/maxi pad.
Gotta give my girl Alice props 4 crowdsurfing with the right amount of protection + coverage. I usually have a 'Women Shouldn't Crowdsurf' attitude on the live indie experience, but maybe I am underestimating Alice's preparedness. If she was a mainstream celeb, she probably would have crowd surfed without any panties on, get 'fingerbanged' then started crying/stopping the show.
Alice is different. She goes out there every night and gives 110%, minimizing her chances of 'getting hurt/violated.' Do u think Alice is 'truly lost in the music' or is she just a 'contrived indie star' who knows what she has to deliver for her fans?
Should more female indie singer crowdsurf?
Do u want to see Best Coast crowdsurf, or do u think WAVVES would be pissed abt that?
Do u think Alice Glass is the #1 female in indie music?
Are yall on #TeamAlice or #TeamRegine?
Would Win ever be chill enough to let Regine Crowdsurf?
Do altbros ever try to 'stick a finger' inside of a crowdsurfing woman [via grabfest 2k10]?
Do yall think club security should ban females from 'crowdsurfing'?